(While Jon and I take some time to unwind on a beach very far away, I'm reposting some content from my archives. This one was originally published on June 23, 2005.) While bathing Leta a couple nights ago I broke into Mormon Hymnal Recitation and regaled my precious babe with a children's propaganda song. My [...]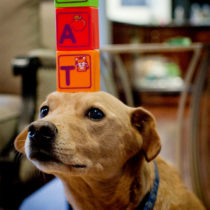 Kitty! I have a feeling this is going to be the subject of one of his darker poems.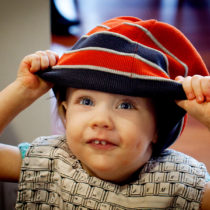 Marlo loves to wear Jon's ski cap over her head so that it covers her eyes, and then she'll walk around in circles bumping into furniture because she knows it makes us laugh. It's moments like these when I can forgive the endless string of, "NO! NO! NOOOOOOO!" Learn a new word, KID.