As most of you know, South Sudan declared its independence from Sudan late last week. While spending time with Christy Turlington in Bangladesh, we discussed the barriers to maternal health in other parts of the world and I learned that Sudan (as we formerly knew it) was one of the most dangerous places for women [...]
Remember when some of you really believed that we'd named her Donette Butternut? Those were good times.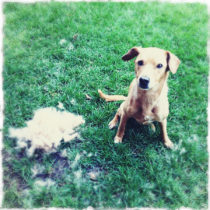 It's the middle of summer, right? The dogs usually molt in spring when they lose their winter coats. It's been so cold in Utah that Chuck's fur got confused. Mother, that I continue to live here shows just how much I love you.