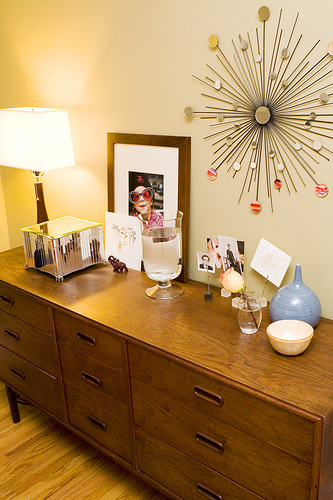 A month ago I was the winning bidder for a mid-century modern dresser that I had found on ebay, and last week it was finally delivered. This is only the third thing I have ever bought on ebay, and the only piece of furniture. The first thing I bought was a pair of tickets to see Radiohead in Los Angeles in the Fall of 2000, and I'm not even going to admit how much money I had to offer to win that one. Let's just say that I didn't have any responsibility in my life other than to show up on time to my very well-paying job, and so there was all this money just sitting around waiting to be thrown at ridiculous things. Like tickets to concerts. And prostitutes.
The second thing I bought was a vintage liquor ad designed by Paul Rand, and then I stopped buying things off the Internet, not because I had ever had a bad experience but because I don't like spending money. Well, sort of. Let me explain. Half of my brain hemorrhages when I begin to think about becoming separated from cash. I refer to this part of my brain as Sector Hamilton. The other half of my brain does nothing but think about all the creative ways I could separate myself from cash. This half is known as Sector Avon World Sales Leader, and it wears a lot of bright red lipstick.
I can sum it up like this: you'd have a hard time finding someone who feels more guilty about having just bought something on sale.
Jon and I have been living without a dresser, oh, the entire time we've been together, and have been looking for something that would fit into our house since we moved in almost four years ago. Everything was either too big or too traditional or way too expensive, and then one afternoon earlier this year I read somewhere, I don't remember where, about how someone had bought a great piece of furniture off of ebay, and I thought I'd just do a couple searches. The dresser I bought showed up as the first search result, which either means that I had great luck or the Lord really does answer prayers, and if it's the latter then why am I still a B cup?
Is that dresser not amazing? I know I think so, although Jon had his doubts, most of them centered around the fact that OH MY GOD YOU BOUGHT A PIECE OF FURNITURE OFF OF EBAY? IT'S PROBABLY MADE OUT OF THE UMBILICAL CORDS OF UNBORN PUPPIES. But once he saw it, saw that it was a solid piece of wood, he was converted to the church of Sector Avon World Sales Leader, and just yesterday we ordered an 80-ft yacht that is going to be delivered on the back of a golden chariot. Free shipping.
Finally we have an adult bedroom, with adult furniture and adult accessories, and a few, ahem, other adult things tucked inside the top drawer of the nightstand. Like Benadryl.
I had two prints from Pushmepullyou Design framed and then hung them over our bed. Most of the bedding is from Target because the bed is where we live, and I don't want to have to worry about Chuck or Leta leaking fluids on anything expensive. The bed frame itself is from a local furniture shop, one of the only ones here in Salt Lake City that sells anything stylishly modern. The mirrored sunburst wall art thing is from West Elm. And then there's the stuffed deer at the foot of the bed that we are soon going to mount to the hood of our truck. Because we are classy. And eat soup with our fingers.
Starting on the far left side of the dresser I have a mix and match lamp and lampshade from Target, a mirrored jewelry box from Bombay Company that Jon got me as a gift for my birthday last summer, a print called "Alone" that I bought from Camilla Engman, a small elephant sculpture that my mother gave to me as a graduation present in high school, a framed 8 X 10 print of this photo of Leta, and Lou in his very clean, very expensive bowl that cost me three hard-earned dollars. Do you realize that Lou has survived over a month while under my supervision? This just happens to be the longest any fish has lived while in my care, and this morning after a particularly exhausting and emotionally backbreaking week Jon told me what I needed to hear more desperately than anything else: "Heather, you are a really good fish mom."
On the right side of the dresser is a picture of Chuck as a puppy (he's probably six weeks old there), an incredibly old picture of my father when he is in his early thirties, back when people still rode animals to deliver mail, a photo of Jon's father when he was 19 years old and serving in the Navy, and a letterpress card of an owl from the Design*Sponge shop. Jon didn't get a say in what I used to decorate the top of the dresser, and I don't feel at all like a mean old hag for saying that. It's not that he has bad taste, because he actually has quite impressive taste and has introduced me to some of my favorite bands and books and websites. It's just, when it comes to decorating, Jon thinks a space is functional if there is a horizontal surface onto which he can drop cords and cables and instruction manuals to appliances he does not even remember buying. And I call those places dumpsters.