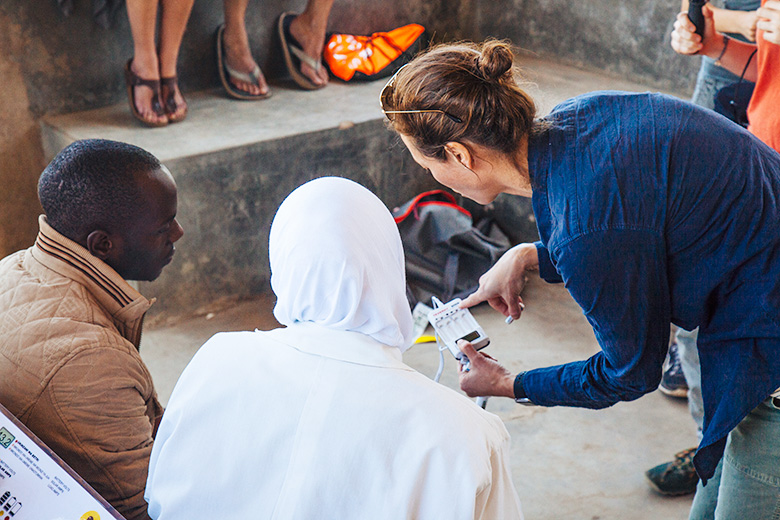 Whenever I travel with or for nonprofits I always prepare myself for a relentless schedule, one with very late nights, early mornings, back-to-back meetings and traffic that snarls in every direction. One afternoon in Peru our group hopped in a van and traveled for over an hour and a half to a location only four miles away. I thought back to all those mornings in LA when I would physically brace for the traffic on the way to work and wanted to flick that idiot straight on the nose.
This recent trip with Every Mother Counts to Tanzania was no different. In fact, this trip was probably the busiest one I've ever been on with nonstop visits to hospitals, clinics, schools and organizations. Our goal was to learn as much as we could about the state of maternal healthcare in that part of Africa especially in places where EMC is funding grants. They recently announced their latest grant, one to Foundation for African Medicine and Education (FAME) in Karatu, Tanzania, which we visited two days after running the Kilimanjaro half marathon (that run is an entirely other post that involves heat exhaustion, dehydration and a huge apology to Scott Jurek for the growl that came out of my mouth at mile 11).
This grant to FAME is providing "supplies for safe delivery and comprehensive pregnancy and postnatal care, training of healthcare workers, and incentives to encourage moms to deliver at a facility and education on postnatal and newborn care." We got to tour this amazing facility and have lunch with the founders Dr. Frank Artress and Susan Gustafson whose story is one of those that will make you fiercely examine your own life and priorities. After Dr. Artress' near-death experience while climbing Kilimanjaro, they both quit their jobs, sold everything they owned back in the states—every material possession—and moved to Tanzania to build a hospital.
Some of you have asked how EMC goes about choosing its grants, and recently the Portfolio Director for EMC Jessica Bowers discussed on the details of their process:
We're not trying to tackle every barrier to maternal health in every country. By focusing on training and education, transportation and supplies in a handful of countries we're zeroing in on projects that are having a measurable impact and that really make sense for us as an education and outreach organization.
This year marks EMC's fifth birthday, and on our first day everyone who was there and raised funds to run the race (more than 20 of us) drove out to Oldonyo Sambu Dispensary which was profiled in the movie "No Woman, No Cry." We wanted to meet with the midwives and mothers who were featured in the film, but more than that… EMC wanted to bring them light.
The Oldonyu clinic serves the basic health needs of everyone in a 114-mile radius and operates without electricity. I had originally thought that the clinic was only a maternal health facility but learned while there that this is where everyone in that catchment area goes for any basic medical procedure.
In cooperation with We Care Solar, EMC brought them a solar suitcase that not only provides highly efficient medical lighting but also power for mobile communication, laptop computers and small medical devices. After a few hours of instruction and installation, the unit was up and running.
The running team raised over $166,000 for this race, and every single dollar of that goes straight into grants like the one to FAME and the solar unit to Oldonyo. None of it goes to overhead. Thank you to everyone who donated toward this cause. Just like you helped bring a building to the people of Cabestor, Haiti, you helped bring electricity to this clinic in rural Tanzania. Now mothers there can deliver babies at night without having to rely on a a kerosene lamp or a flashlight whose batteries might die at a critical moment.