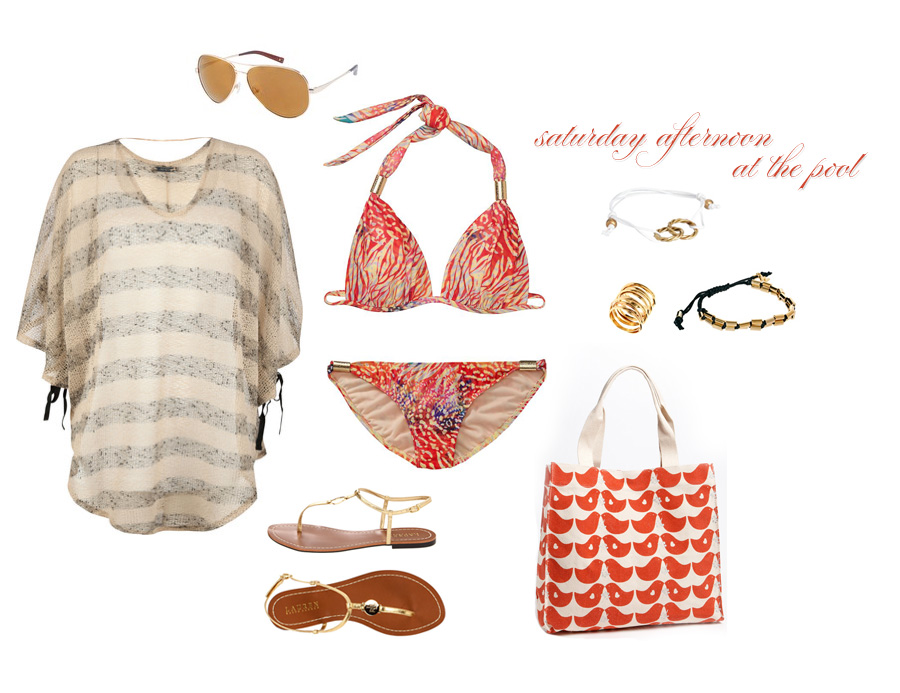 We belong to a local community pool, and every year when it opens around Memorial Day we start gearing up for long weekend afternoons in the sun (here is where I remind you to wear sunscreen, don't make me have to show you my scars). We always have to get the kids new suits because they grow out of them every year, but I've been sticking with two solid-color one pieces I bought over four years ago. Don't say it, I already know: how very Mormon of me.
Cami has been bugging me to buy something more stylish, preferably something that shows more skin. (Remember? We're dating.) So this year I'm going to do it. This means I'll be spending way more on sunscreen than usual, but it's time I started to live a little, you know, fourteen years after realizing it isn't a sin to wear a bikini.
Just please, no one tell my mom.
Aviator sunglasses: ASOS
Coverup: RUSTY
White friendship bracelet: ASOS
Tube bracelet: ASOS
Wrapped coil ring: ASOS
Sandals: Ralph Lauren
Canvas tote: Nordstrom
Bikini: Old Navy (all swim items start at $10)
This post is underwritten by Old Navy. Whether you're looking for a tankini, bikini or a one piece, Old Navy has you confidently covered at a great price.