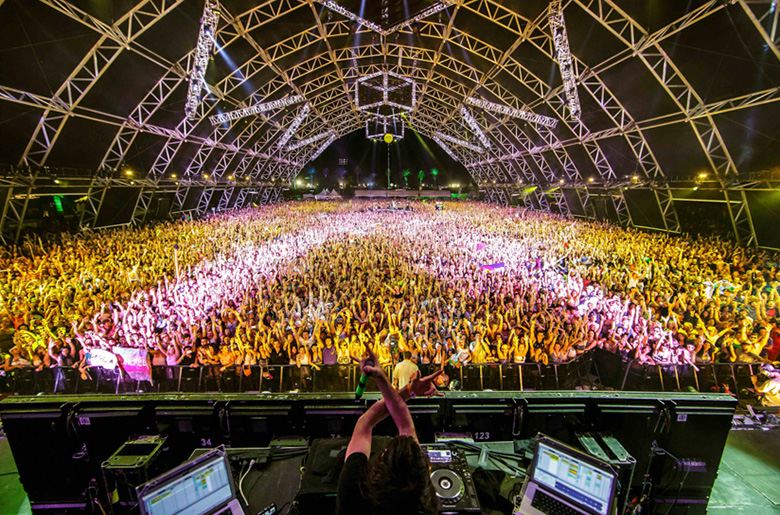 Tomorrow I am headed out to the Inland Empire for the second weekend of Coachella (after first spending the day visiting some old stomping grounds in LA). My friend Stacia goes every year and always attends the first weekend. But tickets to the first weekend this year sold out before they even announced the lineup, and in case I haven't mentioned it here before my idea of a really good time involves lying down in bed and sleeping. That's a perfect evening. A pillow would be great but it's not totally necessary.
I am not about to buy tickets to a three-day music festival where there is a lot of not sleeping going on without knowing whether or not I like the bands. No. Nuh-uh. Stacia, I love you dearly and you are one of my closest friends, but as sister wives we are really going to butt heads over this.
Once they revealed the lineup, however, I was like CRAP. That's every band I've been listening to for the last year or so. All in one place (Leta is going to be so jealous that I get to see "Pompeii" live). This includes Arcade Fire who will not be passing through Utah on their tour this year, and I've been meaning to write something of a dissertation on their latest album, why I think they are the American Radiohead, but then I realized even I would want to punch me in the face (doesn't mean I won't write it).
And so instead of spending the next few nights getting to bed early I will be standing on the grounds of a polo club with thousands and thousands of drunk strangers who all look like they fell off the pages of a fashion blog. Which isn't so bad given how much I have missed seeing live music, something that brings me a lot of joy. Time to ditch my bed and let loose, for crying out loud.
Here are just a few of the bands on the lineup that I can't wait to see:
Arcade Fire
Website: arcadefire.com
Twitter: @arcadefire
"Afterlife"
Beck
Website: beck.com
Twitter: @beck
"Blue Moon"
Bastille
Website: bastillebastille.com
Twitter: @bastilledan
"Bad Blood"
Bear hands
Website: bearhandsband.com
Twitter: @bearhandsband
"Crime Pays"
Bombay Bicycle Club
Website: bombaybicycleclubmusic.com
Twitter: @bombaybicycle
"Carry Me"
Broken Bells
Website: brokenbells.com
Twitter: @broken_bells
"Holding on for Life"
Chvrches
Website: chvrch.es
Twitter: @chvrches
"Recover"
City and Color
Website: cityandcolour.com
Twitter: @cityandcolour
"Thirst"

Disclosure
Website: disclosureofficial.com
Twitter: @disclosure
"Help Me Lose My Mind"
Foster the People
Website: fosterthepeople.com
Twitter: @fosterthepeople
"Coming of Age"
Haim
Website: haimtheband.com
Twitter: @haimtheband
"Falling"
Lana Del Rey
Website: lanadelrey.com
Twitter: @lanadelrey
"West Coast"
Lorde
Website: lordemusic.tumblr.com
Twitter: @lordemusic
"Ribs"
MS MR
Website: msmrsounds.com
Twitter: @msmrsounds
"Hurricane"
Neko Case
Website: Neko Case
Twitter: @nekocase
"Night Still Comes"
Pixies
Website: pixiesmusic.com
Twitter: @pixies
"Monkey Gone to Heaven"
Superchunk
Website: superchunk.com
Twitter: @superchunk
"Driveway to Driveway"
The Head and the Heart
Website: theheadandtheheart.com
Twitter: @headandtheheart
"Lost in my Mind"
Washed Out
Website: washed-out.net
Twitter: @ernestgreene
"Soft"
Warpaint
Website: warpaintwarpaint.com
Twitter: @_warpaint
"Love is to Die"

White Lies
Website: whitelies.com
Twitter: @whiteliesmusic
"Be Your Man"