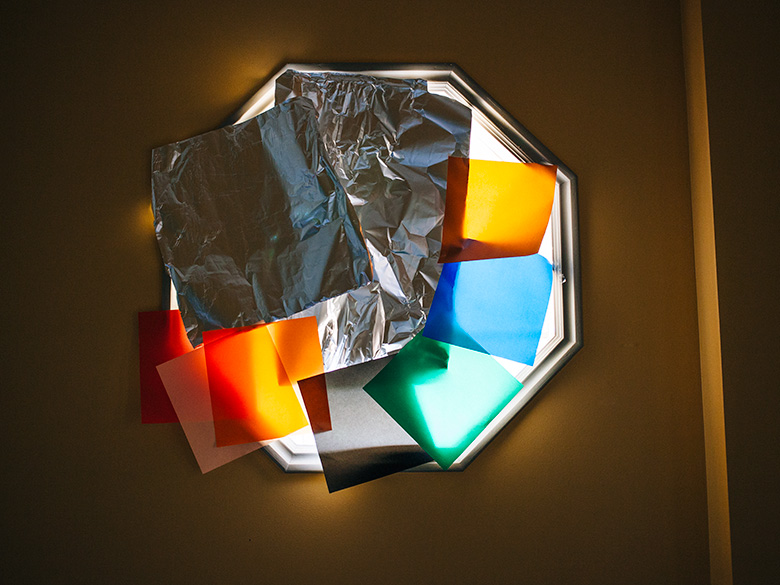 Because the girls are spending half of their summer in New York, I've been a lot more lenient (possibly too lenient) about bedtimes and saying, "No, I'd prefer to wake up without a concussion," when Marlo asks if she can sleep in my bed. A concussion, black eye, bloody nose, perhaps and emergency trip to the ER because of a ruptured spleen.
A few weeks ago right around the Summer Solstice when daylight lingers and nudges the darkness of night back a few inches and then a few feet, I tried putting her in my bed about a half hour after her normal bedtime. But there's a giant octagonal window a few feet up and over from the bed that sits on the western wall of the house, and it was catching that lingering daylight and throwing it into the room like golden confetti. There is no shade to cover it, and I knew that light would be pouring through it for another hour, maybe two.
Aha! TIN FOIL.
Marlo nestled with her stuffed puppy under my duvet and watched as I stepped up on a stool, opened the last roll of tin foil I had in the house and painfully gasped when I realized I only had enough to cover maybe one third of the window. As I taped two pieces to the top and upper left sill, I tried to think about what I'd use to conceal the rest. A blanket or a towel would be too heavy. A sheet would be too transparent. Also, I didn't have a rope and harness with which I could dangle Coco from the ceiling just so.
I ran back downstairs to look for some dark construction paper, but Marlo has a tendency to move any and all art supplies from where I have designated it to reside to YOUR GUESS IS AS GOOD AS MINE. The only thing I could find was a stack of thin origami paper. I let out an audible groan but ran back up to my room knowing that this would have to make do. And, as you can see, there is a reason this is neither a DIY nor a craft blog: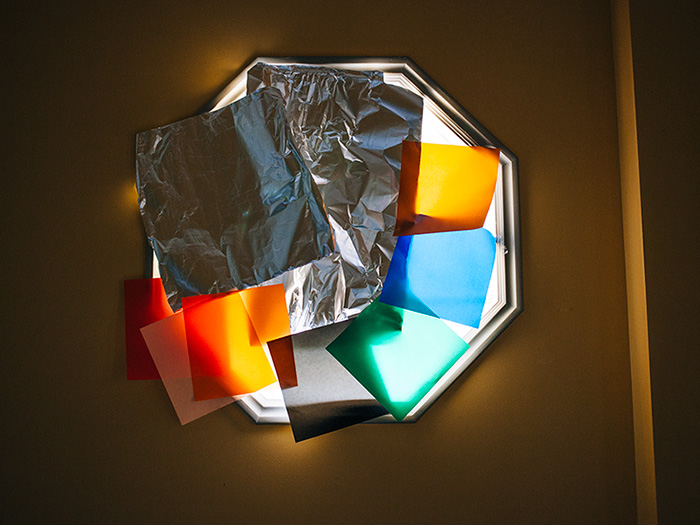 Luckily, it worked enough. She fell asleep within twenty minutes. I've left this window as is for a few reasons. The most obvious one is that while Marlo is away, it reminds me of that moment when she was snuggled up and staring up at her odd Southern mother wrangling sheets of tin foil. I also keep it there because, like last night, I gave in to her request and let her sleep with me. I only suffered a few slaps to the forehead and one kick to the shin.
Last week my friend was over to help me organize a few things and when she saw this window in my room she stopped and tilted her head as if to understand what was going on.
"Is that…" she began as she pointed up toward the orange and blue and green light coming through the window. "Is that color therapy?"
I could only laugh because that sounds so sophisticated.
"No, that's not color therapy," I answered. "That's the light that reminds me of Marlo."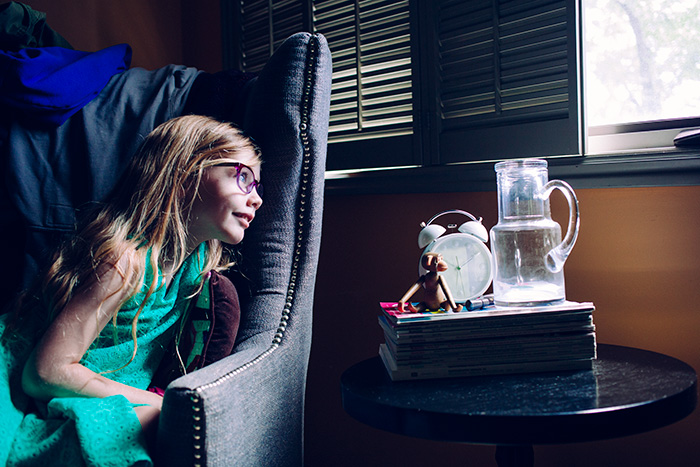 ……
I was recently approached by ONE's Electrify Africa Act campaign to share with you my favorite light-filled image and the importance of light in my work. I have hard drives full of sunsets from exotic locations all over the world. I have GIGABYTES of photos where the sun is bouncing off an ocean or lake in beautiful abstract lines, cityscapes with light winding down rugged alleyways. I have set up studio lights to take more professional photos of my dogs and children. But today, this window and the haphazard sheets of origami that fill my room with memories of my child… this is my favorite one of them all.
How privileged I am to live where there is so much light that in a rush to meet my child's bedtime I tried to cover it up.
On June 29th, ONE's bill, the Electrify Africa Act was reintroduced in the House. The bill would help provide electricity to 50 million Africans for the first time, at no cost to US taxpayers. At no cost to you or me.
Here are just a few key facts as to why this bill is so important:
68% of the population of sub-Saharan Africa does not have access to electricity or other modern energy services. This hampers services in health and education, profoundly limits economic development and disproportionately affects women.
Businesses cannot grow, jobs cannot be created and poverty cannot be eliminated without affordable access to proper lighting and reliable safe power.
90 million children will go to primary schools without electricity and 255 million people are served by health facilities with no electricity access.
Students in Sudan were able to improve their pass rates from 57% to 97% after 1 year with electric lights.
Lack of electricity is one of the hugest barriers to eliminating poverty in Africa. Access to reliable and affordable energy is one of the most powerful ways to increase and reinforce development in all of its economic and social sectors.
Earlier this year I traveled with Every Mother Counts to Tanzania and visited a clinic called Oldonyo Sambu Dispensary, a small facility that serves the basic health needs of everyone in a 114-mile radius and operated without electricity until we brought them a solar suitcase. That unit would for the first time provide highly efficient medical lighting and power for mobile communication, laptop computers and small medical devices. I saw this desperate need firsthand and the lives it would transform.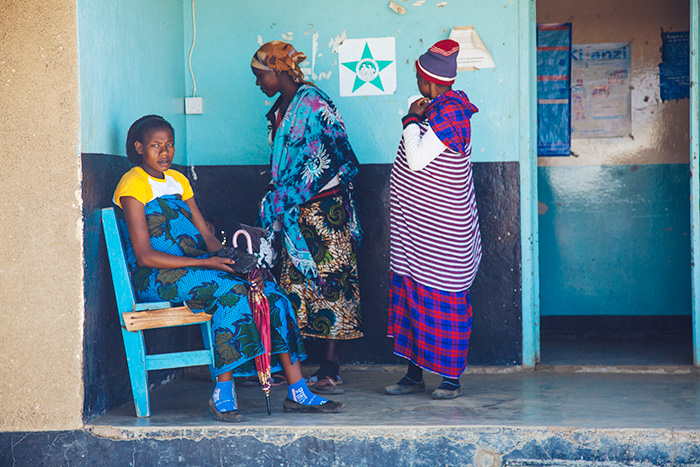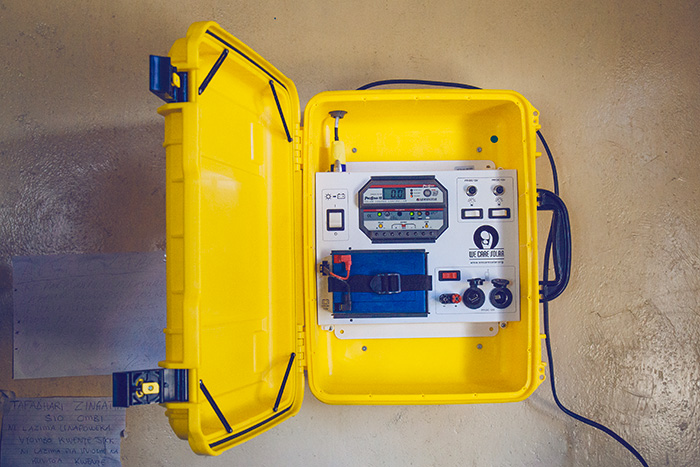 The Electrify Africa Act of 2015 would prioritize and coordinate U.S. government resources in sub-Saharan Africa by 2020 in several ways, the most important of which is promoting first-time access to electricity for at least 50 million people, particularly the poor.
I'm only one of a few dozen bloggers sharing this light with you this month in exchange for asking you to sign the petition to motivate lawmakers to pass the Electrify Africa bill. You don't have to donate a dime or show up to a rally or travel to a remote village. All you have to do is lend your name.
You, too, can share your own favourite light-filled image on Instagram, Facebook or Twitter, and tag it #ElectrifyAfrica and #LightforLight.