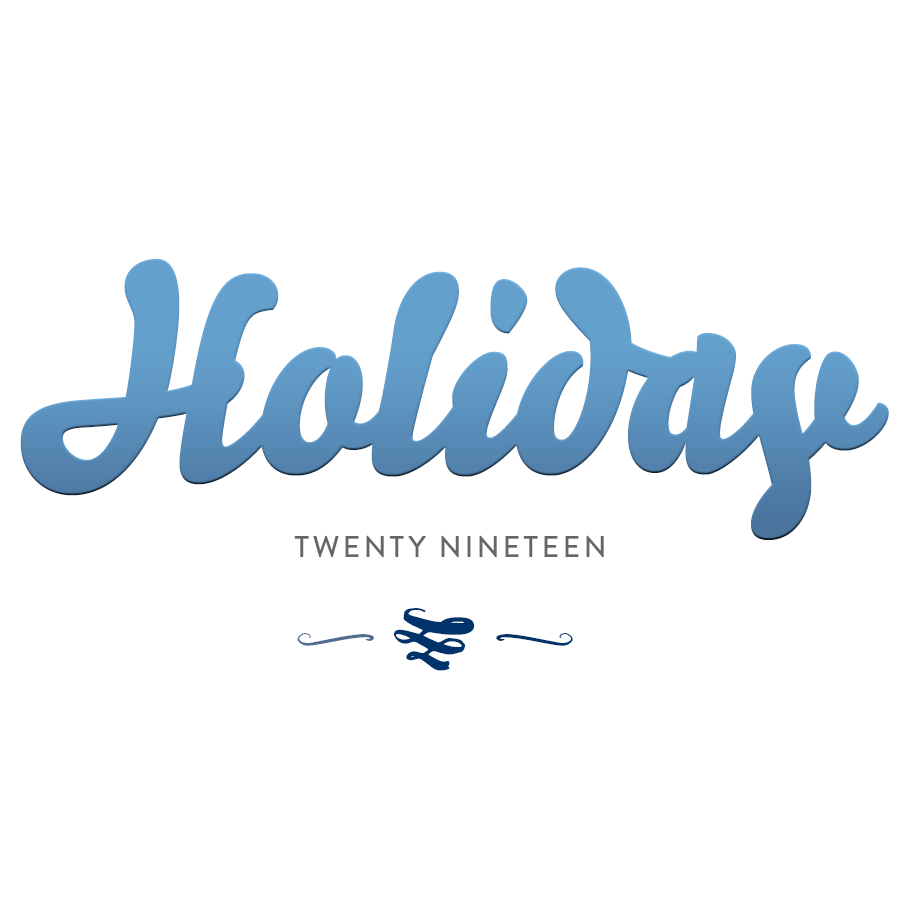 I have not attempted a gift guide since Marlo pronounced "breakfast" as "bref-disk" and ever since someone corrected her my heart has been trying to reassemble itself. Maybe that's contributing to my gut issues, although I think my gut issues have a lot more to do with 5th grade Eureka Math and preservatives in American food than they do missing what was once a precocious four-year-old who would move furniture across the room to jump 10 feet in a lopsided front flip, hoping to land on the couch. Now she's a precocious 10-year-old who routinely takes off her socks and, forgetting that I have reminded her and possibly threatened her more times than days she's been alive not to do so, stashes them in between the cushions of the couch because being forced to walk upstairs to her room is child slavery.
Where was I?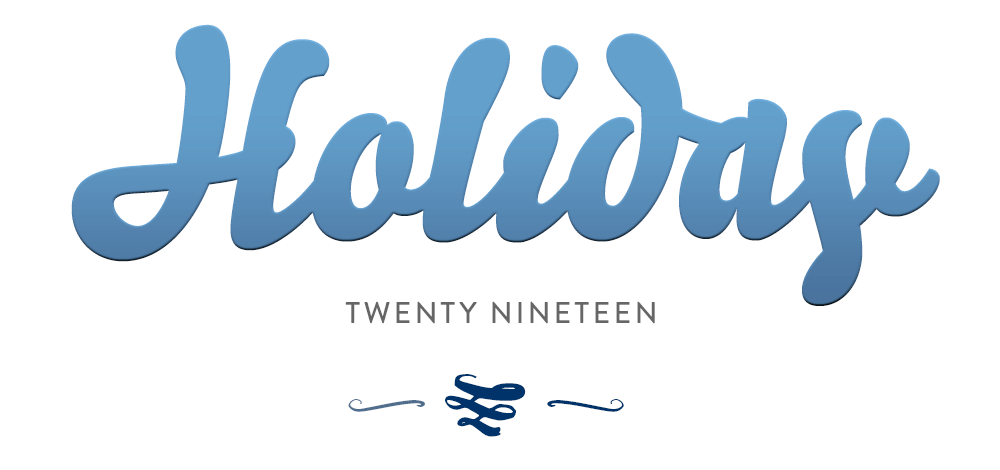 The first few rows of this list include the items I am most excited about including a new purse offered to me by Frankie Cameron. This bag is one of the most exquisite things I have ever owned. Expert quality, durable, stylish, and so gorgeous that I find myself staring at it from time to time. It's big—it can double as a purse and diaper bag—but I like a big purse. Since I thankfully will not ever have to own another diaper bag this now doubles as my computer bag which means I don't have to carry on both a purse and computer bag when I travel. You guys can get free shipping with code DOOCE in addition to other deals they are running throughout the weekend.
I don't normally accept products from companies or brands who are looking for exposure, but I made an exception this year as an experiment: I wanted to see for myself if these brands are offering quality, usable goods that you and I as "business operators" find helpful and enjoyable and rewarding. And by "business operators" I mean "those of us who keep the house in order on a day-to-day basis." I would also put it this way to make more sense: I love my dog, but she and I have a business relationship. I operate the business, she protects it. I am not the person for whom she screams joyously when I walk in the door. She nods, affirms that the boss is back at headquarters, and it's time to get to work.
We give each other belly rubs from time to time, but it always ends with a semi-awkward look at each other that says, "You got this? Because this ship will sink without you."
One item I am so excited to share is the Corala Weighted Blanket. You've heard about these, right? They are supposed to benefit those of us who suffer anxiety, insomnia, restless leg syndrome, and all sorts of other maladies that are helped when you feel enveloped tightly by someone you love. This blanket is BEYOND. It comes in a luxurious box with two covers, one a super-soft duvet that would complement any decor, and it is heavy. HEAVY. It hugs you. It consumes you. And you will not ever want to move out from underneath it because it feels like the physical form of an anti-anxiety med. If you're a parent you'll get this: you know when you see your kid for the first time in a a few days (or a few weeks or, god forbid, a few months) and they jump into your arms? You know that relief you feel? The smell of their hair finally buried into your neck? Hello, Corala Weighted Blanket. Please stay awhile.
These top two things are gifts you could give to a "business operator" to reward them for keeping the ship afloat. If you can afford it choose one and make that the BIG gift.
Corala Weighted Blanket in Living Coral Color (2 Light Grey Covers Included)
20 lbs 60" x 80" Queen (Corala official website)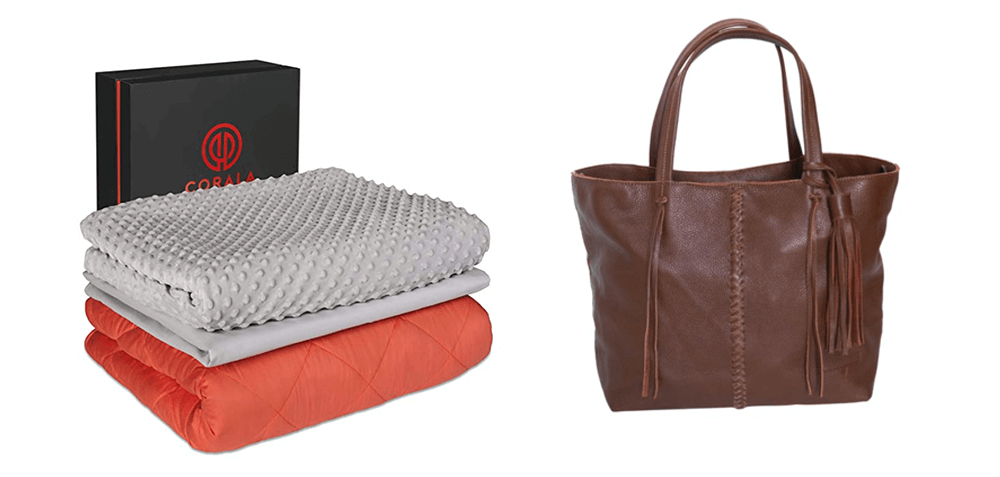 I also opened up this gift guide to independent business owners and their shops and goods. I am doing my best to add as many of these as possible and will continue to do so throughout the morning. I had every intention of having all of this in place yesterday but of all days to have my stomach flare up as badly as it can, yesterday was an especially fun circus. We prepared a ton of unbelievable food and I ignored the pain long enough to have a few bites of most of it, but even now I'm barely able to remain upright. But whatever, let's do this:
A free online knitting magazine, 17 years old this fall. They're a tiny business, women-run, crowdfunded and grassroots.
Unique and rad upcycled bags
1" buttons and embroidery
They are running a sale from Thursday from saturday using code TURKEY on the website
Organic, sustainable and ethically-made towels, towel sets, hooded baby towels, Turkish towels, blankets, and pillows. For Black Friday, she's offering discounts and free international shipping.
 Lots of stationery items including stickers, greeting cards, and Lunchbox Notes
A curated care package company, so if someone in your life has a new baby, or something terrible happens, you can head to the site and pick what kind of box you want to send, and which price point (they come in $35, $50, and $100). We hand-write your message to the recipient in the letterpress card that comes in the box. The Social Justice Box includes items from small businesses that have social missions, and they're also donating 10% of the profits from the box to RAICES. For Black Friday, 15% off (any box) with the code YAY.
 One-of-a kind climate beneficial wool pieces that are the height of luxury–gorgeous accessories for women (and men) and home. Get a 20% discount by using DooceGiving.
A handmade inspirational jewelry company specializing in gemstone jewelry paired with inspirational messaging, so that when you put your jewelry on each day you can feel empowered by the message that it holds. They will be running a small biz Saturday sale with a sliding scale discount starting at 25% off at 7am. Coupon codes will be on the website banner.
A Seattle-based letterpress stationery company that uses the power of words and the magic of snail mail to bring people together. Black Friday only take 20% off everything on our website, INCLUDING "The Year I Became Snail Mail Superstar" preorders AND your first month of a Card Club subscription. (Valid on orders of $35 or more. Use coupon code: FRIDAY.
Home decor print shop, annual holiday sale through December 4th. Save 20% off all orders under $100 with the code: JOLLY2. Save 25% off all orders over $100 with the code: JOLLY25. Save 30% off all orders over $200 with the code: JOLLY30
 Dog bandana designs. Free shipping on orders over $35 through Cyber Monday.
They turn their original watercolors into vision-inspired stationery, prints, and now holiday ornaments. 10% off of all note card sets, notepads, and prints Friday 11/29-Sunday 12/1.
They take photos of pets that people send to them, make a digital graphic, and then use that graphic to make stencils that I transfer to ceramic pieces, mugs and steins, and can also send that graphic on to a printer to make T-shirts, sweatshirts, and totes.
"My son has this awful rare and terminal metabolic disorder. I wrote a children's book, where all the proceeds go directly to a charity that funds research into his particular disorder. It's very rare (less than 500 children live with it world wide) so every dollar we raise has a huge and tangible effect on the research that can be done."
"I knit adorable little gnome hats. I'm just one woman, just one maker with no Etsy page or anything—but I make these hats in four different sizes ranging from infant to adult, in whatever color cozy, cozy hand-dyed Uruguayan merino wool yarn I can get my hands on."
A family-owned skateboard shop in the Seattle area that specializes in skateboards for girls/kids/smaller riders. "We have fun, kid-friendly designs, and a patent pending hard shell finish that makes them super durable. We are running a 15% off all complete skateboards + free t-shirt + free shipping Black Friday deal."
A conversational card game for 2-10 players that playfully tests how well you know your friends, family, partners, or coworkers — a set of 500 cards helping you learn more about what they love and who they are.
"We make all sorts of things, from fine art prints to pins and patches, shirts, etc. We also are the only open risograph studio in Utah, which is this kind of soy ink printing machine that looks like a Xerox copier, but makes really great, textured prints."
All clearance shirts marked down to $15, buy a mug and save 33% on a regularly priced shirt
A woman-owned small travel business that offers journeys, most of which are women-only, that include a giveback of some kind to the communities we visit. For example, our Kenya safari in March will fund delivery of a water catchment take to a woman in a Nairobi community.
Black Friday – 40% off no code needed. SBS – Her Birthday! – 25% off and a free gift with $35 purchase. Cyber Monday – 25% off
35% discount on the Standing DVD when people buy the Sitting DVD; and for BF/CM they can use coupon code 15OFF for an additional 15% off their entire order.
Candles handcrafted by young moms in a job training program. All proceeds support our mission to empower young moms and their kids. Promo from Friday to Monday (Nov 30-Dec 2) of Free Shipping on all purchases and 10% off all gift sets.
"I blow glass, so, artsy vases and bowls that are truly one of a kind because I cannot recreate any of them (lol… my skill is in creativity, not production!)." 20% off sale running from now until 12/15
Oil and acrylic paintings of nature and national parks, 20% off sale.
"I'm a fiber artist, and I do hand embroidery. I have an Etsy shop and am running 20% off through Cyber Monday."
A nonprofit social enterprise tackling unemployment of impoverished women. They hire women to work in their food manufacturing business where they produce a variety of gourmet food products that are easy to make. The women work full time and attend classes like financial literacy and Dress for Success – all with the goal of her finding a career full-time job after 7 months.
"I sell vintage maps and wall decor through my Etsy shop and am offering free shipping and 10% off with code thanks."
"I sell prints on salvaged dictionary pages and I'm offering 20% off when you buy three prints or more, PLUS when you buy three in message to seller tell me a 4th print and I'll send it to you free. Shipping is Free/Included for USA based customers and discounted for international shoppers."
Laser cut accessories for quirky girls
"I teach parenting workshops and speak at schools, churches, conferences, and companies. The bulk of my work is one-on-one parent coaching which I provide in person in San Diego, CA as well as virtually worldwide via phone or Zoom. My philosophy is parents have to manage their own shit and regulate their own emotions first. We can't model or teach what we don't have. Then we need to focus on connection – the basis of all good relationships. Lastly, I teach parents to coach their children (especially surrounding emotions) rather than to try to control them. I'll be offering 30 minute coaching calls for $25 on Black Friday."
Perfect for players ready to take their game to the next level! Whether for competition or recreation, your Sweet Pickle Paddle will be a showstopper and the perfect complement to your game, perfect for experienced players—casual and competitive alike. Turkey15 for 15% off everything on the site.
10% off plus free shipping in the US
Buy 3 get 1 free
Nature prints, handmade
"I create calming abstract photography designed to bring a moment of serenity to your everyday life. I move my camera like a ninja to create this magic. I'm offering 25% off anything in my shop through the end of Monday night, plus free US shipping. Code: SANTA2019"
"We are a women owned and operated safe, natural and organic cleaning products company made here in Wilmington, NC. No questionable ingredients included."
They specialize in mystery vacations. Travelers fill out a questionnaire with their vacation preferences, and get to delight in guessing their surprise destination until they arrive at the airport. Enter DOOCE in the comments to receive 15% off planning fees for trips booked throughout the holiday weekend. $50 off gift certificates of $300/more (limit 1 per household).
AND NOW FOR THE REST
Bisou Natural Air Purifying Bags – Bisou Natural is a sustainable solution to chemical laden air fresheners and they are dedicated to the social cause of planting 30 trees for every gift set. They are having a Black Friday sale where the gift sets are going at 60% off. Use the code XMAS for free holiday shipping.
Free People Women's Adella Slip Dress
This is the dress I am wearing in this photograph. Every color is spectacular. I own a few in the longer version, too. They fit in a very flattering way and can be dressed up or down, and this is by far my most favorite dress right now.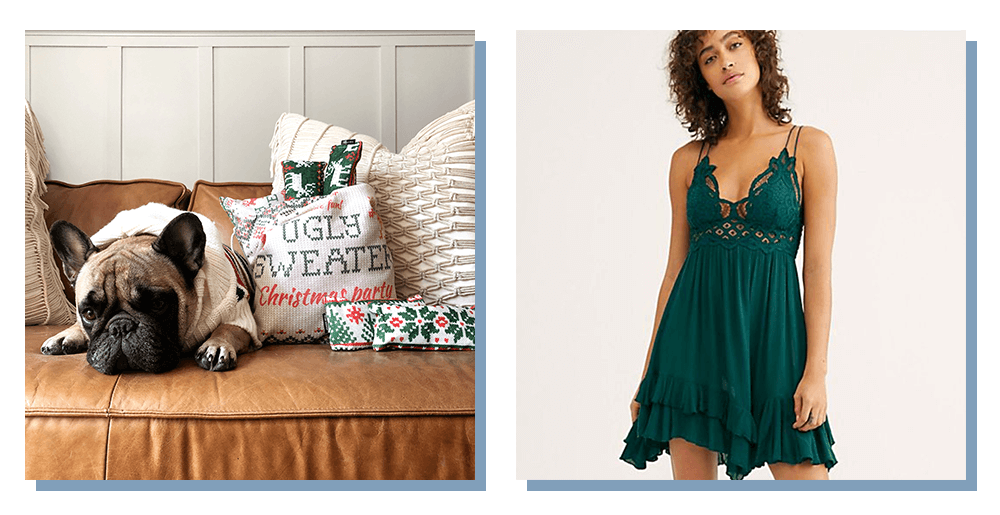 Click & Grow Smart Garden 3 Indoor Gardening Kit (Includes Basil Capsules), White
I can grow herbs on my kitchen counter in winter! The instructions said it might take a few weeks to see any growth, but we saw buds of basil within a week. The kids are going bonkers over this. I love it. Love, love, love it. Cannot wait to try so many other herbs and potentially illegal—JUST KIDDING, MOM. Maybe.
Qtica Intense Lip Therapy Balm
Attention fellow dry skin and lip sufferers! Exclamation point! I have never since moving to Utah been able to find a solution for my dry lips. Every single thing has made them worse. I can't use Carmex or Blistex or Chapstick or Aquaphor or Cortisone cream or gel or ANY EFFING THING. I gave up. If I go about four days without anything on my lips they might not crack and peel, I never know. I wear lipstick knowing I will suffer endlessly for days after.
BUT THEN.
But then.
My friend Lori introduced me to this. I doubted, I always do. But I shouldn't have. I sleep with a dab of it smeared across my lips at night and I'm like a goddamn newborn in the morning. This shit is unreal and makes me so hopeful that I may have a normal winter face in Utah at some point before I die.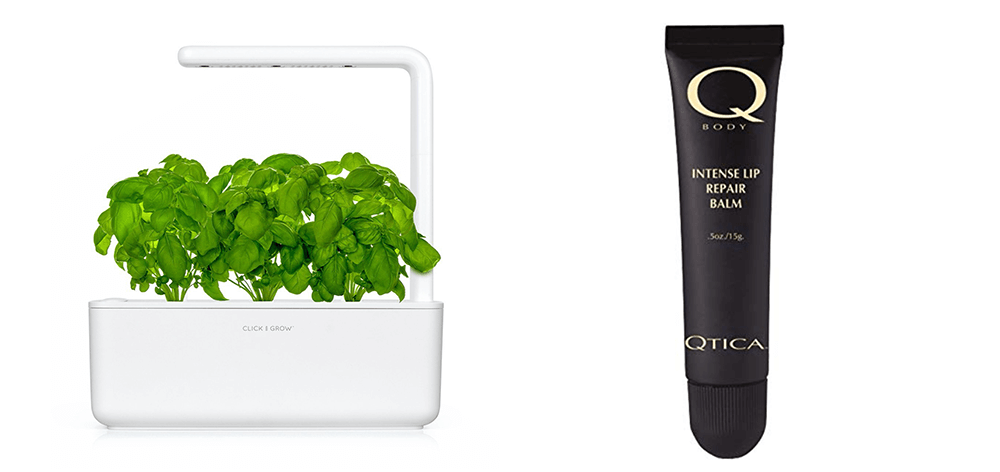 Sitka Salmon Shares – This is a Community Supported Fishery (CSF) that delivers sustainably harvested seafood from its small boat fishermen to its members. Each member receives their "share" of the catch, ranging from 4 to 5.5 pounds per month during the CSF season (April through December). The seafood varieties included in each month's delivery are determined by what's in season, with selections varying from King Salmon and Halibut to Spot Prawns and Dungeness Crab. Each delivery also includes a monthly newsletter with educational information, stories from the fishermen and delicious recipe cards.
Butcherbox Ultimate Steak Sampler
New members receive the Ultimate Steak Sampler (2 Filet Mignons, 2 NY Strips & 4 Top Sirloins) for FREE in their first box. This is $75 worth of steaks, for free.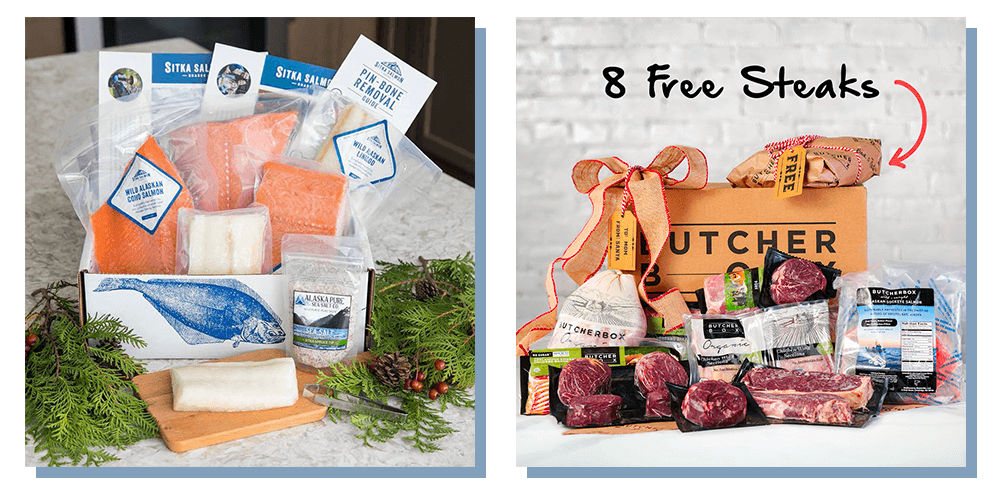 Need a new dress for a fancy thing? I found a few for you, and they will make you look like the event was organized specifically for you.
CLUB L V PLUNGE FLORAL MAXI DRESS
ASOS DESIGN LONG SLEEVE MAXI DRESS IN EMBROIDERED MESH
ASOS DESIGN HIGH NECK EMBROIDERED MAXI DRESS
ASOS DESIGN PREMIUM LACE INSERT PLEATED MAXI DRESS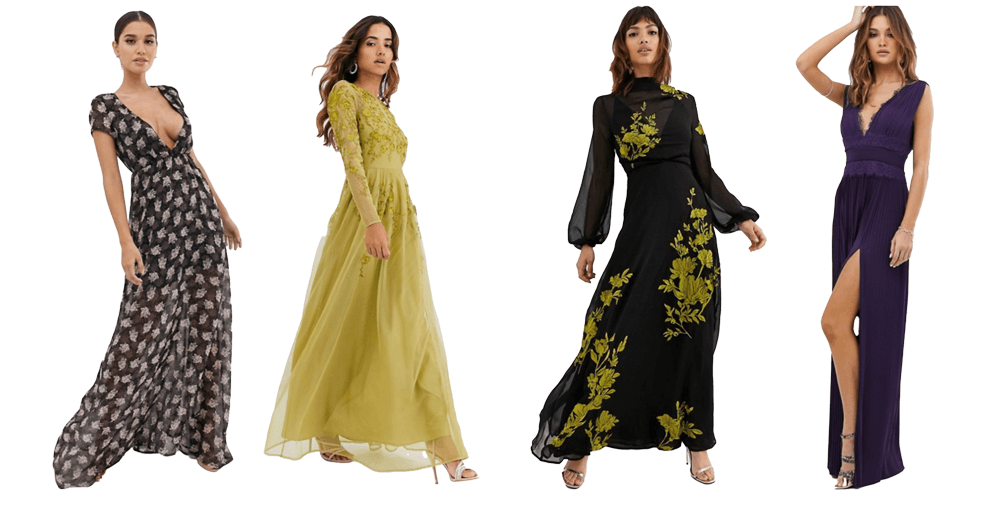 ASOS DESIGN sleeveless pleated floral print maxi dress
ASOS DESIGN Tall high neck embroidered maxi dress
ASOS DESIGN pretty embroidered floral and sequin mesh maxi dress
ASOS DESIGN one shoulder tulle maxi dress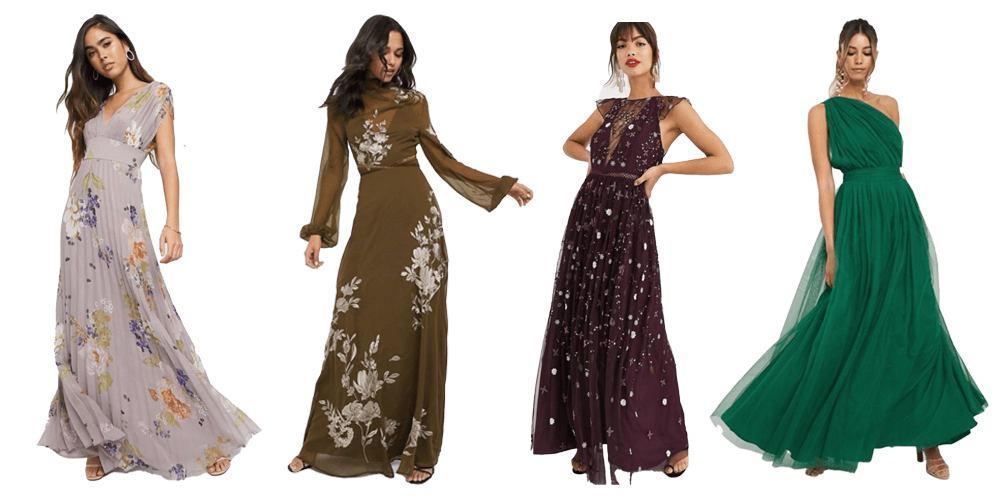 DANA XU 100% Wool Large Winter Women Pashmina Poncho Cape
ZANZEA Women's Batwing Oversized Pullover
Free People Women's Adella Bralette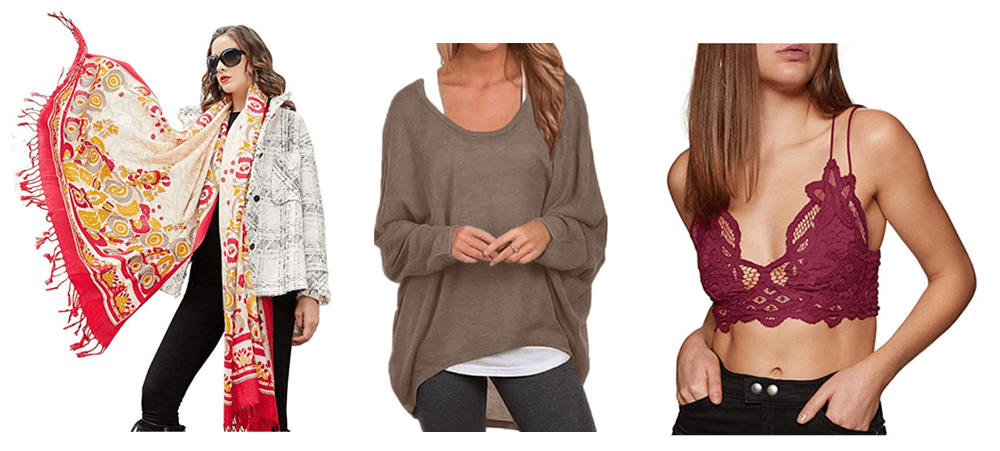 KYZER KRAFT Womens Leather Motorcycle Jacket
Tipi Toe Women's 3 Pairs Ribbed Mid-Calf High Wool-Blend Boot Socks
Topdress Women's Floor Length Chiffon Maxi Skirts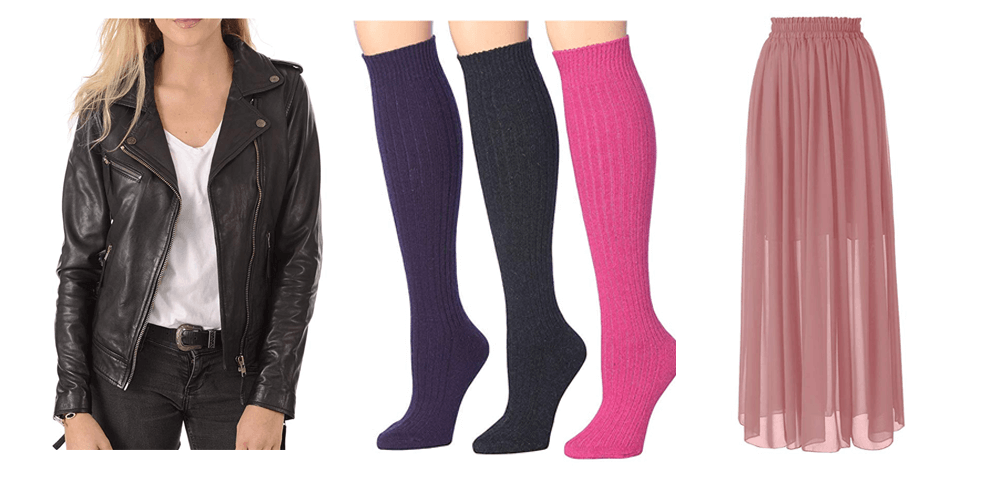 VANS Sk8-Hi Unisex Casual High-Top Skate Shoes
Vince Camuto Women's Elvin Bootie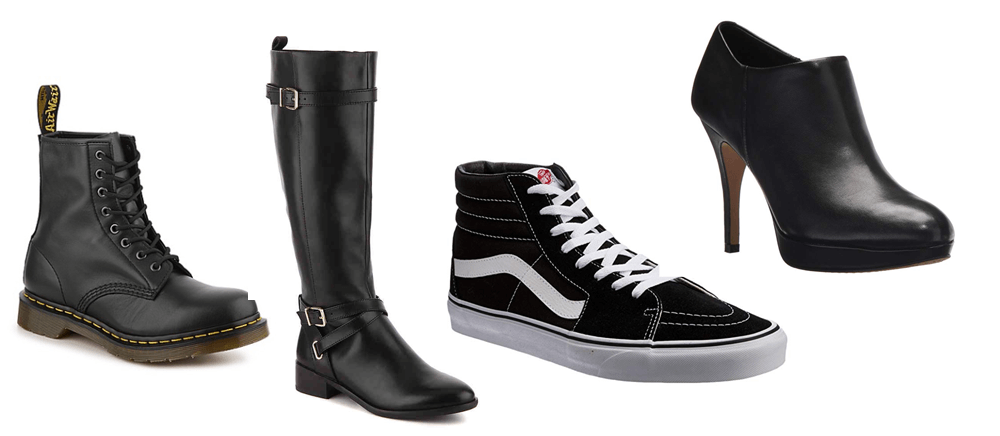 Thrive Causemetics Brilliant Eye Brightener – Stella
Perricone M.D. Nutritive Cleanser
Grown Alchemist Hydra-Restore Cream Cleanser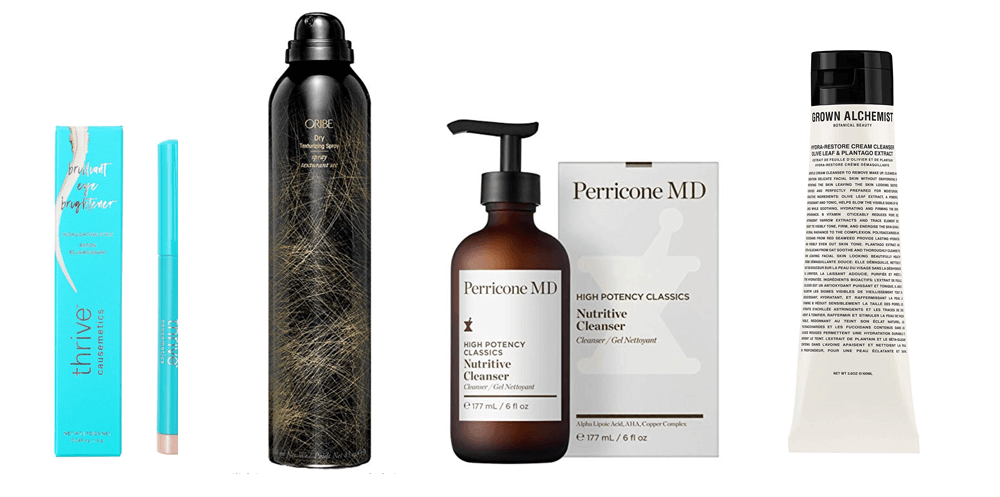 URBAN DECAY Naked 3 Eyeshadow Palette 12x Eyeshadow
BEAKEY 5 Pcs Makeup Sponge Set

TokyoMilk Light and Soul No. 01 Shea Butter Handcreme
Matcha Eye Rescue – Anti-Aging Eye Cream for Wrinkles, Lines, Puffiness, Dark Circles with Caffeine and Green Tea
Kamedis Acne Facial Cleanser Treatment with Salicylic Acid (1%) for Acne-Prone and Sensitive Skin
Bsisme Hair Brush-Boar Bristle Brush with Detangling Pins Wooden Paddle Detangler Hairbrush

GEMINI JEWELRY Women White & Gold Plated Long Dangle Drop Earrings
DIANE LO'REN Gold Tone Sideways Initial Necklace, Large Letters A – Z
ASOS DESIGN pack of 3 fine hoop earrings in geo shapes in gold tone
ASOS DESIGN Twisted Nugget Bead And Hoop Multirow Necklace

Formé Shoe Shapers stretch & shape all women's shoe styles from flats to 6 inch heels
Orla Kiely OK298 Cake Tins-Assorted Prints-Set of 5 Storage

Premium Caddy Organizer by Mollieollie
MEKO Universal Stylus Touch Screen Pens for All Capacitive Touch Screens Cell Phones, Tablets, Laptops Bundle with 6 Replacement Tips
Bypass Pruning Shears Kit – Stainless Steel Gardening Hand Pruner and 1 Micro-Tip Snip Garden Clipper (Set of 2)

Old Spice Red Zone Swagger Holiday Pack – 3pc
Dinosaur-Honey BBQ Roasted Garlic Sauce (Pack of 2)
Dinosaur Bar-B-Que Wango Tango Habanero Hot BBQ Sauce 19oz

BBQ&A with Myron Mixon: Everything You Ever Wanted to Know About Barbecue
The Real Dill, Bloody Mary Mix
Breville BSB510XL Control Grip Immersion Blender

Go Raw Pumpkin Seed Bars (10 Bars)
La Tourangelle Roasted Walnut Oil
ORGANIC Dried Fruit Assortment – Sunny Fruit Dates, Figs & Apricots

ZeroWater 10 Cup Water Filter Pitcher with Water Quality Meter
DUUMI Cotton Rope Small Storage Basket
H2rOse – Rose Water Beverage with the Power of Saffron (Variety Pack)

Clean Well Kid-safe products: Alchohol-free hand sanitizer spray and wipes
HÄNS Swipe – Clean 1:1 Bundle – Screen Cleaner for Smartphones, Tablets, Laptops and Other Devices
Baylis & Harding Sweet Mandarin & Grapefruit 16.9 Ounces Hand Wash, Pack Of 3

Dabble & Dollop Starter Kit, 3-in-1 Mixable Bubble Bath, Shampoo, Body Wash for Kids
HyperX Cloud Mix Wired Gaming Headset + Bluetooth – Rose Gold – Game and Go – Detachable Microphone
Loog Mini Acoustic Guitar for Children and Beginners, (Green)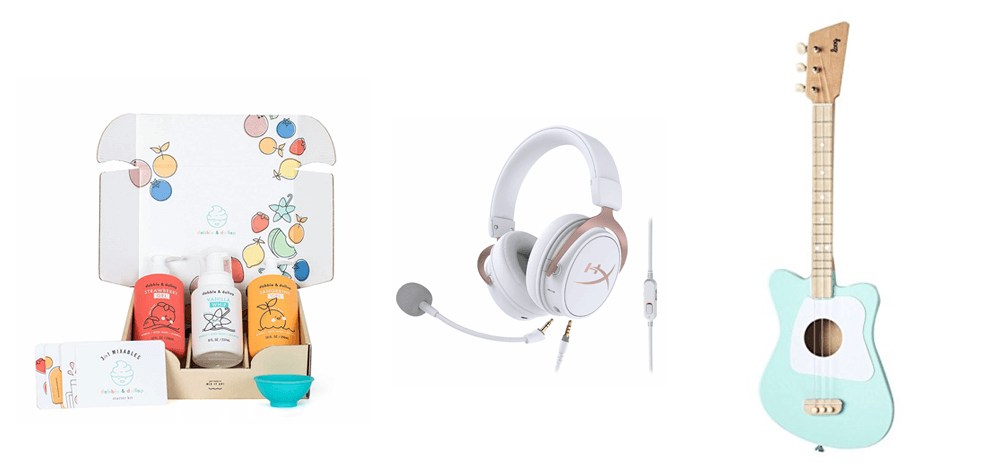 CINEMOOD Portable Movie Theater – Includes Educational Disney Content, Streams Netflix, Amazon Prime Videos and Youtube
Thick Classic Notebook with Pen Loop – Wide Ruled Hardcover Writing Notebook with Pocket + Page Dividers, 180 Pages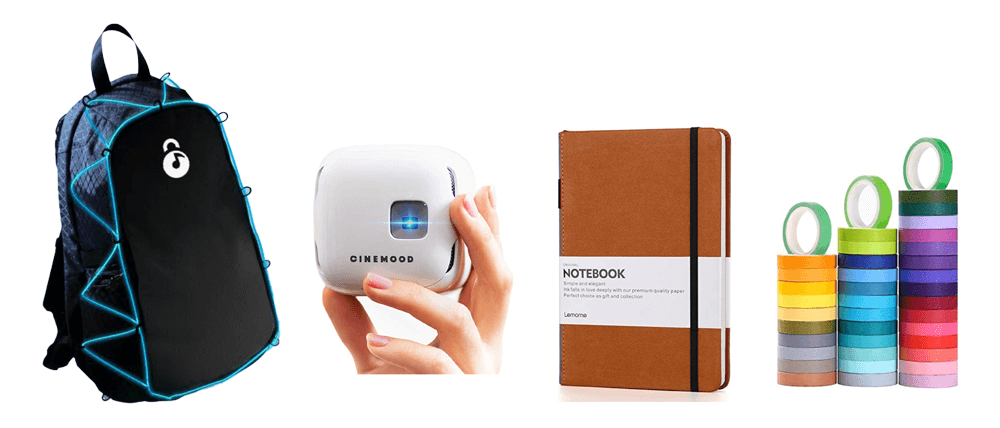 OUR MOMENTS Families: 100 Thought Provoking Conversation Starters for Great Parent-Child Relationship Building
Epson EcoTank ET-2760 Wireless Color All-in-One Cartridge-Free Supertank Printer with Scanner and Copier
Why Can't We All Just Get Along? A 500-Question Thought-Provoking Card Game for Adults and Teens

Walkee Paws Waterproof Dog Leggings
Build A Bear Workshop Online Exclusive Happy Hugs Teddy Fleece Navidad Gift Set

The Body Keeps the Score: Brain, Mind, and Body in the Healing of Trauma
The Hilarious World of Depression
Enough: Notes From a Woman Who Has Finally Found It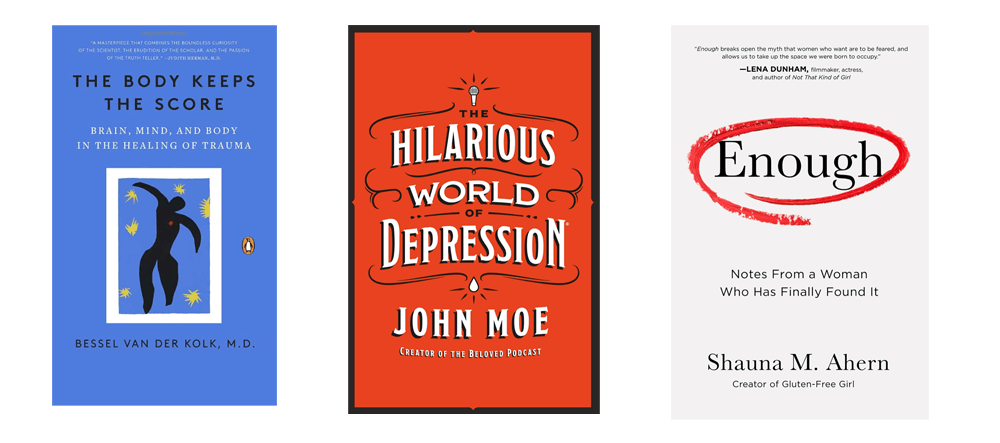 Portrait of an Artist: Frida Kahlo
The Dictionary of Difficult Words: With more than 400 perplexing words to test your wits!
Longest Hidden Pictures® Puzzle Ever (Highlights(TM) Longest Activity Books Ever)