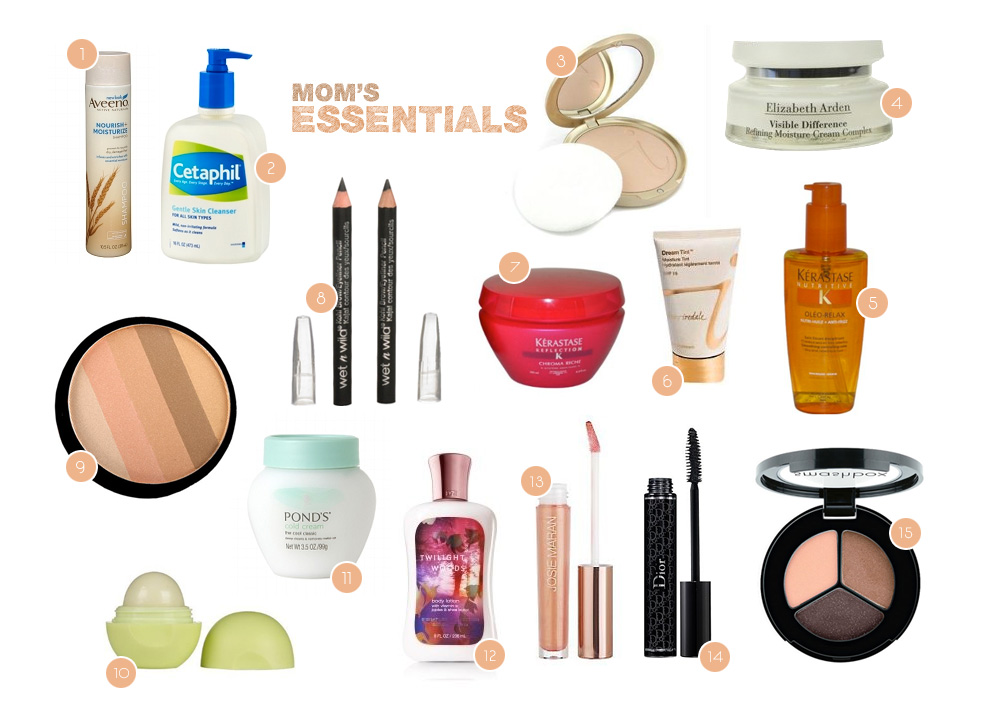 I was taking off my makeup last night and realized that I'm almost out of the moisturizer I put on my face, the moisturizer I've used for five years, and I thought, wait. I'm loyal to all the beauty products I use every morning and night like I'm sure many women are. And we're keeping these ongoing mental tallies of when we're about to run out of one of the essential things we use every day. Why not find out what beauty products your mom is loyal to, throw a bunch of them in a basket, slap a ribbon on it, and give her the gift of not having to keep that tally for awhile?
Or you could just lick your index finger and stick it in her ear.
This also answers some frequently asked questions I get about the products I use on my skin and hair every day. Here they are. There are some splurges here, but the most expensive ones usually last the longest, like the tinted moisturizer with SPF. Yes, it's almost $40, but it will last me more than six months. You don't see perfume on here because that body lotion does the trick and the scent is divine. Also, I only use a dab of the blush on my face, so that little container is going to last so long that the mortician will use it to brighten up my cheeks for the open-casket viewing.
1. Aveeno Active Naturals Nourish+Moisturize Shampoo $6.99
2. Cetaphil Gentle Skin Cleanser $9.99
3. Jane Iredale PurePressed Base Pressed Mineral Powder SPF 20 – Warm Silk
$36
4. Elizabeth Arden Visible Difference Refining Moisture Cream Complex
$25.99
5. Kerastase Nutritive Oleo-Relax Serum
$27.49
6. Jane Iredale Dream Tint Moisture SPF 15 – Medium Light
$38.95
7. Kerastase Reflection Chroma Riche Treatment Masque
$37
8. Wet n Wild Twin Eye/Brow Pencils $1.99
9. Smashbox "Fusion" Soft Lights Blush $30
10. EOS Honeysuckle Honeydew Lip Balm
$1.99
11. POND'S Cold Cream for Skin $4.49
12. Bath & Body Works Twilight Woods Body Lotion
$8.25
13. Josie Maran Natural Volume Lip Gloss in Summer Lovin'
$19
14. Dior Diorshow Black Out Mascara
$30