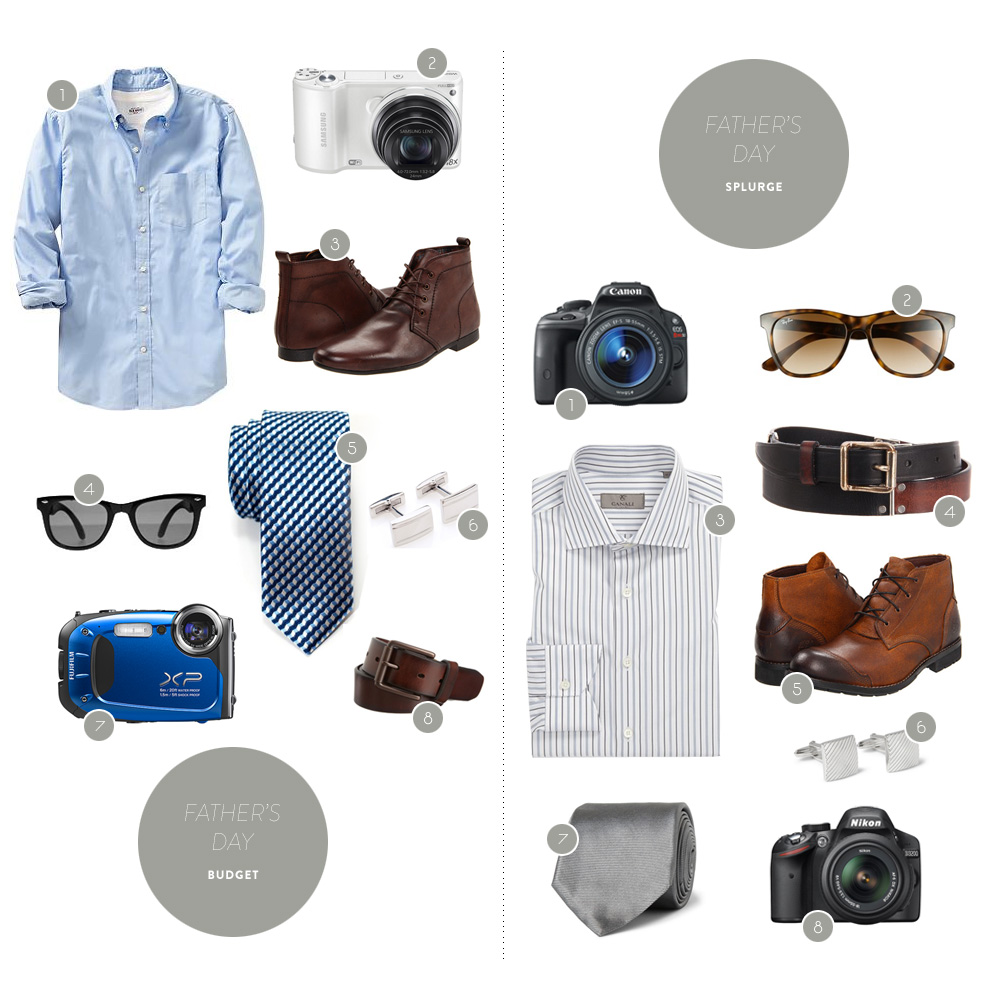 This post is brought to you by Best Buy.
……
I think I may have mentioned here before that my father taught me everything I know about finances and managing money. He's why I don't carry debt and only buy things if I have the cash to do so. He's the type of person who would be uncomfortable if I spent a lot of money on a gift for him, and he might even lecture me the many reasons I should have used a coupon. I would not be surprised if he's had it written into his will that his tombstone should proudly say nothing but MISER.
So when thinking about ideas for gifts, I had two minds about it: if your father is like mine or your coffers are lean, look to the left. If you want to spring for something a little more luxurious, look to the right. Either way, don't forget to call him up on Sunday. I was going to make a joke that you better not make it a collect call, but way to show my age there. Kindly look away from the gray in my hair.
BUDGET:
1. Men's Long-Sleeve Slim-Fit Shirt $19.96
2. Samsung – WB250F 14.2-Megapixel Digital Camera $179
3. Bedstu Bryden Leather Boots $110
4. ASOS Folding Wayfarer Sunglasses $20.36
5. Premium Wavy Zig Zag Stripe Pattern Woven Skinny Tie
$9.90
6. Classic Stainless Steel Cufflinks
$19.95
7. Fujifilm – FinePix XP60 16.4-Megapixel Digital Camera $199.99
8. Dockers Men's Bridle Belt
$21.99
SPLURGE:
1. Canon – EOS Rebel SL1 18.0-MP Digital SLR Camera Kit with 18-55mm Lens $799
2. 'High Street' 54mm Ray-Ban Sunglasses $150
3. Canali Trim Fit Dress Shirt $275
4. DSQUARED2 Men's Brother Belt
$225
5. Timberland Earthkeepers City Premium Chukka Boots $185
6. Lanvin Engraved Rhodium-Plated Cufflinks $180
7. Canali Woven-Silk Tie $145
8. Nikon – D3200 24.2-Megapixel Digital SLR Camera with 18-55mm Zoom Lens $549.99
……
This post is sponsored by Best Buy. Find all the tools to capture, save and share life's moments.