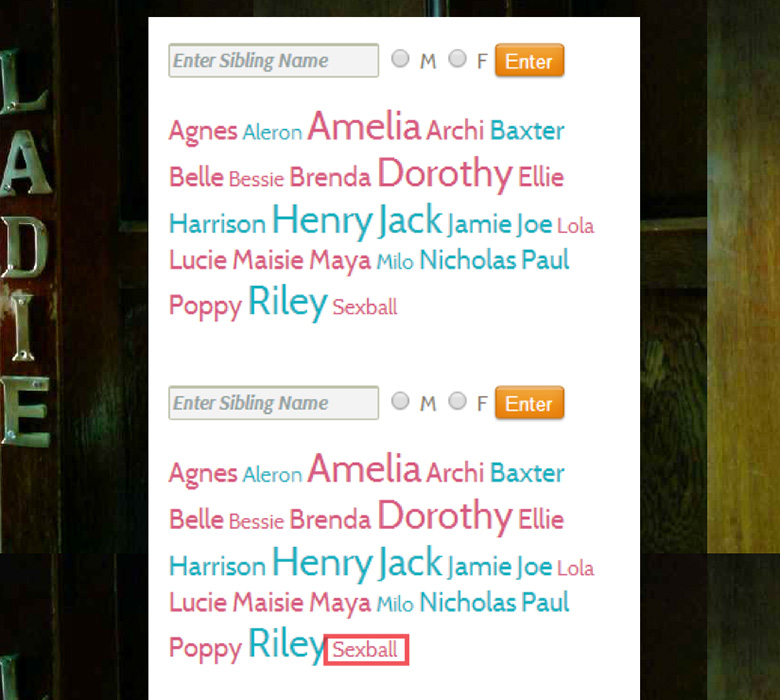 I am currently on a plane from Dallas to Hong Kong and the pilot just announced that we only have 77 hours left in flight time. First I'm going to perform squats in the aisle to get the blood flowing up and out of my feet, and then I'm going to attempt to sleep even though this seat is so small that my knees are up around my ears. I'll just pretend I'm revisiting the womb.
Since I won't be on the ground in SE Asia until very late Tuesday evening, I'm going to feature a guest post from my very good friend Sarah Brown. Sarah blogged at Que Sera Sera for over ten years but currently writes at her Tumblr, Damn Gina.
……
I live in Brooklyn, and cannot walk by a park without hearing four nannies call out for Beckett to come eat his hummus. There's nothing wrong with the name Beckett, but I'm very aware that all the Becketts have big brothers named Henry. All the Henrys go to school with Ava Graces. If I lived in another part of the country, those names would be different but follow the same patterns. Those trends and patterns are fascinating to me.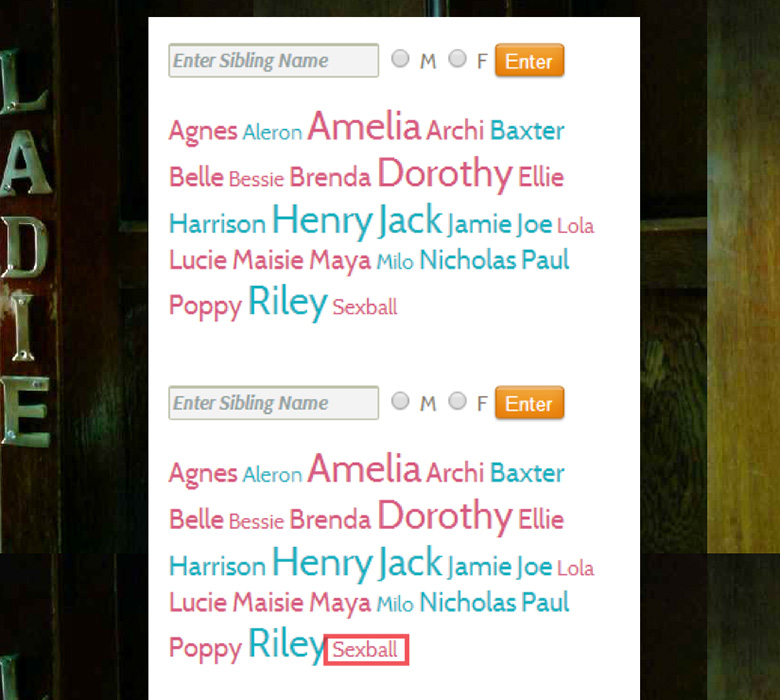 Let's be frank: everyone knows someone who's named their kid something terrible. Not like the racist Orangejello-and-Lemonjello urban legend terrible, but real life terrible, like Finnelyn. Maybe none of your close friends, they all have lovely taste, but your coworker, or your neighbor. Or just spend ten minutes searching through Facebook at the names of the children of the people you went to high school with and don't tell me you didn't recoil. 
To avoid a world full of same-names and awful-names, I've compiled a list of popular baby name alternatives. I hope these catch on and shake things up a bit. Please feel free to use any!
If you like boys' names that sound like old Southern family names, like Whit and Drum, you might like:
Coy
Vance
Tate
Baron
Bonk
Dupe
Whelp
Dunt
Plantation
If you like names that sound Irish but you couldn't locate Ireland on a map, try:
Finley
Finlay
Finnegan
Finn
Faeric
Kaeric
Kaericleigh
Gaelic
Lucky
Balderdash
If you like old-fashioned great-grandparenty names, like Violet and Henry, don't act like you're too good for:
Stanley
Bertha
Dolores
Ronald
Gladys
Norman
If you like names that begin with H and end in N, like Hayden or Harrison, you might like:
Hallison
Halliburton
Harperington
Halloween
Higgs-Bosington*
If you like names from mythology, like Athena and Daphne, why not try:
Priapus
Io
Alectryon
Cerberus
Charon
Cronus
Baal
Baphomet
Cassandra
If you're into names that evoke birdishness, even though the "Put a bird on it" joke itself is already 3.5 years old:
Lark
Swift
Raven
Pigeonhole
Sam the Eagle
Flying Rat
Tom
Names that sound like real names but aren't, you just mushed some sounds together and everyone knows it, but nothing will change your mind:
Brantley
Brantleigh
Brogan
Teeglan
Treydgen
Shaylon
Braphonie
Dyldon
Kaynasty
Names that are also Will Smith movies:
Hitch
Hancock
Legend
Ali
Bagger
Bad Boys II
Here are some good names for twins, because god knows they'll be a packaged set all their lives and it's important that they coordinate like towels and soap in a guest bathroom:
Shark Week & Santa Claus = both things that bring joy!
Maverick & Goose
Cobra & Mongoose
Beowulf & Grendel
Grendel & Grendel's Mother
Love Boat & Fantasy Island
Batman & Internet
Leviathan & Tiffany
Just please, someone name your baby this, for me:
Manimal
Olestra
Widowmaker
Jesco
Fester
Sexball
*I can't take credit for this one, my friend Pierce came up with it