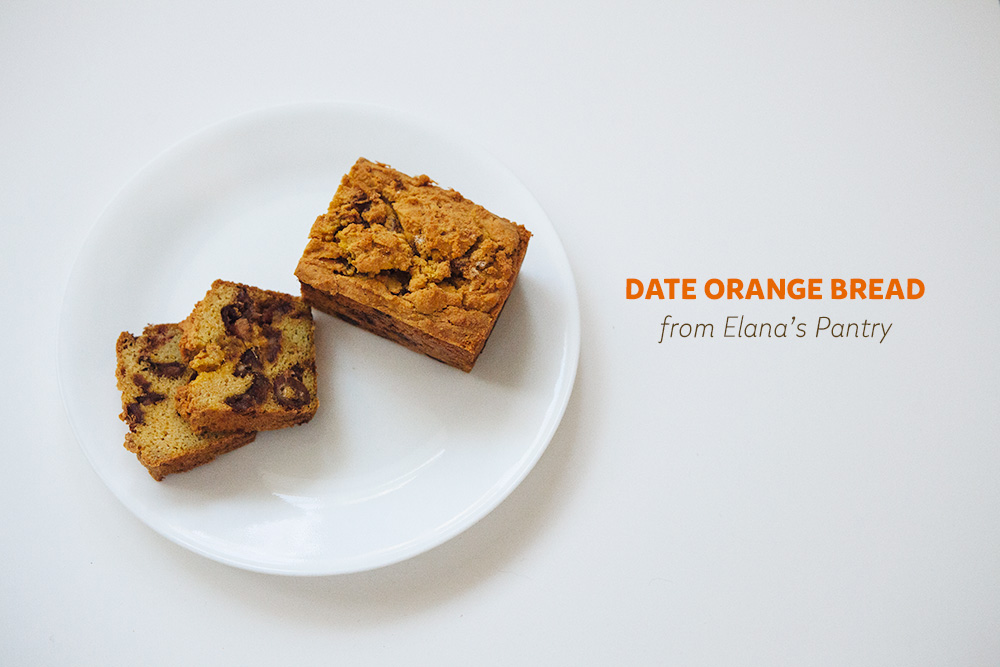 This week I decided to get a little daring in the kitchen and venture outside of my comfort zone by baking something from scratch. Baking terrifies me unless it involves pre-made chocolate chip cookie dough that is already cut into squares. Those? Those I can get right every time. I can even make it seem like I made them from scratch by removing them a few minutes early from the oven when they are perfectly moist. If you like your chocolate chip cookies crispy, well, it's too bad that you have such a wrong opinion about food.
Require me to pull anything else out of an oven at the precise time and over and over again I've produced disasters. Undercooked, overcooked, cooked on the outside but not on the inside… whatever bad can happen in an oven happens in my oven. It is the Bermuda Triangle of my kitchen.
I was flipping through my copy of Paleo Cooking from Elana's Pantry
when I came across this date orange bread recipe (very similar to the date walnut bread recipe on her website) and thought, hm. Not too many ingredients or steps and the end product is only 5 x 3 inches. If it turns out to be a disaster it will only be 5 x 3 inches of a disaster. Always looking for that silver lining, I am.
The batter does not taste sweet at all, but because of the dates the end product is perfectly sweet. I had to remind myself that even though it was only 5 x 3 inches long I should not eat the entire loaf all at once. It's a thick, heavy bread that would make a great housewarming gift or something you could wrap in festive paper and give to your neighbors during the holidays if you are crafty and thoughtful like that (hint to my crafty and thoughtful neighbors).
This also passed the Tyrant tasting test who had a slice and was like, one, when did you run out an buy a gourmet loaf of date orange bread? And two, where is this place? I'm so proud of myself for baking something right on the first try. Maybe I'm getting more confident, or maybe it's because Elana's recipes are so stellar. Either way, totally polishing my knuckles on my collar right now.
Previous recipes:
– Spaghetti squash with meat sauce
– Zucchini noodles with avocado cream sauce
– Cauliflower fried rice and sautéed mushrooms
– Tuna patties and coleslaw
– Your basic chicken salad
– Mild yellow chicken curry
– Curried cream of broccoli soup
– Paleo carrot soup