Back in June I wrote about discovering Marlo's talent for rhythm, and since then I have noticed that she has developed a knack for picking up song lyrics. And no, not just the ones to Twinkle Twinkle Little Star and the Itsy Bitsy Spider, the two songs I'm still singing to her at night before bed. But wouldn't that be great if I was bragging about that? My three-year-old knows the words to a kid's song, you guys! Next thing you know she's going to be blinking her eyes and breathing air! HATE TO RUB IT IN.
One morning on the drive to school she kept asking me to play a certain song, but when you combine the fact that I had never heard of it with my tendency to ignore all words coming from the backseat (Kids: "Let's save every complicated question that has ever crossed our minds for when Mom is navigating the car in the snow in rush hour.") I had to ask Leta to translate whatever it was that was coming out of her face.
"She's saying she wants to hear 'Part of Me,' that new Katy Perry song."
Well, LAH DEE DAH, eight-year-old, schooling me on pop music. I bet you're really good at blinking your eyes, you show off.
Thanks to technology, I was able to search for the song (AT A STOPLIGHT, DAD) and stream it through my phone hooked up to the car's stereo. And whoa. That three-year-old sang the whole thing, even the words she didn't understand. And when she got to a part where she was unsure about the lyrics she'd kind look over her shoulder and muffle the sound coming out of her mouth as if she was the first person in history to think that would fool anyone.
I'm on to you, Marlo.
A few days later after picking up Leta from her piano lessons, I had one of my own playlists on shuffle and a song from the late Nineties started playing. So I know she's never heard it before or caught a note of it in passing when out in public, and yet after hearing the chorus only one time she sang along to the chorus when it came to that part again. Every word. What a total show off. Way to rub it in.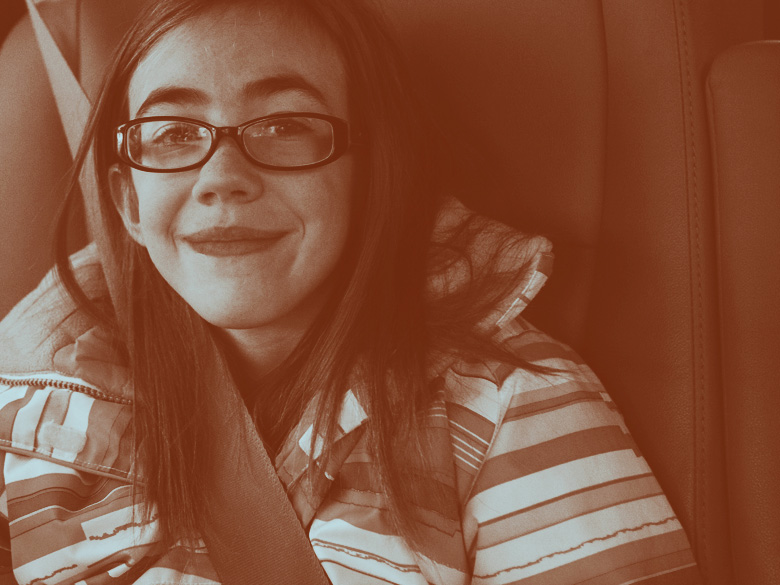 Since both girls are into music now, I put together playlists that we can all enjoy together in the car. And yes, actually, I am super proud that it's not full of made-specifically-for-children tunes. I've worked hard to expose them to an array of genres, and these playlists include artists like Radiohead and Stevie Wonder and Loretta Lynn and Daft Punk. Yes, Katy Perry and Ke$ha make appearances. But so does Kishi Bashi.
So, when Hyundai approached me and asked if I would help promote their Families Who Rock contest, I thought it was a perfect fit. Because I really hope that when my kids look back on their childhood they'll remember belting out choruses together in the back seat (and maybe gloss over the times that one of them got annoyed and told the other one to STOP SINGING! I CAN'T HEAR THE SONG! Or in Marlo's case, STHOP STHINGING! I CAN'T HEAR THE STHONG!)
You can enter the contest here: Families Who Rock
(One family will win a photo shoot in Rolling Stone, airfare, hotel and transportation to the 55th Grammy Awards, and a custom Hyundai Santa Fe.)
Since Marlo caught on to that song from the late Nineties so quickly I think it's finally time to introduce her to Britpop, starting with Oasis. Because she and Liam Gallagher have, what, just about everything in common. She is going to destroy hotel rooms so hard.
……

This post is brought to you by The New Santa Fe from Hyundai. Think your family rocks? Show us by uploading a photo of your family rocking out.  Enter now for a chance to win great prizes.