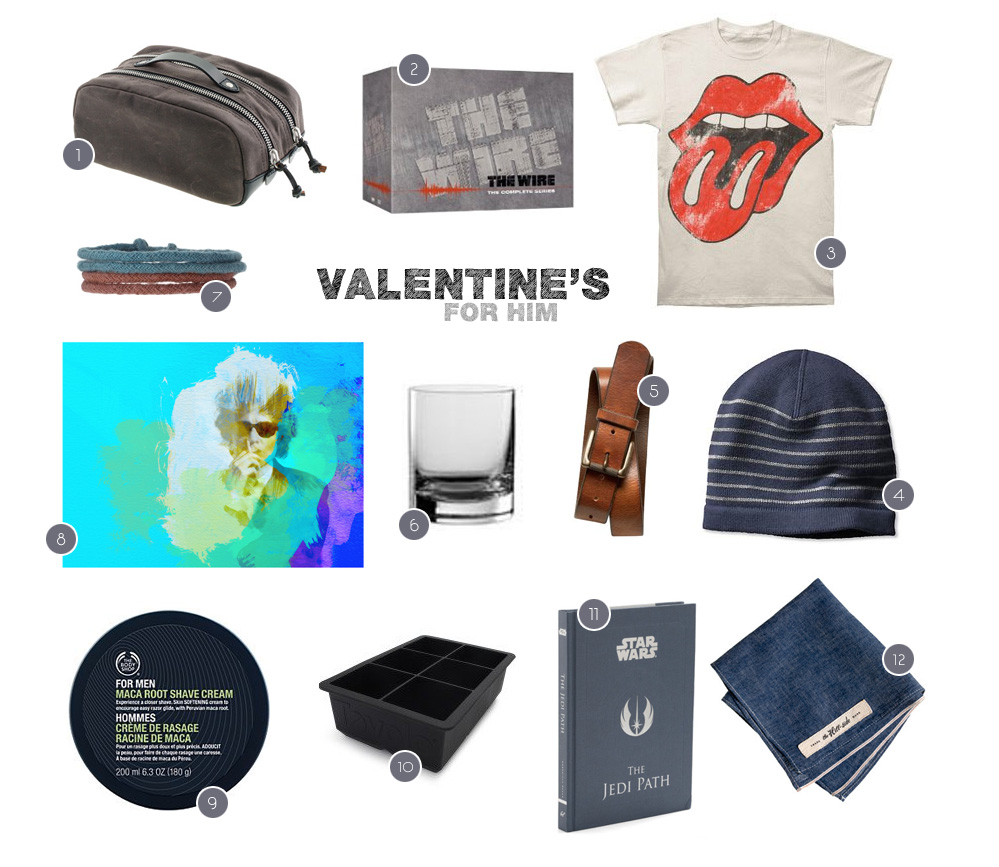 Getting a guy a Valentine's gift can be a little tricky, especially if he's thinking that there is an unspoken understanding that the two of you are nothing more to each other than a bunch of squeaking bed springs. There's nothing wrong with that if it really is an understanding between the two of you. If it's not, then ignore this list and order some fake human poop
and leave it on his pillow.
Do you mean more to each other than that? Then snuggle on the couch underneath a poster of Bob Dylan while sipping a fancy cocktail and watching the first season of "The Wire." If you've got kids and can't find childcare, just use the belt to bind them to the radiator for a couple of hours. See? I thought of everything.
1. Abingdon Dopp Kit $58.00
2. The Wire: The Complete Series
$179
3. Rolling Stones T-shirt
$23.99
4. Plaited cap $29.50
5. Tumbled leather belt $49.50
6. Stolzle New York Bar Double Old Fashioned Glasses, Set of 6
$31.37
7. Double Washed Rope Bracelet Pack $10.52
8. Poster of Bob Dylan $24.99
9. Maca Root Shave Cream
$14.28
10. Tovolo King Cube Ice Trays
$11.99
11. The Jedi Path (Star Wars)
$11.64
12. The Hill-Side® Pocket Square $44.00