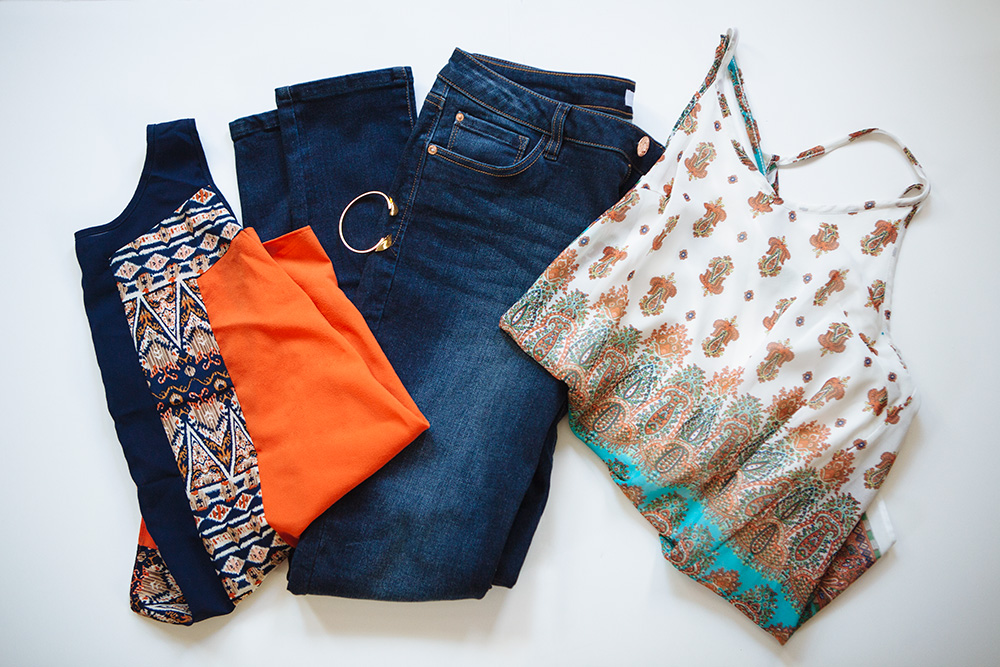 Last week my first Stitch Fix
box arrived with these two tank tops, a striped half-sleeve shirt (which I just realized is not shown because I am currently wearing it) a pair of tall skinny jeans and a thin gold cuff. When I first heard about this personal styling service from my friend Kristen I thought it wouldn't hurt to give it a try, but I had serious doubts. I'm such a picky shopper and never venture out of my comfort zone when it comes to clothes. I admire people who can wear wacky outfits and go crazy with color, but I am not those people. I am the opposite of those people. I am drawn toward the rack of clothes that would make me blend in with the wall.
Color me totally surprised that I absolutely love what they sent me. When I first saw the jeans my immediate thought was, "No way in hell those are going to fit." Jeans are always too short or odd around my waist, but when I tried them on it was as if they had been tailored to fit my body inch for inch. I momentarily became paranoid and thought maybe Stitch Fix was working with the NSA.
I don't normally wear tank tops, but the cut of these is super flattering. I would never even attempt to try them on in a store, which is why I guess it's advantageous to have someone who knows more about clothes than I do suggest I take a tiny step out of my very limited comfort zone. I think this is a good way to get me to experiment a little. They really paid attention to the style profile I filled out, especially the part at the end when it asks, "Anything else we should know before we style for you?"
My answer in all caps: I DO NOT WANT TO WALK AROUND ALL DAY COUNTING DOWN THE SECONDS UNTIL I CAN CHANGE INTO MY YOGA PANTS.
Kristen says some of the boxes are hit or miss, so it'll be interesting to see what they send me next month. You can try it for yourself,
and the best part is that you can keep what you like and send back what you don't like at no cost. I happened to like everything in this shipment, so I bought each item after trying everything on. This means I have an excuse to leave my house more often UGH.