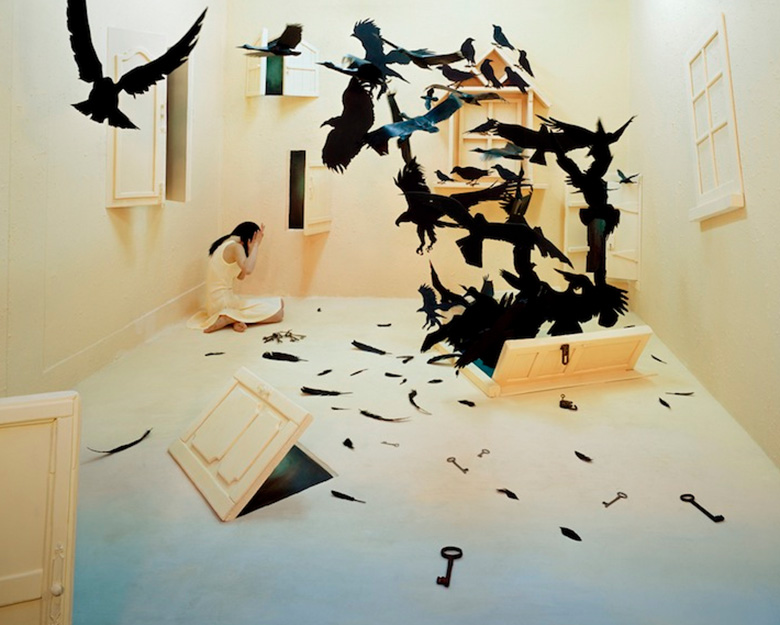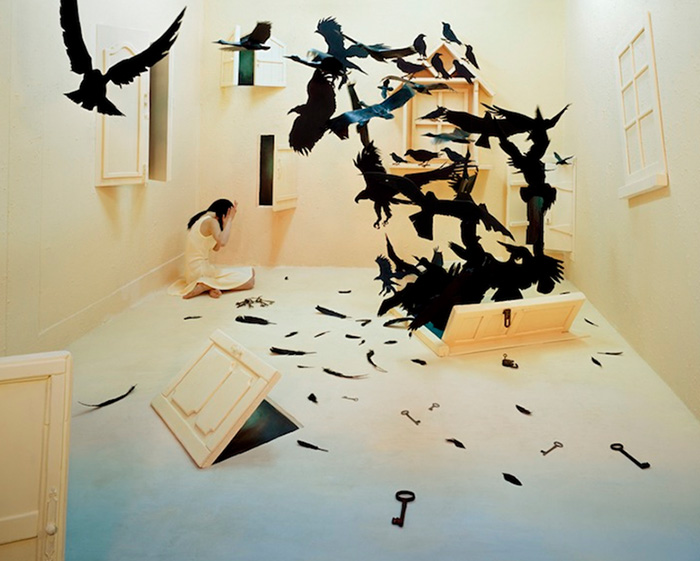 – Artist Jee Young Lee's elaborate non-photoshopped scenes
– Elmore Leonard remembered by his son Peter Leonard:
Elmore was the coolest guy I knew. He wore sleek Italian loafers and drove a Fiat in Detroit, a city where the Big Three [General Motors, Ford and Chrysler] were revered. When he wrote, Elmore wore jeans and Birkenstocks, Nine Inch Nails and Drive-by Truckers T-shirts. He was friends with Steven Tyler, and invited Aerosmith over to his house to swim and play tennis.
– Holiday Safety Tips For Pets
– 15 Reasons Why Wyoming Is The Best State. Period.
4. If I actually DON'T know someone, they know my dad.
– A compilation of misheard lyrics for some of the most played songs of 2013
– SO EXCITED SO EXCITED SO EXCITED: House of Cards – Season 2 – Teaser Trailer
– Google maps for sounds
– GIVE THE SLOTH HIS CARROTS, for crying out loud
– So fascinating, and Marlo thinks this is the funniest thing she has ever seen: fox science
– I know this is not supposed to be funny but it is so goddamn funny.
– Illustrations by Liz Climo
– "Rarely, if ever, does an empathic response begins with, 'At least…'"
– Nirvana punks Top of the Pops in 1991
– The Soweto Gospel Choir paying tribute to Nelson Mandela in a South African Woolworths
– Fox News dreams of a Very White Christmas:
I think what we have here is not actually a historical assertion that Jesus and/or Santa were white, but the considerably more prevalent practice of sufficiently awesome ethnic people being elevated to the status of honorary white people due to their obvious awesomeness. It is like a medal for good behavior.
– I winced the entire time I watched this: Best "Wins" of 2013
– A case for the Oxford comma in one screenshot
– A few of my favorite recent tweets:
I'd get lost less frequently if GPS would say "no, your other left."

— Crystal (@Ludacrys414) June 24, 2013
Video games don't encourage violence nearly as much as piñatas do

— Joses (@JosesLovesYou) February 13, 2013
I like to say "interesting PIN" shortly after the person in front of me uses their debit card.

— Allan Cresswell (@AllanCresswell) June 8, 2013
the judge said zimmerman can't leave florida so leave him alone he finally got the punishment he deserved

— Sarah Beattie (@nachosarah) November 19, 2013
"Mom, be honest. Did you drink while pregnant?" -Rudolph

— Aaron Fullerton (@AaronFullerton) December 7, 2013
I'd like to meet those almond milk farmers. Shake their teeny hands.

— Maebeley Momblepot (@maebemarbles) July 8, 2013
If I sent bouquets as often as ProFlowers suggested, I'd be the most thoughtful psychopath

— Aparna Nancherla (@aparnapkin) December 12, 2013
My grandma's computer password is "walnuts" and her forgot password hint is "I like em".

— AshFrieds (@AshFrieds) September 8, 2013
"It's like Romeo & Juliet, but with garden gnomes." – Someone who is literally a millionaire now.

— Jamie Woodham (@jwoodham) November 30, 2013
Parenthood doesn't officially start til your kids can reach light switches & your house always looks like it's sending SOS distress signals.

— Babies Daddy (@dshack8) December 13, 2013
How To Move Slowly And Annoy People – by my kids

— prontopup (@prontopup) December 7, 2013