Someone sends me a link to the personal webpage of a college student who has stolen two of my taglines and whole paragraphs of my writing and tried to pass them off as her own. I show Jon who is sitting next to me in bed. We have just finished watching "Project Runway" with Heidi [...]
Just now Leta extended her little dimpled hand and fed Chuck a piece of her pop tart, and I realized that this moment should have been on my list of things to do before I die. If it's not on yours it should be: Witness child handing unhealthy breakfast pastry to hairy, fanged beast.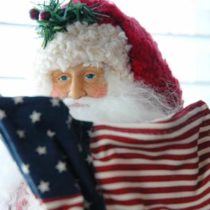 I, for one, can rest easy now knowing that Santa is a Patriot.