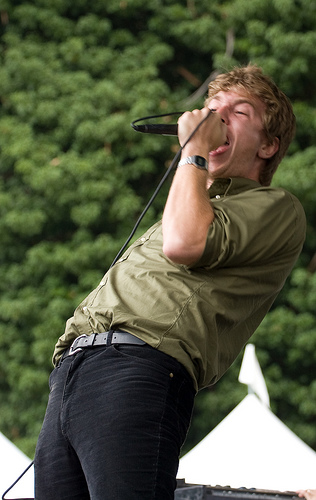 When Jon and I were at the Outside Lands Festival in San Francisco in August we got to celebrate our anniversary by taking photos of one of the bands that serenaded our first year together, The Walkmen, in particular with this song, "We've Been Had" from 2001:
They have a new album out and opened their set at the festival with "In the New year" from that album:
And what I love about this song is the fact that it's really noisy and out of control, but at the same time totally controlled. Also, watching the lead singer Hamilton Leithauser hit some of those high notes on stage was like witnessing someone being struck by lightning:
Also, his name is Hamilton. HAMILTON. It is required by law for me to adore him.
The rest of the band isn't too bad either:
Also, since I'm posting videos I thought I'd include this one that was forwarded to me by more than a dozen people. This dog just may be more talented than Chuck: