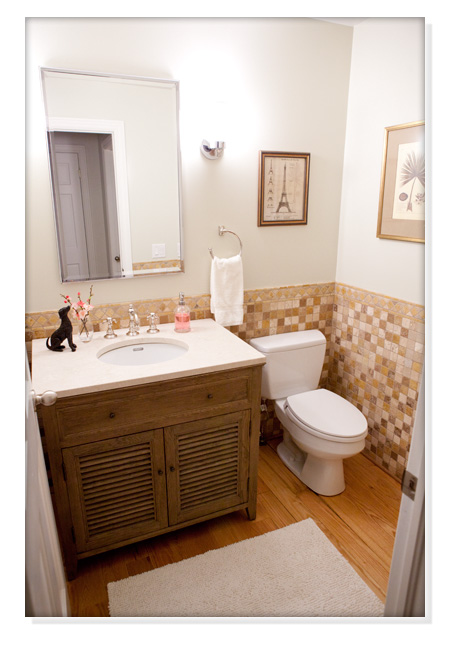 The next bathroom I wanted to share with you guys is the second powder room on the main floor. I know, I know, who needs two powder rooms? A house full of clowns?
Have you ever read this website?
Since there are no bedrooms on this floor I'm guessing that when they built it they saw no need to install a bathtub or shower in this area of the house. Which will suck only if Jon's mother ever has to come live with us. Because she'll need to live on this floor so that she won't have to climb stairs. I guess one of us could carry her up and down the stairs… CHUCK, I'M LOOKING AT YOU.
He's going to need a new job if he keeps dropping mama's precious tea cups.
(Universe, this is definitely NOT me sending out vibes that Jon's mother should come live with us, because as you know I'm already teetering on the legal amount of Prozac an individual is allowed to take.)
Since there are four adults and a toddler here every weekday, it's really nice to have two powder rooms like this. It means we don't have to wait in line to take a dump! HA! That last sentence and its accompanying exclamation point were for my dad! And that one guy I dated in Los Angeles who said to me, "As far as I'm concerned, no woman in history has ever had to use the bathroom other than to put on makeup."
I farted on his couch and then left.
Powder room number two (no pun intended, or maybe it should be!):
The great thing about all the bathrooms is that they have all been finished with different vanities and different tile, and yet everything feels cohesive throughout the house. The Heather of two years ago would probably have curled her upper lip at the rustic quality of this particular vanity, but now that I live in a house where it fits in, I want to invite it to roast marshmallows with me and tell ghost stories about vindictive Italian lovers!
I thought pink would be an unexpected accent color to bring to the yellows and browns of this scheme. Which is I guess a lot like buying some Pepto-Bismal when you've got a bad case of the shits.
The artwork we found already framed at a close-out sale and at a local antique shop. I wanted to go in the opposite direction of the other powder room and use something other than photography. You know, something totally phallic so that just in case you wake up and don't know where you are, there will be hints on the wall!