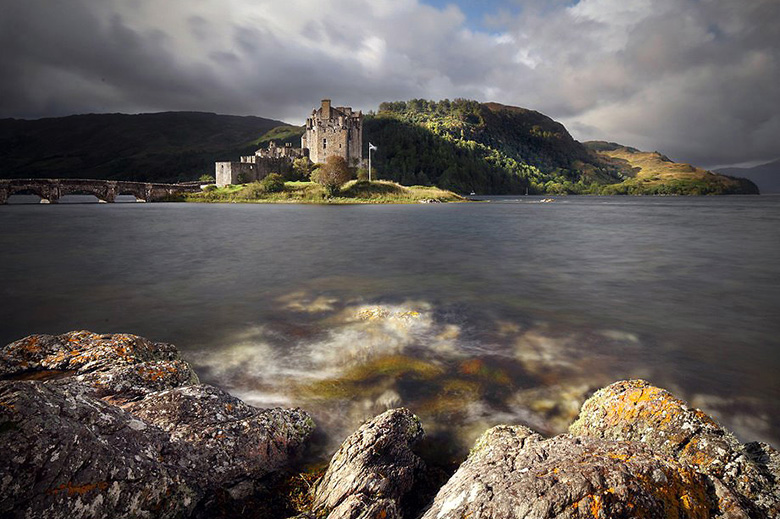 – Kilian Schönberger photographs the land of my ancestors
– Japanese photographer Chino Otsuka inserts her adult self into photos from her youth
– Mike Brown: Facts and dog whistles
– How A Disgraced College Chain Trapped Its Students In Poverty:
By the end of their programs, students owed as much as $50,000, and few believe they will ever be able to repay even a fraction of it. Most said they graduated without jobs, then returned to unemployment or low-paying work in fast-food or retail. They used words like "betrayed," "lied to," and "victimized." Many begged for help.
– Benedict Cumberbatch's celebrity impressions
– Bible Verses Where The Word "Praying" Has Been Replaced With "Truckin'"
– 10 Words That Started Out as Errors
– A gorgeous tribute to Paris and New York
– I can't decide if this ram is an idiot or the baddest motherfucking ram that ever existed.
– A food art series that imagines how famous artists would plate a Thanksgiving meal
– Legendary Composer Aaron Copland on the Conditions of Creativity, Emotion vs. Intellect, and the Trap of Public Opinion:
There do not exist two distinct and separate types of mind, one for the arts and humanities, the other for the sciences… You must possess both intuition and imagination to be creative in the sciences as well as the arts… There is science in all good poetry and vice versa.
– Adopted, raised on different continents and connected through social media, Samantha and Anaïs realized they might be twins separated at birth.
– Landmark 20-Year Study Finds Pesticides Linked to Depression In Farmers:
"We didn't have to deal with overreporting [of depression] because we weren't seeing that," she says. In fact, only 8% of farmers surveyed sought treatment for depression, lower than the norm, which is somewhere around 10% in this country. That doesn't mean farmers are less likely to suffer from depression, only that they're less likely to seek treatment for it, and that makes the findings, if anything, even stronger.
– A clip from You Have to F**king Eat, narrated by Bryan Cranston (a book written specifically for two children I happen to be somewhat acquainted with)
– I may try this tactic to get to know people better at the gym. Mark Howerton, if you're reading this, it would probably work in hot yoga as well.
– Yeah, so this is the concerto Leta is playing in front of judges tomorrow.
……
A few of my favorite recent tweets:
Billy Joel: "I love you just the way you are." Left his wife. Bob Marley: "Every little thing is gonna be all right." Died of cancer.

— WhirledRecord (@WhirledRecord) November 14, 2014
After the election I like to think we're ALL winners. I mean, not if you're poor or a minority or a woman. But the rest of us are doing good

— Eli Terry (@EliTerry) November 5, 2014
[Phish concert] "I have to pee." "Go when the song's over." "How will I know?"

— Uncle Duke (@UncleDuke1969) November 7, 2014
Things I constantly worry about pressing: 1. "Like" while ex stalking 2. Send all drafts 3. A baby's soft spot Yes, this list is in order.

— Isabel (@isaaaa) March 2, 2013
uh actually going through life on 4-5hrs of sleep per night is a perfectly way of doing functioning for having to doing. in your living time

— tara shoe (@tarashoe) November 11, 2014
*whispers to old lady at Starbucks* one time they ran out of coffee here and we ate a baby

— kenry (@painted_eel) November 7, 2014
I've been experimenting with doing the speed limit. So far it seems to really piss people off

— lanyard (@lanyardigan) November 8, 2014
"I was nude in my room when Father first whispered through the door that he was allergic to wheat." – First line of my commencement speech.

— Ted Travelstead (@trumpetcake) October 24, 2014
Kind of painted myself in a corner here by telling work that I couldn't come in because coyotes chewed off my foot

— Musky Lozenge (@LostCatDog) November 3, 2014
My coworker is pregnant and they passed a card around and I didn't know what to write so I just put HAVE A GOOD BABY TANYA

— Shawn (@CakeThrottle) July 27, 2013