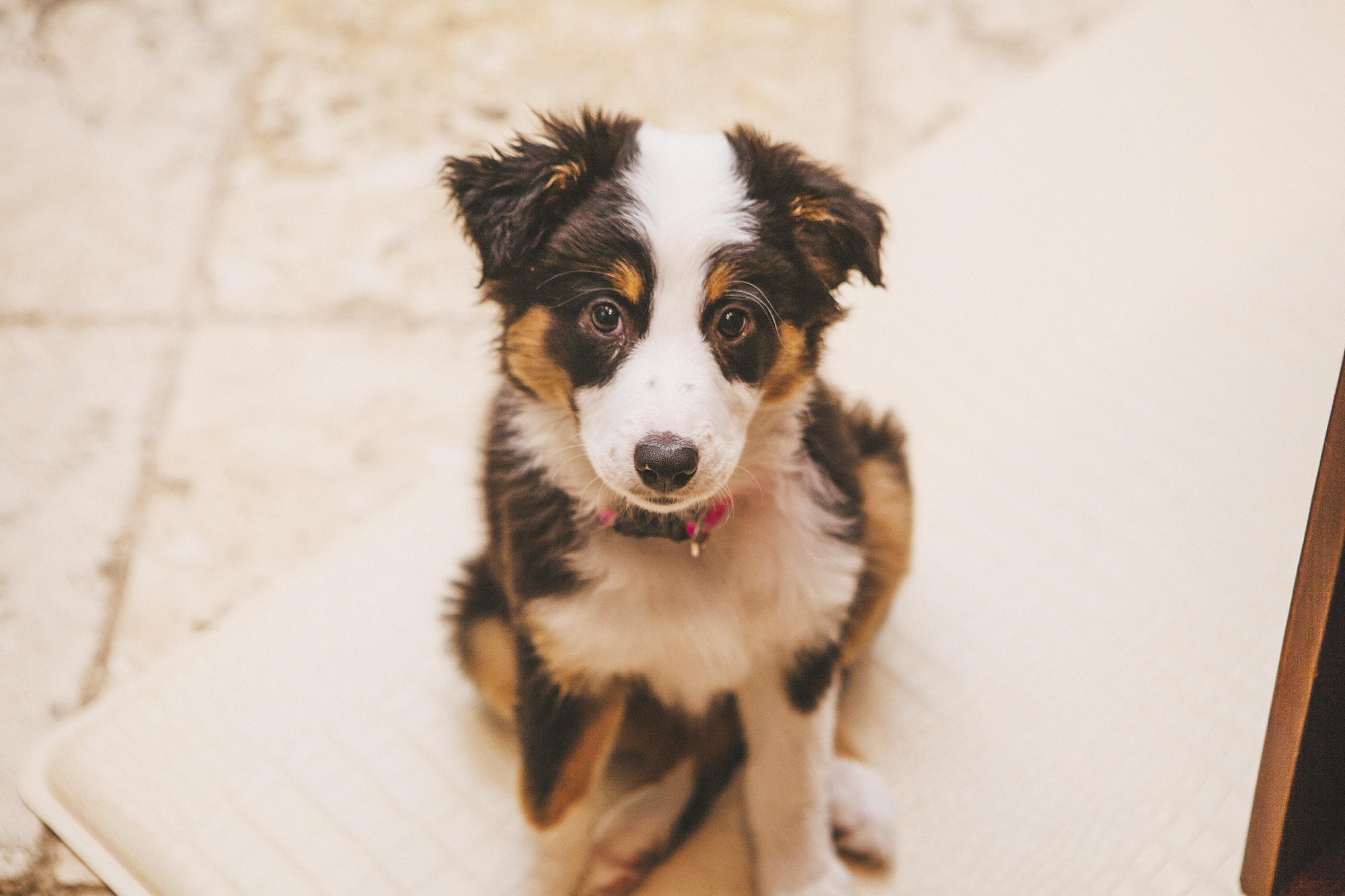 On January 2, 2008, I made the most horrible decision of my life when I brought home a miniature Australian Shepherd to live with my family. Most of you know immediately that you should not take that statement seriously. But those of you who witness my day-to-day are nodding furiously and trying really hard to remember a single day of my life when this dog didn't have me on the verge of a heart attack.
(EVERYONE READING THIS, RESIST THE URGE TO JUMP TO THE VIDEO BELOW EVEN THOUGH I AM ALREADY BRINGING YOUR ATTENTION TO THE EXISTENCE OF THE VIDEO BELOW. WAIT FOR IT.)
A few days before at the very end of 2007 I got to meet Dame Eleanor Ritzford-Fitzsimons Puffs at a park where she was playing in the snow with three of the other five puppies in her litter, the only litter her parents would ever have. And of the three there that day I, of course, pointed to the craziest one and said, "Let's let her ruin my life!" The other two turned out to be incredibly chill animals. I chose the one who despite thousands of dollars worth of training still likes to dart through my legs out the front door to scream at innocent people in running shoes.
AN ASIDE, NOT A TANGENT. I REPEAT, NOT A TANGENT: The first time Coco's trainer came over for a training session it took her less than 20 minutes to realize just what was wrong with this dog after Coco had performed a simple task for her and then immediately refused to perform a simple task for me. She belly laughed and said, "Oh, so this is what's goin' on. We've got ourselves a bitch fight."
Where the word "fight" sounded more like "faught."
"A what?" I said trying to understand.
"She knows she's in control, and she's not about to give that up to you." And here the "you" meant "another woman". I heeded every piece of advice that trainer ever gave to me, and to this day I am the only person who can walk into my house without causing Coco's brain to explode all over the wall. Wait for the video.
WAIT FOR IT.
Coco turned ten years old this past Sunday, October 22, 2017. She was born a week after I suffered a devastating miscarriage, and I know with absolute certainty that my decision to adopt her stemmed from my longing to fill that void. I had no idea what chaos awaited me—for starters, it took over four months to housebreak that dog, and not because she's an idiot. Her herding and guarding instincts were so intense even at that age that she would be so concentrated on making sure the house wasn't under attack that she'd forget to head to the door when the urge hit her. Like, guess what, guys? Good news. I can account for the safety of every person under my care. However, I just pooped my pants.
Her arrival taught me what it was like to live with an actual dog and made me realize that with Chuck we'd been living with a cat. Chuck was temperamental and could hold a grudge better than any celebrity housewife, whereas Coco vacillates between the following two moods:
Mood A. Do You Hear Me Barking My Head Off And Sending A Jolt Of Electricity Down Heather's Spine? Good. I Mean Business And I Will Murder You If You Come Within An Inch Of My People.
Mood B. Here, Let Me Roll Over And Show You My Belly And Lick Your Hand Because I Love You More Than Anyone Else In The World And Would Take A Bullet For You.
That's it. Just those two. "Grudge" does not exist in Coco's vocabulary. Marlo's birth irritated the crap out of Chuck. Like, really? You voluntarily produced another breathing animal with whom I have to share air? Whereas Marlo's birth filled Coco with pride. Like, they love me so much that they gave me another sheep!
I haven't ever celebrated her birthday, and a few months ago when I realized, whooooaaaaa. Coco is turning 10 years old this year—yes, for those of you who remember when I brought her home, you're getting old!—I decided I should do something. So I called up my friends at CANIDAE® and asked if they'd like to partner with me and offer some coupons and help host a giveaway. They said yes before I'd even finished my sentence. Coco's been eating CANIDAE® since the day I brought her home, and I love that they are so willing to be a part of this. Coco is still eating CANIDAE® Under The Sun® Grain Free dog food that I introduced to her back in May. Each CANIDAE® Under The Sun® Grain Free recipe is made with a variety of farm-fresh ingredients and an assortment of fruits and vegetables, and none contain corn, wheat, or soy. So, they go over really well in Brooklyn.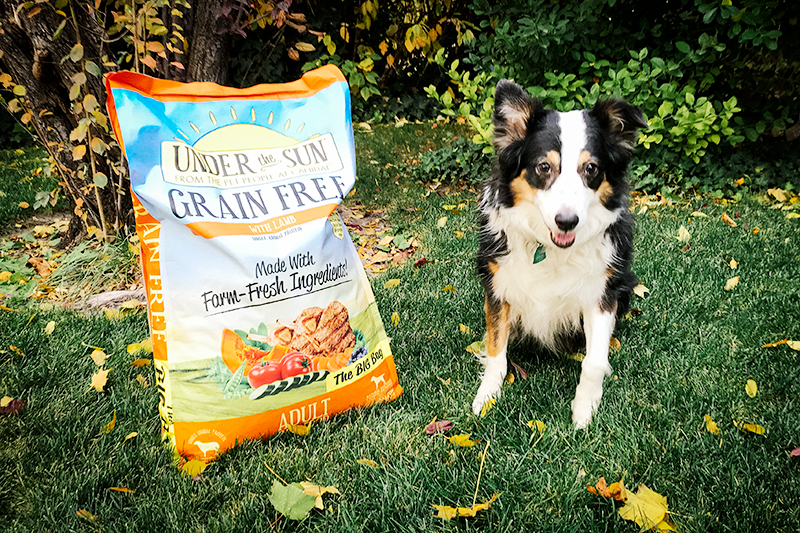 Coincidentally, they recently started growing their own fresh ingredients and established CANIDAE® Farms in Kansas with the help of an independent family farmer named Clint Brauer. Clint shares their commitment to high quality ingredients and sustainable practices:
No-till farming, maintaining sheep on site to provide natural fertilizer, forward-thinking technology to control weeds and pests, and time-tested methods to build soil quality—are just part of our shared vision with Clint. We want to partner with nature rather than work against it.
You can learn more about CANIDAE® Farms here.
CANIDAE® would like to give away three gift bags full of CANIDAE® swag including treats, a t-shirt, coffee mug, water bottle, and a small bag of food. To enter all you need to do is leave a comment on this post, and I will randomly choose three winners when I close the comments on Thursday night at 9PM MST. I'll email the winners and then update the post on Friday.
CANIDAE® is also offering you guys $10 in coupons.
Before leaving a comment, though—and if you do, I'd love to hear a crazy story about your own pet— maybe take a moment to remember some of the beautiful chaos Dame Eleanor has brought to this world, to my family and to you through my words. Like, the time Coco saved Chuck from the consequences of his constant pacing, the time I let her chase actual sheep and at one point joined her, her sad attempt at stealing Chuck's bone, the time she finally learned to avoid rattlesnakes, the time she went missing and I realized, oh no, I really love this dog, and that time she got a foxtail in her ear and I sent the text message, "Also, Coco is a bigot."
Also, I have put together a slideshow of some of my favorite photos from her life going back to that day in January of 2008 when I brought her home and blew up my life in the best possible way. Happy birthday, Coco, you wonderfully harebrained canine.
Break out the tissues for this one, folks. I'm glad she chose me.
Many thanks to Vince Chao, aka Chairman Chao, for the soundtrack, "Hurry Do It". AIDITAY. IWAFLY.
And thank you, CANIDAE®, for making the best food I could possibly give that dog.
SaveSave