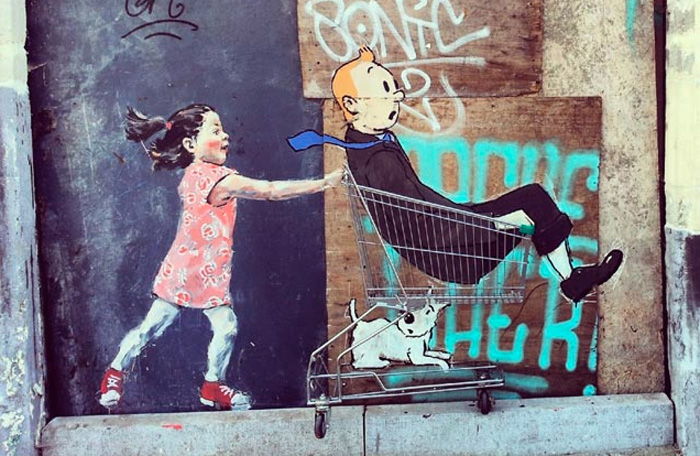 – New Interactive Street Art from Ernest Zacharevic
– Woman dances like nobody is watching at LAX Airport, and my, how she can dance.
– James Brown gives you dancing lessons.
– 20 Ridiculous Photos Of Male Models
– 100 All-Time Greatest Sports Photos
– "From turkey, chicken, duck, peafowl, pheasant, partridge, and even quail eggs, Beth Ann Magnuson carefully hand-carves and etches intricate lace-like patterns on a clean blown shell using a high speed drill."
– By far one of the best accounts on Instagram. See: this.
– How My Foolproof Scientific System Got Us Onto The Price Is Right
– 2012. 366 days. 366 seconds.
– Famous Resolution Lists: Jonathan Swift, Susan Sontag, Marilyn Monroe, Woody Guthrie
– Oh, Florida: Daytona Beach, 1970s/1980s
– Nasa marks 50 years of space photography – in pictures
– Big Hair, No Sitting, Velcroed To Your Pillow: What It's Like To Live Weightlessly
– The Sad Off with Samuel L. Jackson and Anne Hathaway
A few of my favorite recent tweets:
I think it's finally safe to leave the house again, men named Aaron Brockovich.

— Julieanne Smolinski (@BoobsRadley) January 1, 2013
I chew my M&M's twice as long as necessary because fitness.

— Rex Huppke (@RexHuppke) January 1, 2013
I thought my praying mantis would like coming to church with me but he's just flying around being a total dick.

— Nathan Buckley (@duplicitron) December 31, 2012
TOP TOPS OF 2012: 1)Less 2)Halter 3)Tom Cruise 4)Dreidel 5)Leopard print/off the shoulder 6)Hat 7)Pump 8)Of the world, Ma 9)Notch 10)Model

— Don Nichols (@TheDairylandDon) December 31, 2012
That which doesn't kill me is everything so far.

— Bryan Donaldson (@TheNardvark) December 31, 2012
I misunderstood my wife when she said she wanted something sweet and now I'm naked, covered in honey and not allowed on the furniture.

— Chris Angel (@TheChrisAngel) December 29, 2012
I had a great dream about birds. There weren't any.

— Year of The Hawk(@Kingsroc) December 29, 2012
DIY Tip: You can make your own caffeine free Diet Coke by breathing in deeply!

— Sean Brewster (@TheSeanBrewster) December 30, 2012
Hubby's old girlfriend poked him on Facebook but I didn't overreact I just hung his naked body on a meat hook and peeled all his skin off.

— Jocelyn Plums (@FilthyRichmond) December 28, 2012
Lil Wayne is what happens if E.T. had gotten lost in a high rise instead of a corn field.

— Toneloaf (@ToneLoaf) December 21, 2012