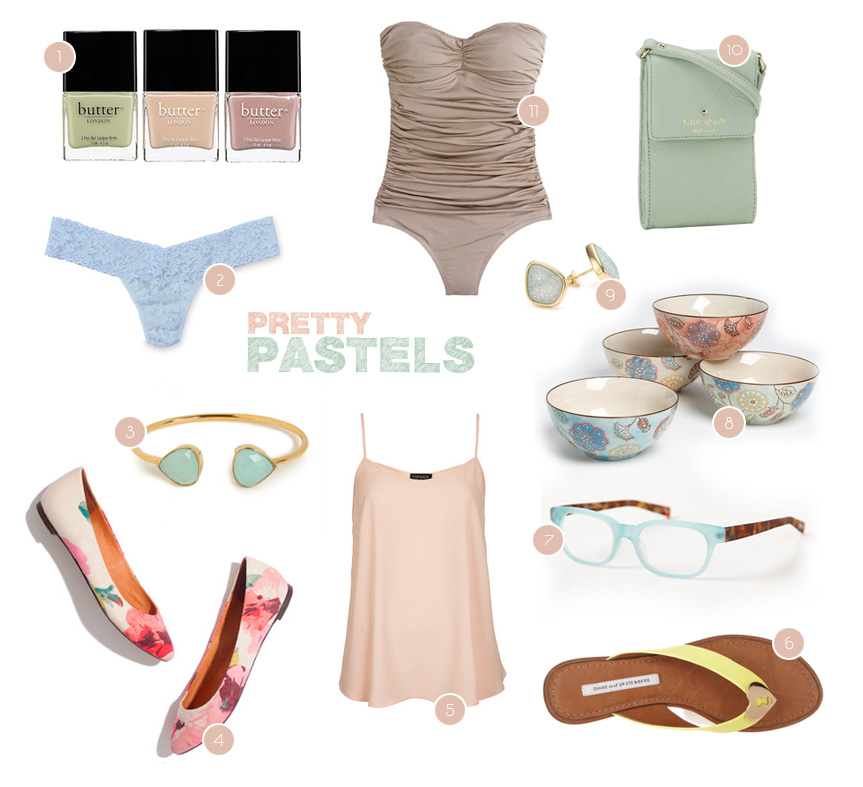 A couple of weeks ago the local grocery store started carrying Cadbury Mini Eggs
, so naturally I filled an entire shopping cart with bags and bags of them. With Tyrant, Dane, Marlo, Leta, and my cousin McKenzie around, they lasted about two hours. Why do you only come around for the resurrection of Jesus Christ, Cadbury Mini Egg? Why?
They definitely made me excited for softer, lighter times, for landscapes with less jutting edges, for the color of the shallow end of the pool. This winter has been so intense, and I'm in the mood to turn down the saturation.
1. Butter Nail Lacquer $15
2. Hanky Panky Low Rise Thong $20
3. Margaret Elizabeth Chalcedony Teardrop Bangle $88
4. The Sidewalk Skimmer $82
5. Strappy Cami Top $36
6. Diane von Furstenberg Women's Kyra Sandal
$150
7. Frosted Tort Readers $68
8. Hand painted floral bowls $64
9. Marcia Moran "Sky" Drop Stud Earrings
$98
10. Kate Spade New York Cobble Hill Brandice Wallet
$98
11. Jersey Bandeau Swimsuit $115