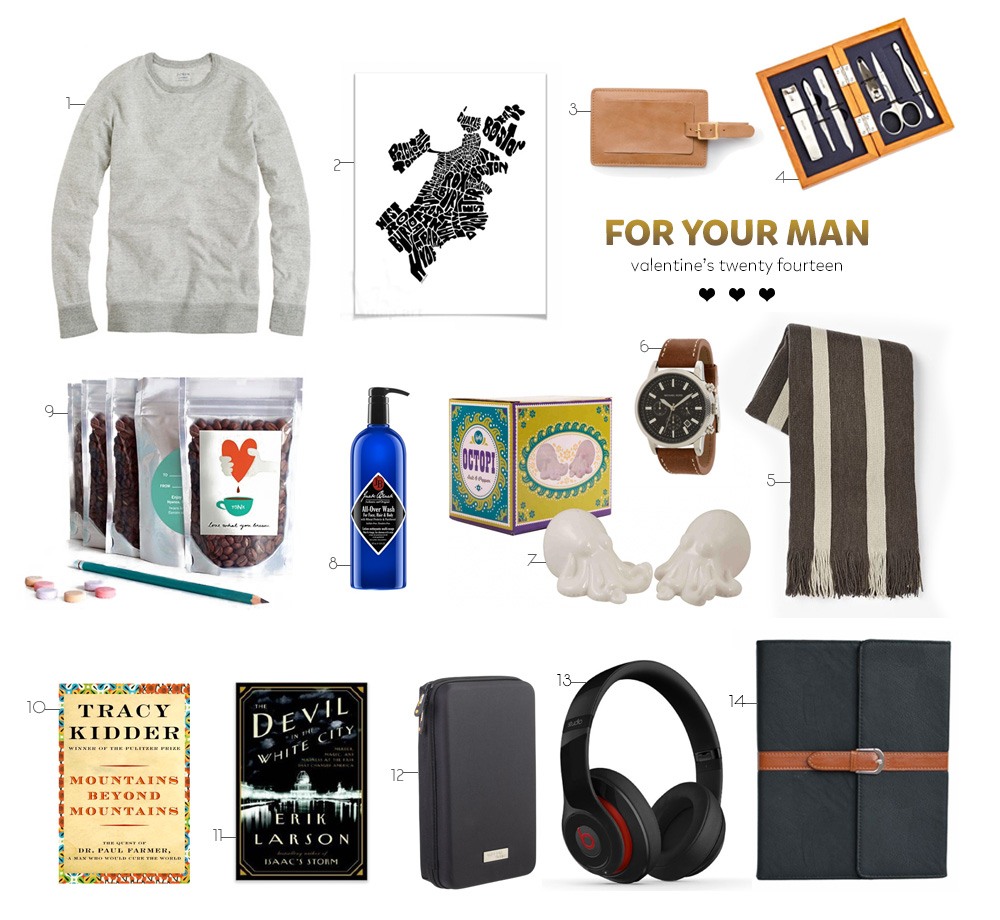 Would your guy be totally embarrassed if a huge bouquet of roses showed up at his workplace on Valentine's Day? Because if he would then you have a moral obligation to make that happen and sign the card with, "Have a wonderful day, Peaches! Love, Mom."
In addition to that here are a few ideas. My two favorites: one, the coffeegrams from Tonx, such a unique idea from a company that truly understands the process and experience of the morning cup of coffee. I love their enthusiasm and spirit for a daily ritual so many of us share.
Two, when I finished reading Mountains Beyond Mountains
, a book about Paul Farmer (doctor, Harvard professor and founder of Partners in Health) I immediately read it again. I feel totally transformed by this man and his mission. The depth of his humanity will knock you over again and again. I want to share this book and dissect it with everyone I know. Is it an odd choice for a male gift guide? No. In fact, when you read it you'll think it should have been the only thing on here.
1. Crossknit Long-sleeve tee $49.50
2. City neighborhood typography maps $24
3. Leather Luggage Tag $15
4. Nautica Men's Six Piece Manicure Gift Set In Wooden Valet Box
$24.99
5. Softest Throw $49
6. Michael Kors MK8309 Men's Watch
$130.85
7. Octopus Salt & Pepper Shakers $12
8. Jack Black All-Over Wash $46
9. Tonx Valentine's Day coffeegrams $19
10. Mountains Beyond Mountains
$9.99
11. The Devil in the White City
$8.99
12. AmazonBasics Universal Travel Case for Small Electronics and Accessories
$10.49
13. Beats Studio Wireless Over-Ear Headphone (Black)
$379.95
14. Leather Case Cover with Leather Belt+buckle for the Ipad
$14.50