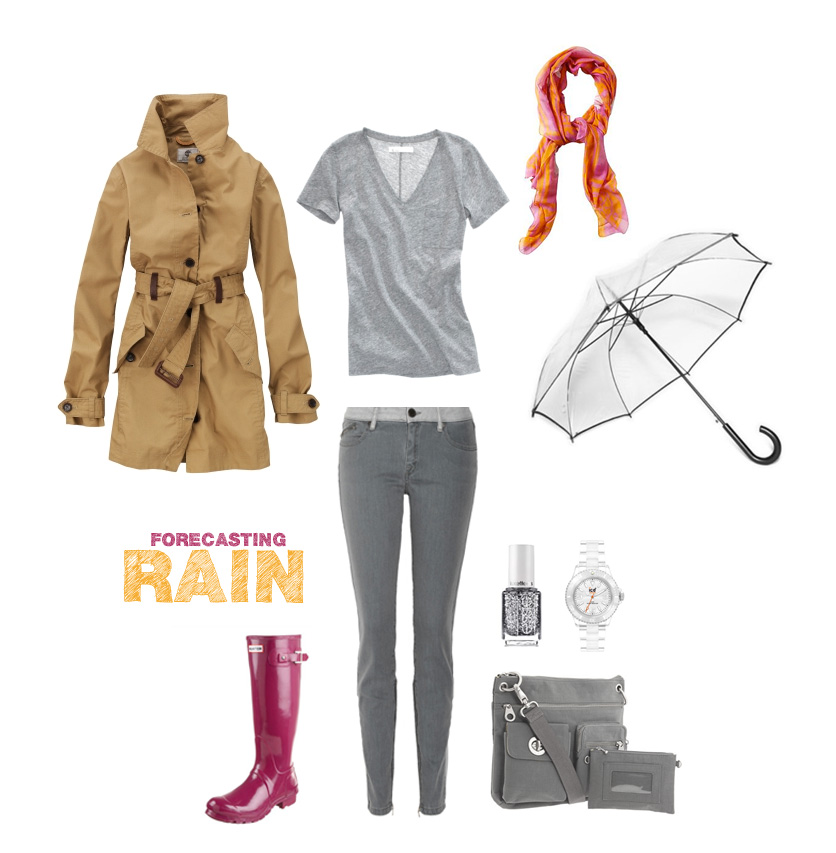 I'm not stupid enough to suggest that we aren't going to suffer through another two or three or nine snowstorms before this winter is done with us, but every time I have checked the weather on my phone in the last week there have been one or two days that have called for rain. Utah has turned me into someone who gets relieved when she sees the little icon for rain. The twenty-something Heather who wore flip-flops to work in Los Angeles in the middle of winter is totally disgusted right now.
"Ugh. I'm a MOM and I wear yoga pants and I volunteer at preschool and I check the weather on my phone—WAIT. YOU CAN CHECK THE WEATHER ON YOUR PHONE IN 2013?"
That's right. Shut up, twenty-something Heather. I'm in the mood for the rain icon.
Waterproof raincoat: Timberland $198
T-shirt: Madewell $20
Jeans: Victoria Beckham $98
Scarf: Piperlime $55
Umbrella: Greatlookz
$15.90
Nail Polish: Essie
$6.70
Waterproof Watch: Ice-Watch
$41
Waterproof bag: Baggallini $89.95
Wellies: Hunter
$199.90