Jon and I used to go to the gym together in the morning before the baby was born. We used to A LOT of things before the baby was born, and the gym thing along with that part about staying awake past 10 PM have fallen by the wayside. Now I work out in the [...]
Babble incessantly and ever so loudly as Grandpa says the prayer over dinner. Our Master Plan, it's WORKING!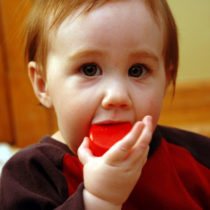 Yes, this is the fourth picture in a row of that kid. I can't help it.