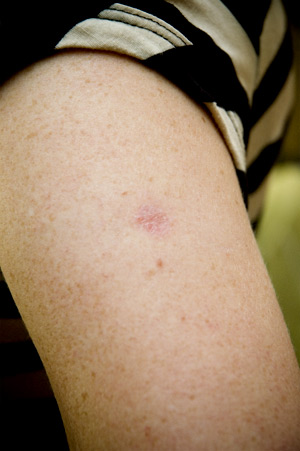 About a month ago I got a call from my doctor to notify me that the biopsy had come back on the skin cancer she had removed from my arm. Maybe I should take a step back here and explain a few things because this topic always seems to have a polarizing effect on some readers. There's that one camp who thinks that the only reason I talk about the fact that I have skin cancer is because I am trying to stir up drama. They are angry people, or at least I think they are because the email they send me is written as if the SHIFT key is broken and permanently set in the ON position from hitting it with their foreheads so many times. I'm sure they are lovely people once they've taken a long walk around the block to cool off, or once someone has duct-taped their faces shut.
Then there are those very concerned people who have sent me their condolences and fully expect me to die within the hour. There are moments when I start to get a grip about the whole thing and then someone will send me an email to tell me a story about an entire town in Iowa that died from skin cancer. Someone's father or brother or neighbor's cousin's hairdresser died FROM THE EXACT SKIN CANCER I HAVE, and they want to urge me to get my will in order. These people mean well, I know that and I am very thankful for their concern, but they might want to reconsider the strategy of trying to make someone feel better by suggesting luxurious casket fabrics.
I think it's pretty important to talk about my experience with this especially since I just found out that my best friend from high school was diagnosed recently with a squamous cell carcinoma, the second most common skin cancer after basal cell carcinoma, the one that was found on my arm. I think this points to the fact that one, there is a giant hole in the ozone right over Memphis, Tennessee, and two, my generation hasn't ever taken the threat of skin cancer very seriously. I think we should all be knocked upside the head with a tub of SPF 50. And then forced to scroll through every image that Google returns for a search on the word sunburn. (ALERT: before you click on that link you should be aware that some of those images are not safe for work, and curiously, not one image of George Hamilton turned up within the first 20 pages, I CHECKED.)
Turns out that my doctor didn't remove all of the cancerous cells on my arm. The biopsy showed that the margins of the excised skin were not normal. This made me sad because the scar had healed really well, better than I thought it would, and here I was being told that I didn't get to keep it.
My doctor set up an appointment for me with a local dermatologist, and last Wednesday I drove down to his office to have the cancer removed once again. The only way I can possibly begin to describe this man and his office is to compare it to a graphic science fiction/horror comic book, it was that unsettling. He began by telling me that the incision that my doctor had made on my arm could have made the problem much worse, because by cutting into the cancer like she did she could have deposited diseased cells into the deeper layers of skin. When I reminded him that he was the one who had told her to just go ahead and cut it out herself, he said, "Really? That was pretty stupid of me, wasn't it?" EXCUSE ME FOR A MOMENT WHILE I PICK OUT AN EXPENSIVE FABRIC FOR MY CASKET.
After he performed a quick visual assessment of my arm and other areas of my body — when he saw the troubling mole on my back he said I wasn't allowed to leave his office until he had taken it off — he walked me into the operating room. It was a giant expanse of white walls and white floor, and in the very center of the room sat a giant space-age chair. I stopped at the door and told him I wasn't going any further until he promised that he wasn't going to knock me out, strap me to that chair, and suck my brain out of my nose, because all arrows were pointing in that direction.
His pleasant bedside manner continued when, after I had taken my place in the chair, he walked over and started shooting local anesthesia into my arm without telling me what he was doing. When I asked if maybe he could try being a tad less barbaric, he suggested that if I was so concerned about my feelings I should just hire a psychiatrist. Charming! Somehow this led into a discussion about what I do for a living, and I suddenly realized that I have a hard time telling people that I am a writer. I'm always saying that I have a website, or that I write things online, but I'm reluctant to use the word WRITER because when it comes out of my mouth it sounds like I'm pleading with someone to PLEASE TAKE ME SERIOUSLY. It also makes me sound like I'm fond of wearing fedoras and plaid capes. And beige orthopedic shoes that smell like cabbage.
Someone once dismissed my career by saying, "I know that's what you do, you write about your feelings, but…" And when he said feelings he made it sound as if that word were interchangeable with ear wax or chlamydia. I think from now on when anyone asks me what I do for a living my answer is going to be, "I write about my feelings," and when I get to that last word I'm going to claw at my chest as an indication that RIGHT HERE IS WHERE I STORE THE MAGIC. And I'll keep track of how long it takes people to throw up.
Once my arm was numb the dermatologist used a method called curettage and electrodesiccation, two very big words for scraping and burning. I tried not to watch what he was doing, but at one point the flame at the end of the soldering iron he was using to cook my arm temporarily blinded me. I'm not sure exactly how he removed the mole on my back, it happened so fast, but the scar leads me to believe that maybe he zapped it off with his evil laser eyes. The entire procedure was over in less than seven minutes, and after he told me how much he was going to charge me, I calculated that this man makes 100 DOLLARS PER MINUTE. This man may just have a better job than Oprah.
I'm posting links here to pictures of the new scar, but I'm putting them in pop-up windows so that if you don't want to be confronted with the gore you don't have to be. The new wound is indeed very grody, much worse than the first one, and makes a profound case against future sun-bathing:
Close-up of the new wound on my arm.
Close-up of the wound on my back.
I know some of you are going to criticize me for not going to the dermatologist in the first place, and of course I know now that I should have taken that course of action, but I'm sort of bound by what my insurance is willing to think about covering, what we have in the bank account, and possible long-term payment options. I trusted my doctor when she told me she could remove it herself, and I didn't really have the option of saying, you know what, thanks, but I'd like a second opinion first. Sometimes those second opinions are prohibitively expensive because the insurance company has made it pretty clear that I'm on my own. I tried to make the best decision with the options I had.
Let me make it clear, though, that I know I'm lucky that I have any options at all. I'm lucky that I have access to treatment and that this doesn't have to turn into something much worse. And the good news is that the biopsy came back for the mole that I had removed, and it was totally benign.
BEE. NINE.
That noise you hear? That's me kicking skin cancer in the nuts.