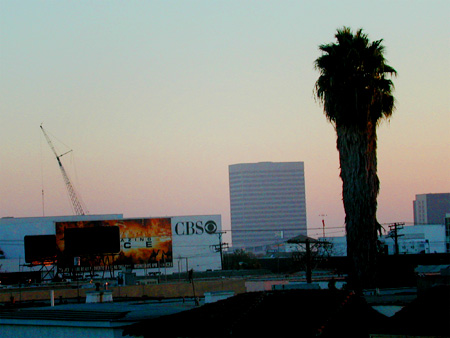 To celebrate our fifth anniversary Jon and I are flying by ourselves to Los Angeles tomorrow morning. It will be the first time we have been back to LA since we moved here almost five years ago. I have been reluctant to go back because I fear that I'm going to get there and refuse to return to Utah. It was really hard for me to leave the first time, and it took me several months to work through the sadness of leaving that part of my life behind. Most people I know have very strong opinions about LA, either they love it or hate it, never in between. I am the same, I love it completely, and if suddenly I decided to deal meth and could afford to live anywhere in the world, I'd go there.
And right about now a certain person who lives in San Francisco just regurgitated her lunch. She thinks there's only one opinion you can have about LA, the same opinion you might have about scrotal botfly infestation. That it is very unfortunate.
I remember when I moved to LA in 1999 how overwhelmingly big the city seemed, how I thought I would never get used to the bumper-to-bumper traffic on every street and alley. I was 23 years old, had just been hired to design websites for an obscene amount of money, and I rented an affordable apartment right off the Sunset strip. It took me a year to warm up to the city, but once I did I went crazy with the freedom of being so young and spoiled. Cut off all my hair. Started drinking tequila. Became acquainted with the more inscrutable details of the penis, which I had not known could exist in such a multitude of shapes and sizes.
But when I came out of that phase I sort of found myself, figured out a few things about who I was and wanted to become. And so for me LA is like an old friend who was there with me when someone died, a friend who knew me before and then after that transformation, one who forgives me for the mess that I created when I made all those bad decisions.
The biggest memory I have of LA is of the music I listened to when I lived there, and there are still certain songs I cannot hear without stopping to remember which gay man I was dating when I first heard it. The album that reminds me of LA the most is One Part Lullaby by Folk Implosion, particularly the song "E.Z.L.A." that goes:
Here I am, never thought I'd be
Among the drifters and directors, a place for me
It's nothing like I thought it was after all

…

Easy LA, it's another beautiful day
LA, alright, cold like the desert at night
Cold like the desert at night
Another beautiful day. That gets down to the fundamental reason I long to live there. It's hard to be depressed in a city where you can celebrate New Year's Day in a bikini.
Tomorrow night we're seeing Wilco in concert at the Greek Theatre, and then we're spending the following three days visiting our old haunts, like Cafe Sushi, Versailles, El Coyote, and Damiano's Pizza. Before we leave we're also going to have breakfast at Dupar's where one morning in the summer of 2001 I looked over a plate of bacon into Jon's face and realized I wanted to be with him forever.
I know it's weird, but I still feel that way.