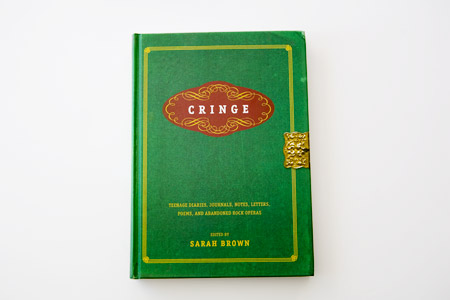 Last week I received my contributor's copy of Cringe: Teenage Diaries, Journals, Notes, Letters, Poems, and Abandoned Rock Operas. My friend, Sarah, put together this compilation of real teenage diary and journal entries, and it is screamingly funny in an OH MY GOD WHY DID NO ONE PUNCH ME IN THE FACE kind of way.
The entry I submitted is from the diary I kept during my freshman year in college, the year before I started taking meds for The Crazy, and there were so many choice excerpts that I had a hard time deciding which one was the most humiliating. Take for instance this entry from February 11, 1994:
It reads:
Ryan called the other night. I sent him a barney valentine card. Satan does live. He gets his vitality in Ryan. Satan himself called at the most vulnerable point of my entire semester yet. And how did Heather do? But of course she prattled to the tyranny of Satan and his servants. Without going into detail, I'll just relate what I've learned: I need to justify myself to no one except me and my Heavenly Father. No one else. The only opinion that counts is that of God. All else is foolish. And Ryan/Satan is just that.
Ryan/Satan was my boyfriend in high school, the first boyfriend I ever had, who broke up with me after three months because, oh, I WAS INSANE? I think he was calling me when I was in college to see if maybe I had grown any alien appendages, like a tree trunk jutting out from my brain, because certainly that was inevitable.
Then there's this one from February 8, 1994:
It reads:
Tuesday afternoon. But not by much. 12:38pm. I have a few before my daily carnal indulgence — Guiding Light. I think the weather has a lot to do with these complacent feelings I'm experiencing. Is it snow or just albino raindrops? Can't tell. Okay, about yesterday. First off, I was walking to the computer lab at about 7:30am yesterday when *bum ba bum* the National Anthem began to resound across campus and the flag began to ascend its pole. I was walking with my head down and happened to look up. There were about 20 people out there on the quad that early. Every single one of them stopped dead in his tracks, placed his hand over his heart, faced the flag, and contributed to the silence of the moment. It was a goose-bumping experience — one I could experience no place else. Saluting God's country at God's University. Brother Hedengren was discussing the source of "numerous perceptions" in Phil 110. Do we experience these warm fuzzy sensations from God, from Satan, or from ourselves? He then related the story of his nine year old daughter bearing her testimony of Heavenly Father. She lost her rabbit and after a few weeks of fervent prayer, a kid in her class at school showed up with a rabbit he had found for show-and-tell. Her rabbit, no doubt. God lives.
HOLY CRAP. Saluting God's country at God's university. If that isn't the creepiest thing I've ever written, right after ALBINO RAINDROPS.
Finally, the one I am most embarrassed over, from February 3, 1994 (that was a particularly bad month for The Crazy):
9:24am Thursday morning. Ooh yeah. I can feel the latent fatigue so eager to rack my body. Calculus is in a half-hour and since I don't know how to use the table of integrals, I'm not going to waste my time nor my paper. I got about four-five hours of sleep last night — after seeing a movie like that sleep doesn't come easy. Philadelphia. Homosexuality and aids. Poignant film, must say. Made me reconsider some of my hard-core conservative bias. These homosexuals with aids — yes, they choose the lifestyle, but not the disease. They, too, are human beings with real human emotion and real human moms and dads. One could say, and I probably would have also, that in choosing the lifestyle they choose the disease. But many of them do not have the protective agent of the gospel in their lives. Many of them genuinely don't know that it's wrong. How can justice be accounted for in these cases? These people are suffering for their wrong choices, but what if in the first case they don't know that it's wrong? How does anyone who is not homosexual know that homosexuals choose to have those tendencies? Yes, it is true that homosexuals can choose not to act on those feelings, but how can they choose the right of a situation they don't know implicates wrong? Homosexuality isn't any worse than blatant fornication, is it? Just because heterosexuality is "natural" doesn't mean that heterosexual promiscuity is justified. Both cases seem equally wrong to me. Karen is coming to Utah on the 28th of this month to stay for a week. I really love Karen. She has been one of my greatest friends. It would hurt me if she was hurt. So many wonder how I can embrace the gospel and return her friendship at the same time. Exactly the way I return all of my other friendships — cliche, I know, but love the friend, not the sin. If we persecute homosexuals, we are Satan's tools.
No, really. SOMEONE HIT HER. I cannot believe that I actually wrote such bullshit, and this should prove that whenever I make fun of Mormons, I'm just making fun of the Mormon that I was, the ignorant, intolerant, pig-headed adolescent who needed a big one up her pooper.
And because I feel so bad about who that person was, I'm just going to go ahead and link to No on Prop 8. Gay marriage has become such an important issue to me, as it should be an important issue to everyone. It's a civil rights issue, period. And the only reason anyone wants to deny homosexuals equal rights is a religious one. PERIOD. Your God says it's a bad thing. But what if my God disagrees? If you take religion out of the equation, THERE IS NO ISSUE. And don't even get me started on the slippery slope end of the argument, because you know the only reason I'm writing this is because I want to legally marry my dogs. Both of them.