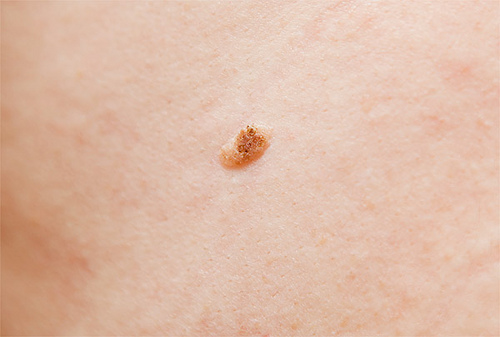 One night last week as Jon and I were changing clothes and getting ready for bed I noticed a small mole on his back that sent the arrow of my skin cancer radar so far into the red that it broke in half. My radar is perhaps more sensitive than most, and if you're new to this website I should explain that I've had five suspicious moles and discolorations removed from my body in the last few years, two of which turned out to be skin cancer (you can read about my experience here, here, here, and here). So you could say I get a little jumpy when I see the tiniest skin abnormality, and for the next twenty minutes I grilled him as if he were a suspect in a gruesome homicide: how long has he known about this mole? Has it recently changed colors? Was he planning to have it checked out or was he just going to take his chances and SUDDENLY MY CHILDREN HAVE NO FATHER?
Problem is there was no one there to play good cop, so it looked less like an episode of "Law and Order" and more like a cartoon where a maniacal hen who's been left in charge of an egg accidentally pecks it into a thousand tiny pieces.
It could be absolutely nothing to worry about, but we've scheduled him an appointment with my dermatologist to be safe, and there's a part of me that wants to thank Jon's mole for reminding me that I'm due to self-treat another suspicious spot on my body, one I found on my forehead several months ago. It's tiny, not even half the size of the fingernail on my pinky, but because of its rough texture and unwillingness to go away I brought it up with my doctor who diagnosed it as a "precancer" known as actinic keratosis:
An actinic keratosis, also known as a solar keratosis, is a scaly or crusty growth (lesion). It most often appears on the bald scalp, face, ears, lips, backs of the hands and forearms, shoulders, neck or any other areas of the body frequently exposed to the sun… In the beginning, actinic keratoses are frequently so small that they are recognized by touch rather than sight. It feels as if you were running a finger over sandpaper.

If you have actinic keratoses, it indicates that you have sustained sun damage and could develop any kind of skin cancer – not just squamous cell carcinoma.
In keeping with the tradition of naming these suspicious invaders I've decided to call her Roberta. When she isn't busy disrupting the surface of my forehead she teaches salsa lessons at the local community center and routinely sleeps with her students.
Here's a picture of what she currently looks like when I haven't covered her up with make-up:
My doctor assures me that we've caught it early enough that I can successfully treat it at home with a medicine called Aldara, a topical ointment that I apply directly to the skin for a period of twelve weeks, and that I could even wait to start treatment if I was worried at all about its effects on the baby in utero. I've also put it off because of my vanity, because he said it would cause the spot in question to turn a reddish color that couldn't be concealed with make-up, and I just wanted to get through my book tour without having to keep coming up with creative answers to WHY DO YOU HAVE A HICKEY ON YOUR FOREHEAD?
I figure no one is going to notice the hickey on my forehead when my boobs are the size of nuclear warheads and leaking milk with the force of a fire hose.
I wanted to bring this up here for a few reasons:
One, The American Cancer Society recently became one of the sponsors of this website, and they asked me if I'd be willing to write about one of the ways in which cancer has affected my life.
Two, some of you have written to ask if I've found any more suspicious spots on my body. I think you could ask me that question every year from now until I die and the answer will always be yes. This is just what happens when you're as careless as I was in my teens and twenties about sun exposure, and as a result I will spend the rest of my life terrified that every skin irregularity could end up threatening my life.
And finally, maybe these details will be what finally urges someone to make an appointment with a dermatologist, maybe these images will turn up in some Google search and convince someone that they should take the discoloration on their forehead seriously. And so let me urge you, if you are at all unsettled about a strange place on your skin, please don't ignore it. And in the meantime put on some sunscreen, hug your kids, and call your mom.