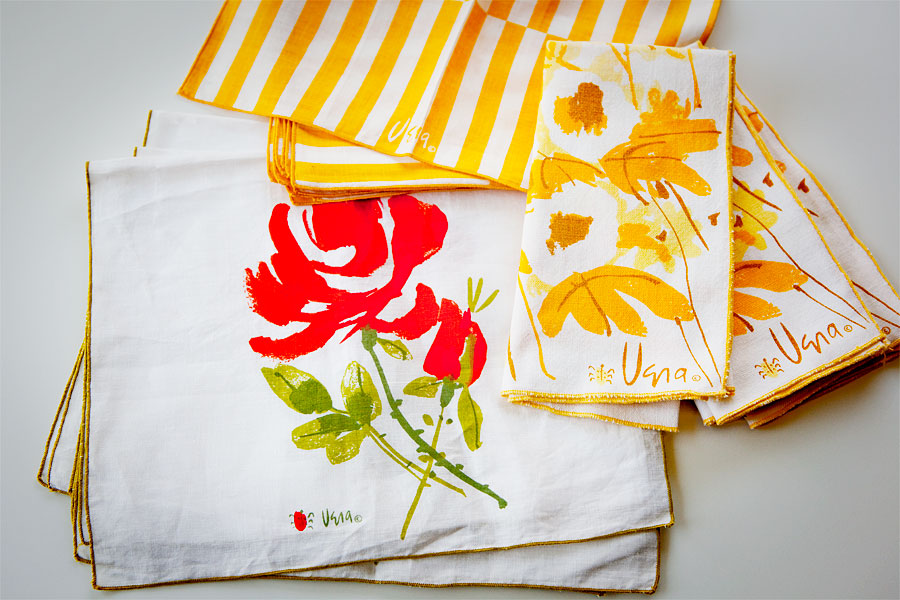 I first learned of artist Vera Neumann when I was shopping at an antique shop in Sebastopol, California a couple of years ago and found these handkerchiefs patterned with the bright red rose. Ever since then I've been keeping my eye out for her vintage 50's and 60's linens and textiles, and found the other yellow sets at the High Street Market Etsy shop. You can find tons of her stuff if you do a search for her name at Etsy. You can read all about her on her website, but I loved this particular bit her in bio:
Many people asked how Vera became so successful. She was the first person to put print on a bed sheet. She was the first person to bring bright colors to the table. She was the first person to limit colors on a scarf to 3 or 4 to make them more outfit-friendly. But I think the biggest reason was that she painted up to the public. She was of the belief that fine art shouldn't just be for the wealthy. It should be available to all and it should be incorporated in everyone's everydays. By wearing a Vera dress, you can take your art with you. By wearing a Vera scarf, you can dress up pretty much anything. By having Vera linens in your kitchen, it puts a smile on your face while you're doing the drabbest duties. Vera had the philosophy that you should change the art around you every once in a while because you soon stop seeing it. She made it to where a person can change their art as often as they change their clothes. Literally.
I plan to frame some of these and hang them as art around the house.