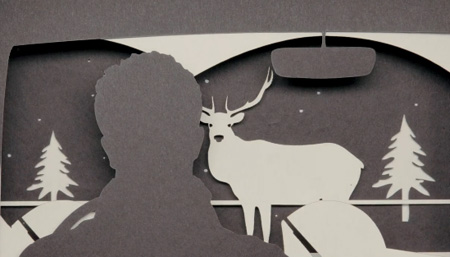 – Video for Josh Ritter's "Love Is Making Its Way Back Home," made with over 12,000 pieces of construction paper.
– Bully, A Touching Documentary About Bullying in American Schools
– Chuck makes Buzzfeed's list of The 26 Happiest Animals In The World
– Speaking of Buzzfeed, The 60 Most Beautiful Cinemagraph GIFs. I could watch the ones of Jack Nicholson all day.
– Lionel Richie's "Hello" made up of various movie scenes.
– Gossip, and why Eden is one of my favorite writers
Fortunately, we were only about four blocks away from his friend's house (i.e., before he heard anything that would change his life for the worse) when Jackson paused my iPod and said, "Mom, I saw Britney Spears yesterday."
– Cat Slap Joy Division. Excuse me as I wipe the tears from my eyes.
You decide what the poem means to you. But you are probably wrong. You are probably missing like seventeen literary allusions, twelve mythological references, and some parable stolen from the Bible.
– I love the Internet.
– Last week Cami was looking for something to watch on Netflix and asked me if "My So Called Life" was worth looking into. No, Cami, not at all. Do not sit down and watch all 19 episodes of perhaps the best cinematic representation of what it felt like to be a girl going to high school in the early Nineties. Is 19 episodes too much of an investment? Then park yourself right there and watch all three minutes and 17 seconds of this:
– A few of my favorite tweets from the last week: