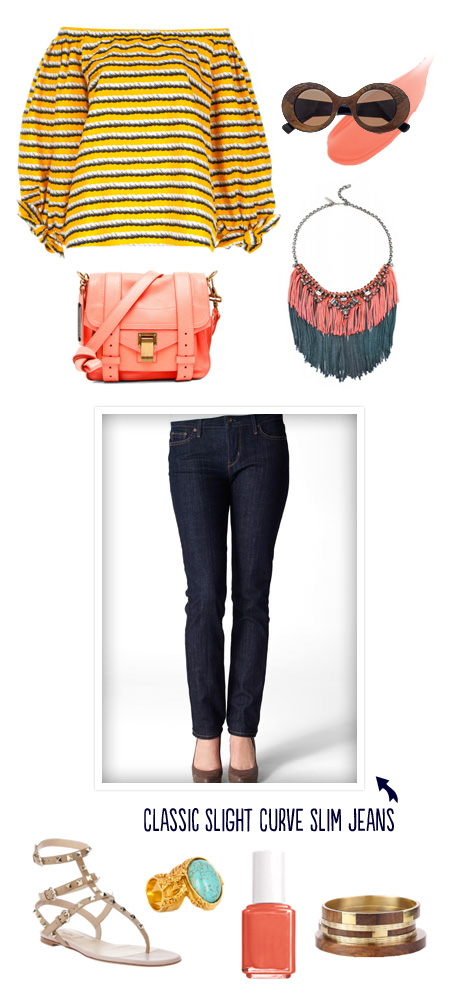 (Yo! Sponsored content ahead! Watch your step!)
That obnoxious, deafening squeal you heard the other day was this here wide-eyed fawn finding out that Radiohead had added some North American dates to their upcoming tour. You don't care about Radiohead? You think they're overrated or you just don't get it? That's fine. We can still be friends. No, really. It's okay. I understand. I mean, I don't care about your collection of Ryan Seacrest posters. We will agree to disagree!
This news reminded me of the upcoming festival season and all the outdoor concerts here in Salt Lake City. ADDITIONAL SQUEAL AHEAD: Bon Iver is coming to my favorite outdoor venue. You don't like them either? Who DO you listen to? If I find out that the most played track on your iPod is something by Train, you and I are going to need to see a therapist.
Levi's® wanted to work with me again, wanted to me to come up with another outfit around their new line of jeans. So, I called up Cami and asked her to help me come up with something to wear when I see Radiohead. Because that is going to happen. And it will probably be outside. And guitarist Ed O'Brien will finally notice me, remember that I've already seen them ten times, and then he'll throw his shirt at me.
I can't wear heels to a concert, not with all that standing, especially if that standing is on grass. So we chose sandals for the warmer weather and then filled in everything else with something a bit bohemian and funky. You might have noticed that when I put outfits together I don't really seek out earrings, and with this outfit in particular I wanted to stick with rings and bracelets and necklaces. Last thing you want is some drunk dude really feeling the live version of "Paranoid Android," waving around his arms and yanking a hole in your ear because his finger got caught on your gold hoops.
Some of you may be like, wait. What if it's really hot? You're still going to wear jeans to an outdoor concert? And the answer is yes for a few reasons. One, I'm a weirdo. Two, I'm so pale that if I wore shorts I'd blind you. Three, I don't know who or what sat on this patch of grass right before I did. Jeans will act as the blanket that I now don't have to pack! Four, ever heard of a freak snowstorm?
Isn't this outfit going to look great with Ed's shirt?
Oh! Also! Levi's® wants to offer you guys a promo code to say thanks. Get 15% off Women's and Kids at us.levi.com when you use the promo code DOOCE.  This code expires at 11:59pm (PST) on Wed, 3/21. Enjoy!
……..
This series is brought to you by Levi's® Curve ID. Find your custom fit at Levi's®  stores or Levi.com