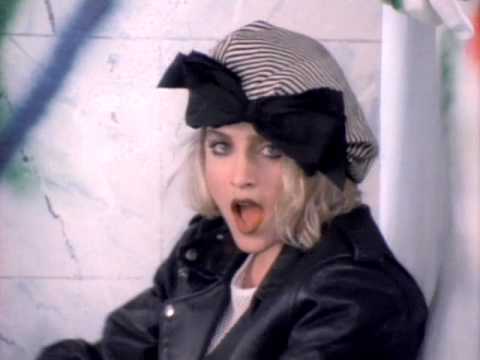 Back in January? February? A long, long time ago. We'll just go with that. In a galaxy far away. My friend Stacia rounded up me and two of our closest friends (Cami and Heather) to purchase tickets for a Madonna concert. The closest show with the cheapest seats we could find was in Phoenix, and here we are lounging by the pool at the Arizona Biltmore, seeking out shade because it's 90 degrees outside. In October. If you're looking for me I'll be sitting right here for the rest of my life.
About a month ago in preparation for this trip we each took a very scientific online survey called "Which Madonna Era Are You?" Crucial information if you want to maximize the quality of your life.
Sure you perform volunteer work and contribute to various charities, but could you live with yourself if you were not the Madonna Era you thought you were? It could destroy your whole world view. How could you go on living?
THANK GOD I am the Madonna Era I always thought I was: 80's Madonna. World view? Intact. Until I find out that that survey is in no way scientific and then everything will totally fall apart and we'll all die homeless.
I remember the first trip my family took to Florida, the first of what would become a yearly tradition, and it was serenaded by every top 40 station along the freeway from Memphis to Pensacola. "Borderline" played again and again, and then I heard it throughout the week at the condo on the beach. My dearest friend from childhood was supposed to have accompanied us on that trip, but her father had just received notice that he was going to be transferred to a Marine base in Japan. I wouldn't see her again for 15 years.
Another song evoking indelible memories.
We each got different results, and everyone gathered up a costume to fit their era (Cami is painting the homemade cones on her bra with gold glitter as I type this). The thing is, I am so not a costume person. For Halloween parties I will always go as a Heather B. Armstrong, professional blogger, and when someone asks about my costume I will hold up a bottle of antidepressants and the carcass of a wild animal that showed up to die in my yard.
So I was going to go to the concert in my standard jeans and t-shirt until Stacia intervened and brought me the wardrobe I had when I was ten years old.
The leg warmers and jelly bracelets made it safely through security. We'll see if it makes it past the 37-year-old cynic in me that is like, are you kidding me? I pay a mortgage, for crying out loud. Am I really going to do this?