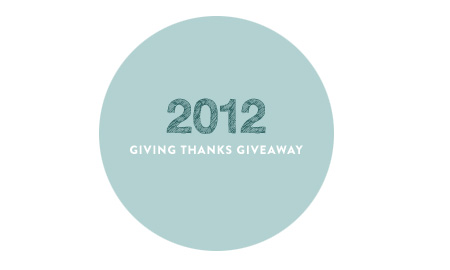 Hey. How are you? Yeah? You need a hug? Me, too. I'm kind of looking forward to the end of this year because then it will mean that 2012 is finally over. Isn't that how it works? Do you kinda hope the Mayans were right?
It's been an intense year for a lot of us if you enjoy understatements, and there were several days and weeks when I wasn't sure if I was going to survive (last week I found a gray hair in my eyebrow). But I did survive, and many of you have reached out to me with encouraging words and very nice comments, reminding me that you're still here and listening. You didn't give up on me.
And since it is the season, I wanted to say thank you in some way. Thank you for being here and for letting me continue to run my business. Thank you for letting me tell my stories, for helping me employ two people, for enabling me to pay my mortgage. Thank you for not giving up on me.
Over the next few weeks I'm going to host a giveaway, each week rewarding someone with a $1,000 cash card. I thought about giving away a product of some sort but decided that cash would be a more useful gift during these leaner times. Maybe it could help with Thanksgiving dinner, maybe with Christmas gifts, or maybe you want to indulge a little bit with some boots or a purse or a hooker.
…
NOTE: Some of you are probably asking why I don't just donate the money to the relief work going on in the wake of Hurricane Sandy. We, the entire Blurbodoocery, Inc., have decided to help out in another direct way by buying relief supplies through Amazon and having them shipped directly to Staten Island Assemblyman Matthew Titone who is collecting items for those on the island hit hardest by the storm.
Jon was reading twitter when he saw a mention of this wish list. He tried to send at least one of each item on the list, so we were able to send over underwear, socks, flashlights, diapers, sanitary napkins, the whole works. We will probably end up doing more, but this is a good start, I think.
Jon deserves all the credit here for seeing the link and spending the time to fill the shopping cart. Many thanks to him.
…
This week I'm choosing a random Facebook subscriber to win the cash card. First you should read the official rules. Then, all you need to do it click the subscribe button on my page here: http://www.facebook.com/dooce
On Thursday night at 10PM Mountain Time I'll generate a list of people who have subscribed up until that time, assign each person a number and then pick a winner using random.org.
That's it.
Again, thank you, especially those of you who have given me the benefit of the doubt. May the same be given to you when you need it the most.