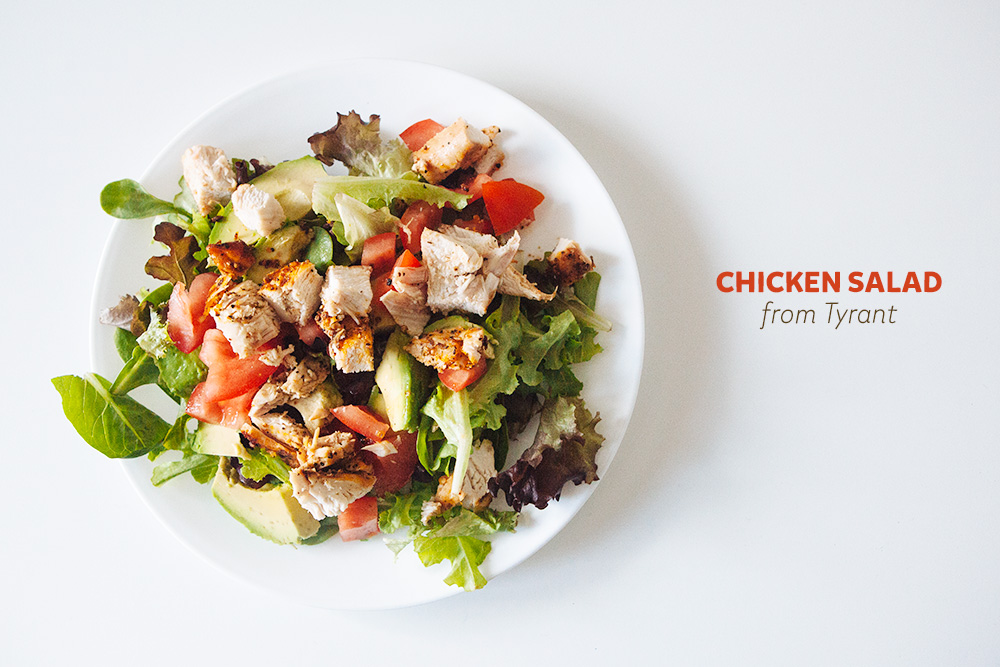 Tyrant may be a strict vegetarian, but he grills chicken better than anyone I know. Every day we sit down to a brief lunch and it's usually a variation on this salad (his without the meat, of course): greens, tomatoes, avocado, and grilled chicken. Some days we'll throw sliced apples or pears into the mix, sometimes roasted pecans, sometimes beets or red peppers. Generally it all depends on what I've recently bought at the grocery store. It's always so fresh, though, and this has spoiled me when it comes to ordering salads at restaurants. They just don't taste as good. In fact, they usually taste like someone just dumped it out of a package. And then secretly farted on it.
My go-to salad dressing for the last several months is the Fig & Walnut Balsamic Vinaigrette
from Lucini. It contains all natural ingredients, and I think someone else who shops at my grocery store is just as in love with it as I am because every other time I'm there it's sold out. So when it IS in stock I do that really annoying thing and buy four bottles of it. I am messing with that person and that person is messing with me. Obviously we need to sit down and call a truce over a chicken salad.
Today Tyrnat used McCormick's Roasted Garlic and Herb Seasoning
on the chicken. He always dabs the chicken breast with a paper towel to soak up all the water before he rubs it with olive oil and seasoning, that's his secret. That and, well, it will always taste good knowing I'm not eating my dead pet fish.
Previous recipes:
– Mild yellow chicken curry
– Curried cream of broccoli soup
– Paleo carrot soup