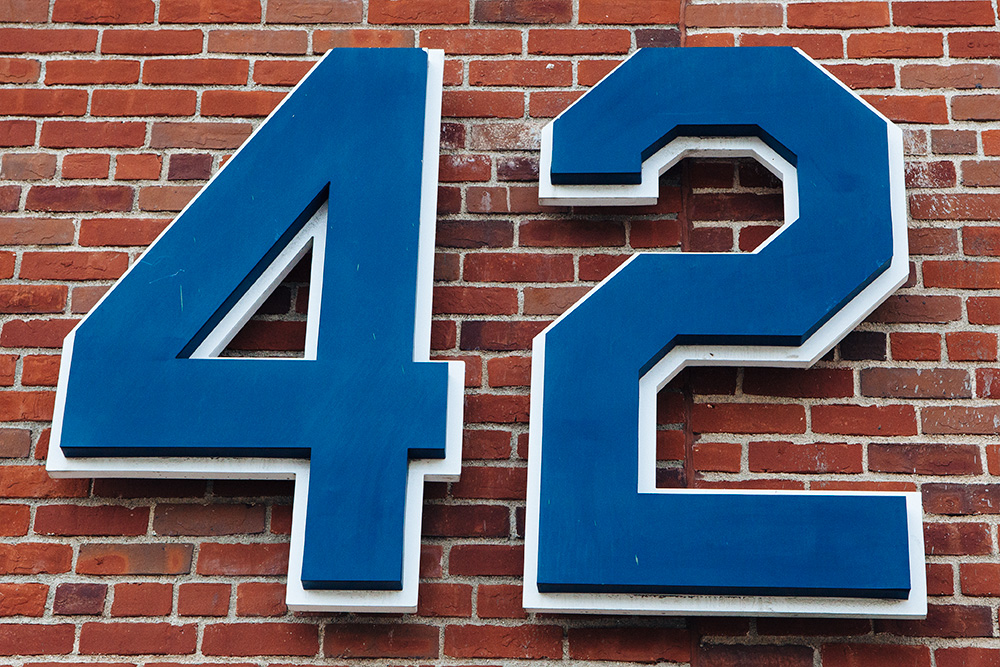 On Tuesday I got to take a tour of Fenway Park, a very touristy thing to do and one I cannot recommend enough if you ever find yourself in Boston. Along one of the outside walls are giant red figures of all the Red Sox numbers that have been retired:
Bobby Doerr – #1
Joe Cronin – #4
Johnny Pesky – #6
Carl Yastrzemski – #8
Ted Williams – #9
Jim Rice – #14
Carlton Fisk – #27
And then there's the blue #42. That's Jackie Robinson's number, but he never played for the Red Sox. They honor it here because MLB universally retired his uniform number across all major league teams. He was the first pro athlete in any sport to be so honored as he broke the baseball color line. I took several photos of this with the intention of sending them specifically to Kelly Wickham. Coincidentally, she sent me a Facebook message that day to ask how I was doing. You might remember that she gave a pretty moving speech about race that hit me straight in the gut.
I have not been online very much in the last week, just a few Instagram photos here and there and making sure some of my work got posted. I hadn't seen a single second of television. It wasn't until I got on my laptop on the plane home from Boston yesterday that I actually pulled up a news site. I had not seen or heard a word about what was happening in Ferguson, Missouri, and I initially felt, quite frankly, so stupid. Because I had responded to her Facebook message with just some trivial bullshit.
That's when I went straight to her twitter feed and began scouring it. Go. Go read it. Read everything that she has said and linked to. Think about it. Roll it around in your hands and heart. And then act. What does that act look like? Let's figure that out together because I'm still grappling and reeling and trying not to feel useless. And I refuse to be useless.