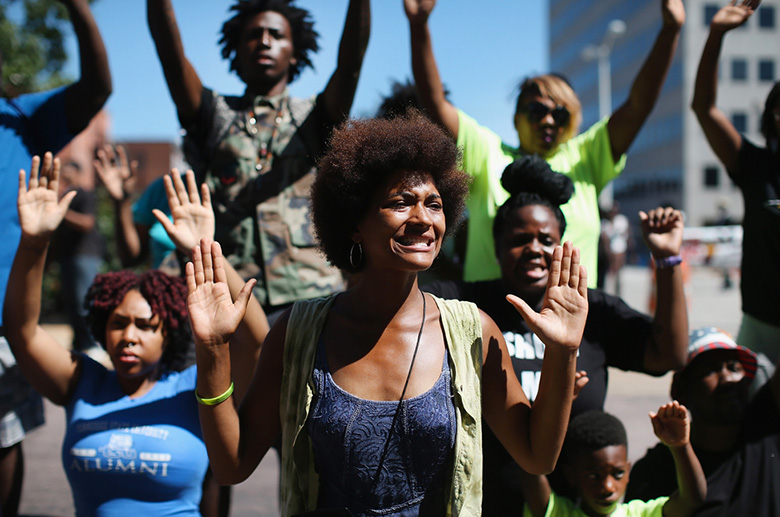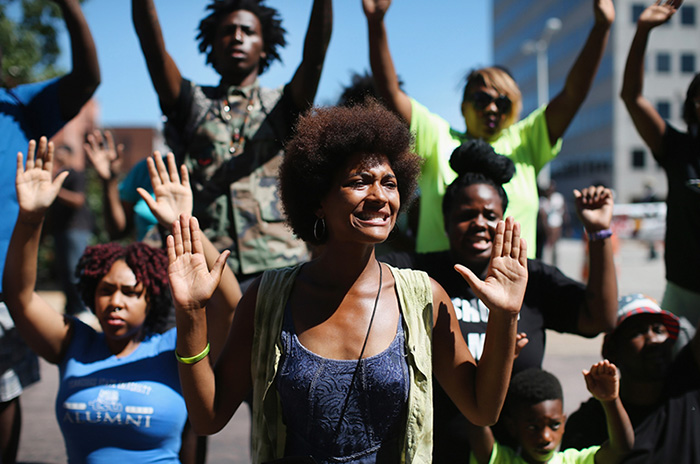 – The Big Picture: Ferguson Protests
– 11 things you should know about the Michael Brown shooting.
– When your house is dirty and your kids are screaming, why care about Ferguson:
You are a part of this. And not in some abstract "you're a human, they're a human" kind of way. If you live in a mostly white neighborhood, then it's very likely that young, black men feel unsafe walking down your street. Unsafe in your neighborhood. Isn't that interesting? White people get scared walking through black neighborhoods, but the reverse can also be true.
– Elon James White discusses the multiple platforms being used to pass along information and differing views by protesters. The ending quote should be shouted across America.
– Why the Fires in Ferguson Won't End Soon:
The Ferguson Police Department stonewalled at every turn, refusing cooperation and transparency. And when residents began to gather near the site of Brown's shooting to demonstrate and memorialize, police responded with guns and dogs, sparking a cycle of protest and repression. Nightly demonstrations from residents were met with tear gas and rubber bullets by aggressive, militarized police, which sparked larger, more aggressive demonstrations and harsher, more draconian responses, justified by reports of looting and violence.
– How Ferguson Has Exposed a Civil Rights Generational Divide
– What Black Parents Tell Their Sons About the Police
– All of this. Just read all of it.
– Lauryn Hill sings to the melody of "My Favorite Things" in her new song "Black Rage"
Remember, I'm writing you as a dear friend, because I can't believe you're not on my side. After a lifetime together I won't believe it. It's why I love you. I know you're on my side, with all those posts about how I don't have to worry about "my blond haired blue eyed son" being shot by the police. I get it, you're not boasting, just stating the sad facts, that you understand on the deepest level that your white privilege means your motherhood is different from mine.
– In Ferguson, Mo., A City Meets The Spotlight
– Ten Things White People Can Do About Ferguson Besides Tweet
– "I don't know how to talk to white people about Ferguson"
– Some important recent tweets:
Your beliefs don't make you a better person, your behavior does.

— Hiba H (@WellApparently) August 21, 2014
Almost all of the time, people are awesome when you give them the chance to be their best selves. But it can be hard to remember that.

— Anil Dash (@anildash) April 22, 2014
Something a cop said to me yesterday: "Good policing is mostly listening and talking."

— Christopher Hayes (@chrislhayes) August 21, 2014
Journalists, thank you for your work and thank you for your lives — especially when the latter are risked or lost in service to the former.

— stacia l. brown (@slb79) August 19, 2014
Being an activist, fighting against injustice, is a privilege. The true activist is the one surviving injustice.

— Aurora Barnes (@iam_Aurora) August 20, 2014
There's only one first amendment zone and it's called the United States.

— Josh Centers (@jcenters) August 20, 2014
This is, ladies and gentleman, a very sick and disgusting period in American history. People of good conscience must not be quiet.

— Shaun King (@ShaunKing) August 22, 2014
"In the End, we will remember not the words of our enemies, but the silence of our friends." -Martin Luther King, Jr.

— justified agitator (@Awkward_Duck) August 22, 2014