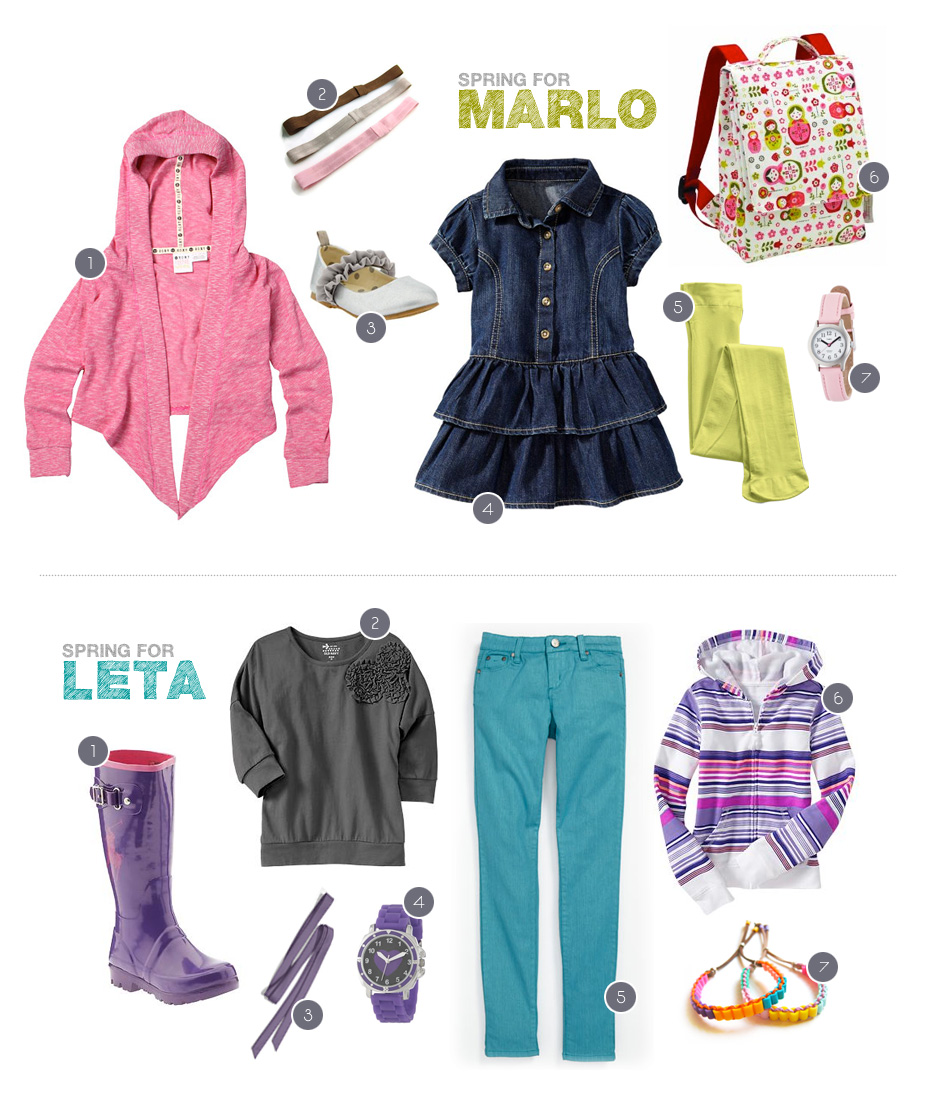 Yes, it's only the second week of February. But temperatures are no longer hovering near 4 degrees like they were for the entire month of January, and now when it climbs above freezing Leta starts to claw at her coat in the backseat and is all ROLL DOWN THE WINDOWS WE'RE GOING TO COOK OUR INTERNAL ORGANS.
Both girls have grown so much in the last year that I've got to start thinking about adding more items to their wardrobe for the spring. Marlo has inherited all of Leta's old clothing, but the seasons are switched up. The shorts Leta wore at age three? Looking good on Marlo as she chases Coco in the snow.
Spring here tends toward the cooler end of the thermometer DO NOT RUB IT IN TEXAS so both kids still need either a sweater or a hoodie. I've browsed some possible items for both kids, ideas to inspire anyone else who is faced with the changing seasons and the inexplicable three extra inches on your kid's legs.
For Marlo:
1. Roxy Kids Be Cool Cardigan $34
2. Girls Elastic Headbands $2
3. Ruffle-Strap Mary-Janes $12
4. Ruffled Denim Dress $11.95
5. Soft Microfiber Tights
$5.95
6. Sugarbooger Kiddie Play Back Pack
$20.83
7. Timex Easy Reader Pink Leather Strap Watch
$14.75
For Leta:
1. Ralph Rainboot $44.99
2. Girls Ruffled-Rosette 3/4-Sleeve Tee $15
3. Skinny Satin Sash $22
4. Analog Purple Jelly Watch
$14.99
5. Tractor Coated Jeans $48
6. Girls Multi-Stripe Fleece Hoodie $10
7. Color-block Perler Tube Beads Friendship Bracelets $4
……
This post is sponsored by Old Navy. Check out Old Navy's Kids and Baby Sale in stores or at oldnavy.com.