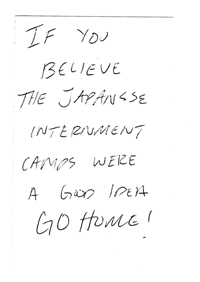 A few nights ago I got a rather late, frantic phone call from my Favorite Mormon friend (I call her my Favorite Mormon Friend because she is my Favorite Mormon ever, and she calls me her Favorite An-Mormon because I'm not so bad that I'm completely Anti, just a little An, do you see why I love her?). She had just returned from a book club attended mostly by older members of a certain faith, a faith that is frequently the brunt of the more insensitive and inappropriate comments I've made on this website (remember that one time I said Brigham Young sucked cock? Yeah, that would be one of those instances).
They had read this book and were discussing it when it became very apparent that the consensus of the group was that the United States did nothing wrong by imprisoning innocent Japanese Americans during World War II. After all, they pointed out, many of the Japanese at that time were patently un-American, duh.
My Favorite Mormon Friend COULD NOT BELIEVE she had been sitting in a room where people were actually saying such things out loud. She called me because she knew I would be as outraged as she was, and oh WAS I. I tried to convince her to invite me to their next book club meeting but she knows better than to allow me anywhere near those women. If I'm willing to publish rumors about Brigham Young's preference for cock ON THE INTERNET, what would I say to a room of living people (as opposed to the non-living, imaginable people who read things on the Internet)?
She should be less worried about what I would say than WHAT I WOULD DO! There would be much blood and gore and exposing of the panties.
The next day I met her for lunch at her house and this was the note I found on her door:
Now tell me, people: don't you want a Favorite Mormon Friend like her? I'm going to put this note in my scrapbook.
On a slightly different subject, my mother took Leta this morning and is keeping her until tomorrow afternoon. You know what this means, right?
KEGGER!
Actually, we're going to put on fancy clothes, clothes I don't ever wear for fear that they might come in contact with Leta's face, and we're going to get sushi and then see a real live motion picture at the cinema. And then, well, you know. We may be married but that don't mean we ain't naughty! Multiple horizontal (and vertical!) surfaces, let's hope you're all earthquake proof!