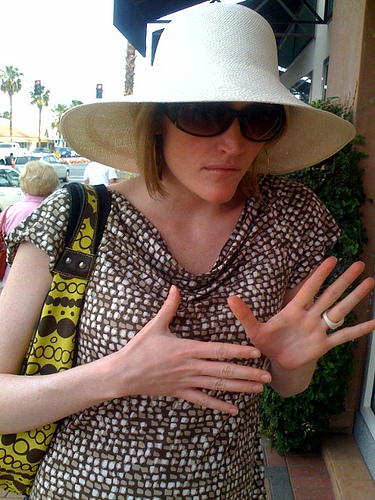 While visiting the Palm Desert last week with my friend Carol I picked up a fancy hat at a local shop to help defend my delicate butterfly skin from the ferocious rays of the sun. No I'm not kidding, my skin is made of some sort of super flimsy pancake batter, and I was out in the sun for less than an hour with SPF 70 lathered over my entire body and I still got sunburned. Where do I go from there? SPF Sweat Suit? SPF Remain Inside and Look Longingly Out My Window?
So I bought a hat to shade my face and neck as we walked along El Paseo and window shopped, and I consider that a sacrifice because I don't wear hats. Hats are for women who can pull off puffy sleeves and lacy collars, and I wish I was one of those women but let's be honest. I buy clothes based on how well they match my sports bra. And here I was walking around with this swoopy straw hat jutting four feet off my head feeling VERY. CONSPICUOUS. and every time we passed someone on the street I wanted to stop them and say I KNOW WHAT YOU'RE THINKING BUT YOU'RE WRONG. And then lift up my shirt to show them my skin cancer scars and go THESE. THESE MADE ME DO IT.
But then we stopped at a bar and had three margaritas, because we were on vacation and would not be required to make decisions affecting the well being of certain small humans back home, and what do you know? A little tequila can make you reconsider your entire wardrobe. Why didn't I wear more hats? Hats are awesome! And it's kind of hot in here, why are we still wearing shirts? ALSO! WHO WANTS TO DANCE? Here, if I jump off this counter will you catch me?
A few hours later after the tequila had worn off I was still convinced that this hat was the best thing that ever happened to fashion, and days later when I was packing all my things for the plane ride home I decided that it was too precious to fold up and shove into the bottom of my suitcase. Instead, I thought, I'll go through the trouble of carrying it home, and for the next five hours I juggled it, four large magazines and a camera bag that weighed 180 pounds. It was an awkward plane ride made even more uncomfortable by the fact that the aircraft was so small that the only place to put the hat was on my head. And the brim kept knocking into the ear of the strange but patient man who sat to my left. My God, that man showed such restraint, and I would not have pressed charges if he had decided to take out a pencil and stab me in the thigh.
The welcome I received at the airport was incredible, but only because I had promised Leta that I would be bringing her presents. And when she saw me she ran up, wrapped her arms around my neck and the first thing she said was DID YOU GOT STUFF? The second thing was WHAT'S ON YOUR HEAD? And I was all Leta, I might look ridiculous now, but wait until you've had a couple martinis and it will totally make sense.
The following morning I lounged in bed a little longer than normal, happy to be back with my super cuddly husband and daughter who was occupied with the STUFF! I'd brought back from Palm Springs. I guess we were feeling cocky, because we normally have Coco on leash at all times so that we can keep track of her and curb her shenanigans, but we let her roam around that morning as we stole a few more minutes of sleep. That's a famous last word there: BUT. BUT WHAT? THERE ARE NO BUTS WHEN YOU LIVE WITH A PUPPY. You might as well just follow that word with THEN EVERYONE DIED or A HAMMER FELL OUT OF THE SKY AND HIT ME IN THE FACE.
In this particular instance that BUT was followed by this:
And two consecutive days of a dog trying to pass straw out of her ass.