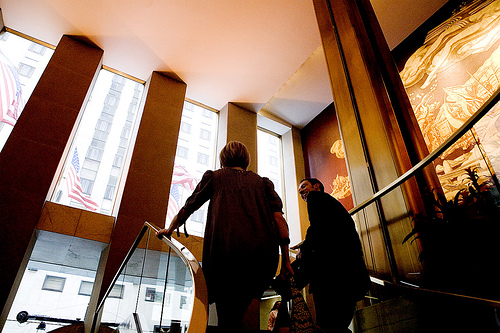 When the producer for NBC called me and asked if I'd be interested in flying to New York to be on a live segment of the Today show to talk about the business of mommy-blogging — okay, wait a minute, I think I should address this right here, right now, this label MOMMY BLOG. Do I consider my website a mommy blog? Not really, no. When I sit down to update my website I don't think to myself, "What will I say today on my mommy blog?" The first thing I think is, how can I give my father a heart attack? And then I back up a second and go, nah, I'd miss him too much, I will just have to write this story about Jon's Brazilian wax in my personal diary. Dad, are you paying attention? It's because of you that the world does not get to hear about Jon's genitals. I HOPE YOU'RE HAPPY.
But I also don't get offended when people call this website a mommy blog. Not at all. Because even though some people use that label to belittle the fact that there are women out there writing about their experiences as mothers, how dare they? Who do they think they are? NO ONE WANTS TO HEAR ABOUT YOUR KID, YOU MOMMY BLOGGER! Yeah, that. Turns out lots of people want to hear about your kid. Oh, and did you hear? All this writing about motherhood is bringing people together and changing lives. So you go ahead and wrinkle your nose and dismiss those mommy blogs. And I'm going to sit over here at my laptop and be totally flattered that someone thinks I'm worthy to be among their ranks. Hell yes, I'm a mommy blogger.
So I was prepped for an interview about mommy blogs, the lot of us, how this thing we started to document the tiny and intimate moments of our lives has transformed into our jobs. Our jobs that pay us money. And I was totally under the impression that it was going to be a more in-depth interview than the usual, so, tell us about your blob, is it? Your blop? Your blonk? Little anecdote here, the driver they sent to JFK to pick me up turned out to be Chelsea Clinton's personal driver when she's in New York, which does not have anything to do with the point I'm trying to make here other than that he said she is always shouting from the backseat, "GO FASTER! GO FASTER!" And I don't know why but just knowing that about Chelsea makes me want to invite her over to play Scrabble while chugging Kentucky bourbon. It just makes me love her even more to know that she gets impatient at stop lights, and that maybe she has once or twice waved her middle finger at a stranger, not because it would make any difference or cause traffic to go any faster, but because IT FELT SO GOOD.
Anyway, the driver asked me why I was in New York and what I did for a living. My friend, Maggie, is going to be so proud of me for this because I told him, "I'm a writer." And I thought it was going to sound natural coming out of my mouth but in fact it did not whatsoever. I could have said, "I teach English to genius pandas," and the look on my face would have been the same. He asked me what kind of writing, and that's when I looked around to see if anyone was within earshot, and duh. It's New York. At any given moment there is someone having intercourse with a goat within earshot. So I whispered A BLOGGGGG. And I am not even kidding, his whole face shriveled inward as if he had just been sprayed with mace, and he said, "Does that hurt?"
Yes, it hurts. But I'm taking antibiotics.
So I got a call from the producer about 20 seconds before boarding the plane to New York telling me that they had bumped the segment to the fourth hour of the show, and that I'd now be interviewed by Hoda and Kathie Lee. I knew right then that the interview that was supposed to happen was not going to happen, but I still had hope. I knew that a taped segment featuring other bloggers (Kristen Chase, Mir Kamin, and Jill Asher) was going to run before me, and I thought I'd still be able to get in a word or two about why I think companies are so interested in marketing to this group of people, why they are sending us thousands of PR emails saying DEAR BLOGGER, PLEASE WRITE ABOUT MY PRODUCT ON YOUR WEBSITE. Except how many times have we been sent an email addressed to the wrong person? I've been called Heather Anderson, Sarah Armstrong, Hannah, Halley, and one time someone even called me Jim. Note to PR people: maybe pretend that you are paying attention.
I'd been to Rockefeller Center before but never inside the Today Show studios, and I don't know how to say this without someone deliberately misinterpreting it, so I'll just go ahead and blurt it out: it was kind of sad. The green room was tiny, and the make-up room looked like it had been haphazardly set up in someone's garage. Not that I was expecting the walls to be lined with gold, but you look at the set and see how sharp and clean it is, and then you go backstage and, oh my god, has my daughter been playing in here? Because there was stuff and paper and little bits of things everywhere. Like, I had a thought that if I took off my shoes and walked around for a little bit back there that I'd stumble over a Barbie corvette and maybe cut myself on that missing Polly Pocket shoe.
And that is less a judgment than it is an observation, because the experience I had with the make-up people was more than professional. They handled me with great care and made me feel like a million bucks and didn't mind Jon as he furiously circled the room with our camera:
Just as I was about to walk back to the green room I asked Jon if he thought my make-up looked okay, and in front of about 10 people on the Today show staff he said, "Okay? OKAY? I'd lick you right now if we were alone. COME ON!" Someone started laughing, so Jon continued: "What? WHAT? Doesn't my wife look good? I'm allowed to say that about this woman because I saw a baby come out of her body!" And thus commenced a chorus of disgusted EWWWWWWing. And I was all, okay Jon, you can stop. And he was all, "Not just ANY baby! MY BABY! OUT OF HER BODY!" This is obviously proof that one side effect of Prozac is acting like you're drunk when in fact you are not.
15 minutes later I'm sitting on a couch opposite Kathie Lee Gifford and Hoda Kotb. And we're making small talk in the four minutes leading up to my segment. They're asking me all sorts of questions about my website and where I'm from, and then I think but I can't be sure that Kathie Lee Gifford winks at me. Just out of nowhere. WINK WINK. And I'm so caught off guard that my face changes its expression involuntarily, and she says something like, yeah, that was a wink, it's something we do on television. I go, okay, so you weren't trying to hit on me, just clearing things up. And she says, no, she wasn't hitting on me, but honey (she called me honey), I am totally her type.
I am Kathie Lee Gifford's type. You know what? I am not even going to start decontructing that, and instead I'm going to let you consider what that says about my husband.
And then she said something to me that made the rest of my day one giant confusing puzzle that I have still not been able to put back together. I don't remember her exact words, but she asked me if I get a lot of criticism for writing about my family on the Internet, and when I said yes she said she could totally relate. Because people were all over her back in the day when she talked about her kids on television. She told me she could empathize. For those of you who have not seen the segment I'm going to post it here, and afterward you're going to think to yourself, "HUHHH?"
I don't know what happened to frighten Kathie Lee in the span of four minutes, but my guess is that she had either been instructed to bring up that controversial aspect of mommy-blogging, or maybe she herself thought that she needed to layer the interview with that perspective. Either way, it did not make her a friend of this community from what I've read on other websites and forums.
And here's my take: this is obviously a case of an interviewer not being adequately familiar with the topic at hand (also, probably not a good idea to have someone afraid of computers interviewing someone about their job using computers). And I'm not about to jump into the crowd and start calling Kathie Lee names, she does not deserve that from me. I'm not so much angry at her as I am disappointed that this topic was not given the service it deserves. Blaming Kathie Lee for that would be misguided, and in fact, I don't think there's really any one entity responsible for how this played out other than the beast that is broadcast television. The segment got bumped, things were shuffled around, and maybe because of some miscommunication here and there it wasn't the piece it was supposed to be. Instead of looking at this as a setback I'm thinking that this is a great opportunity for someone out there willing to take a look into the heart of this community. Start the interview with the fact that you are uncomfortable with what we do, and then let us answer you. Unless you are afraid of us, and if that's the case, well, here, let me rub your head, you poor little bunny.