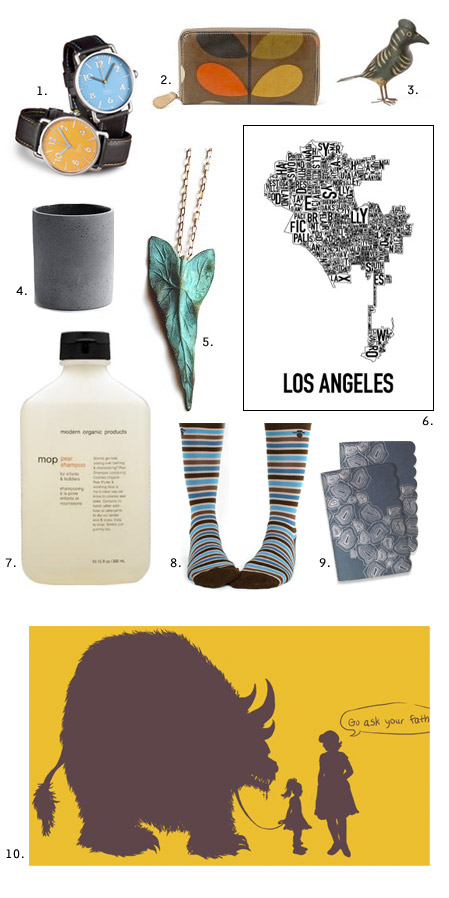 I've recently received several frantic emails from guys who are either married or are dating readers of this website asking if I might put together a holiday gift guide. One guy even suggested that if I didn't do so his wife would certainly get socks for Christmas, and then it would be my fault that he didn't get lucky that afternoon. Look, you can get your wife socks for Christmas, they just need to be the right socks, and if you don't know what that means then follow this simple rule: no piece of clothing should ever play Christmas music.
I certainly don't want you to spend Christmas afternoon alone in your shower, so I pulled together some things that I would love to open that morning. Many of the stores that are selling these items are full of interesting, unique gifts that would make me just as happy, so consider this a jumping off point. I know budgets are tight, so I've only listed a few splurges. And even though it isn't listed here, my top suggestion is a foot rub. One that requires nothing in return, if you know what I'm saying.
1. Witherspoon Watch by Michael Graves $165
2. Turning Leaves Wallet by Orla Kiely $59.95
3. Fieldnotes Bird, Striped Grebe $16.00
4. 4 3/4in Slate Cylinder sealed inside for use in fresh flower arrangements $8.00
5. Hera Necklace by We Dream In Color $32
6. Los Angeles City Neighborhood Poster $22
7. MOP Pear Shampoo
$12.00
8. Stroke Socks $14.00
9. Nature Exploration Agate Notebook $13.50
10. Sally Finds a Stray T-Shirt at Threadless $10
1. Pomaireware Serving Dish $21.95
2. Aqua Bird Feeder $135
3. Borrowed Spoons Teatowel $12
4. Simply Radio by Richard | Solo $69.95
5. Blue Cone Dog Pillow $32
6. Large Charlie Bird Print by Matte Stephens $60
7. Large Aqua Teapot by Heath Ceramics $165
8. Hand-crafted Cheyenne Style Scarf in Dark Damson $130
9. Lip Treatment Kit by Laura Mercier $28.00
10. Baby Deer Photograph $25
I also had Jon put together his own list of things to offer suggestions to the women out there in relationships with geeky men who are impossibly hard to buy for. I had to send this list back to him four or five times with the instructions PLEASE INCLUDE SOMETHING OTHER THAN COMPUTER HARDWARE. Note, his list includes many more expensive items, and his explanation is that "geek living is hard." This is something I plan to use against him forever.
1. Kindle,
Amazon's Wireless Reading Device $359
2. Tweezerman Men's Shaving Brush
$13.50
3. Smoked Pearl 1.0 Liter Aluminum Water Bottle by SIGG $24.99
4. Canon Powershot G10 14.7MP Digital Camera
with 5x Wide Angle Optical Image Stabilized Zoom $419.88
5. Apple Airport Express
$95
6. Ben Sherman Pieced Flag Wallet $48
7. Apple TV
with 160GB Hard Drive $319.99
8. Merino Wool/Silk V-neck Sweater $79
9. Nylon Canvas Field Bag by Jack Spade $150
10. Wishful Drinking
by Carrie Fisher $12.60
1. The North Face Denali Fleece Jacket $114.99
2. Call of Duty: World at War
for the Nintendo Wii $49.99
3. Proraso Classic Shaving Cream
With Eucalyptus Oil & Menthol $10, to be used with Proraso Pre and Post Shave
$12
4. Large Moleskine Sketchbook
$12.21
5. Canon EF 24-70mm f/2.8L USM Standard Zoom Lens
for Canon SLR Cameras $1,049.95
6. Eames House of Cards $35
7. Planet Earth – The Complete BBC Series [Blu-ray]
$59.99
8. Incipio iPhone 3G Feather Case
$17.99
9. End-Grain Counter Butcher Block $90
10. Data Robotics Drobo
4-Bays USB 2.0 and FireWire 800 Fully Automated SATA Robotic Storage Array $454.96