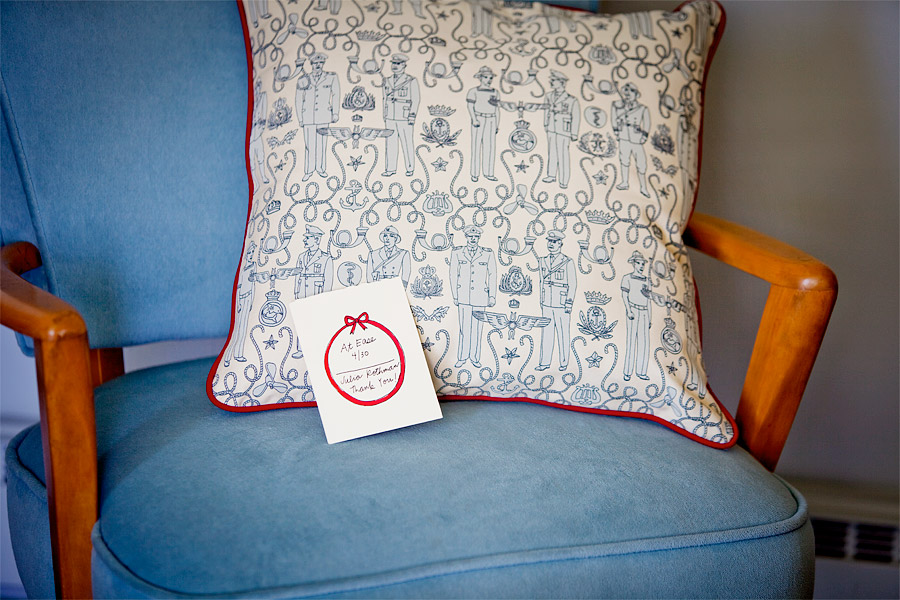 A few weeks ago I was reading one of my favorite blogs design*sponge which mentioned that one of my favorite artists Julia Rothman had just released a set of limited edition pillows (click on "shop" and then click on "handmade"). I've featured Julia's work here before, most recently when we wallpapered the nursery with one of her designs.
Coincidentally, I was looking for a set of new pillows for the living room as the ones we'd had on the couch were in less-than-friendly condition. And these At Ease pillows match the decor of that room PERFECTLY, especially the red piping detail. So I ordered two, and when they arrived a couple of days ago and I took them out of the box and saw the immaculate construction and luscious design I had to stop myself from rubbing them on my body. OH THEY ARE SO AWESOME. And there I am in a state of ecstasy running back to the office to show Jon these new additions to our family, and he's all, ehhhhhh.
Um, what was that again?
Ehhhhhh.
Are you blind?
Ehhhhhhhhhhhhh.
I guess these remind him too much of the 1970s, you know, back when he was in his late thirties. Whatever. Leta saw them and exclaimed, "Mommy! I LOVE these new pillows!" WHICH IS ALL THE CONFIRMATION I NEED, THANK YOU VERY MUCH.