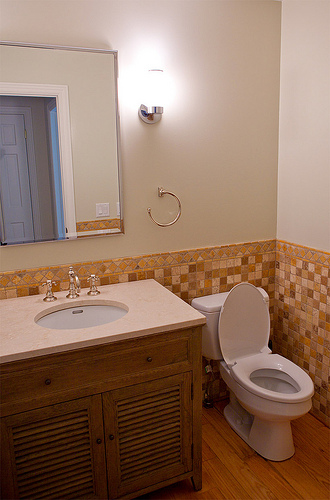 I should probably get this out of the way right now so that many of you can recover from your disappointment by the end of the post: this has nothing to do with a television show. HGTV did not buy me a house, nor are they renovating the one we live in. All of this chaos is completely separate from the work I do for them, and sadly (fortunately!!!) I won't be appearing in any reality show about our lives. Worst part? THIS STORY DOESN'T EVEN INVOLVE CHICKENS.
QUACK! Oh, wait. Wrong bird.
I left off where Insano Home Owners rejected our offer, and you guys, it was really REALLY hard not to write about it when it was going on. I loved that house, I could see the girls growing up in those rooms, but the cost of putting up a fence on that property was going to be astronomical, plus any other unseen costs that might arise after an inspection. And that number, that 800 days on the market, it sat on our shoulders like a gorilla eating peanut butter sandwiches. So when they walked away we felt a mixture of devastation and relief. A weird, disorienting feeling, kind of like being stranded in the middle of a dumpster behind Denny's but knowing you can fart and no one will notice.
I had told our real estate agent that I wanted something modern, and can I just take a moment here and tell you what an amazing difference it has made in my life to finally be surrounded by gay people again? Our accountant, our real estate agent, my assistant… they just bring an energy to life that straight people cannot touch. And, hell! They make me wish I were gay! But there's that whole penis thing and how awesome it is.
So our agent found everything that was somewhat modern in the areas we were looking, and, just, eeeeeyuuckkk. The inventory here is really depressing, and I actually said that to Jon in the middle of all this. I said, "This is just so depressing." And he totally flipped out! We were in the car and he suddenly pulled over IN THE MIDDLE OF TRAFFIC and was all NO NO NO NO WE ARE STOPPING THIS RIGHT NOW. Holy overreaction! Calm down, Mister Blow It Out of Proportion!
He has a serious case of PTSD from what I put him through during my postpartum depression, and when he hears that word come out of my mouth he ducks so that the milk carton I've thrown doesn't hit him in the head.
But in this instance I meant depressing as in, come on, Salt Lake City! You're really disappointing me! YER NOT REPRESENTING.
I did promise him that I would not use that word in reference to real estate again, but get this. We were dropping Leta off at school one morning, and one of the other mothers who moved here from out of state last year asked how it was going. And when she saw me hesitate she goes, "It's so depressing, isn't it!"
Several times that day when Jon saw me laughing he would shout SHUT UP.
We exhausted all the inventory in the neighborhoods where we were willing to live and within our budget, and at that point our agent asked me how flexible I was about this whole modern thing. And I was like, um, what do you mean by flexible? And he was like, you know, bendy? How Gumby-like? And I was like, dude, if you take me to a Tuscan puss-filled goiter, you're fired.
We had just walked through the fifth house in two hours, and he said he knew of a house that wasn't on the market yet, and it wasn't modern, but he had heard that it was nice. We drove by, stopped next to the driveway, and I thought, hmm. That is certainly not modern. But it looks kind of nice. Why not have a look, nothing to lose. So he set up an appointment for the next day.
And.
I just.
So.
When we walked through the front door of that house the next day the eight-year-old Heather Brooke Hamilton in me started cheering. Like, this was the kind of house I used to daydream about living in. And I literally had to hold in a squeal and stop myself from doing a back hand spring.
It was my dream house. And it's just so crazy, because it is nothing like the modern things I've been drawn to in the last few years. But there it was, my dream house.
Light everywhere. Gorgeous hardwood floors. Huge windows. Space and then more space and then more space. A huge formal entry that opens up into a huge formal living room that opens up into a huge formal dining room that opens up to an unreal kitchen that opens up to a casual living room. A mudroom! A laundry room bigger than my first apartment! And as I was dragging my lower jaw along the floor, the real estate agent representing the buyer says, "She has remodeled all the bathrooms."
And by remodel she meant gutted and then filled with the finest tile and vanities imaginable.
That was the first floor.
Then there was the second floor with more windows and rooms and bathrooms than I could wrap my head around. And a master suite that just… it was obscene! Except the kind of obscene where the hooker is actually quite pretty and has all her teeth!
And then, the third floor. A 900-square foot open loft. An office, perhaps? Or maybe that's where I could put my stripper pole.
I won't even get into to the basement, a space bigger than our house.
When we got to the end of the tour, out on the backyard that expands up and over the half-acre lot, our real estate agent who had not ever been inside couldn't form words. He was stunned. Totally speechless. Because the asking price for this house? Basically what we offered on the other one.
I grabbed him by the shoulders and said DO IT NOW.
Little did I know that The Armstrongs are magnetically attracted to Insano Home Owners.