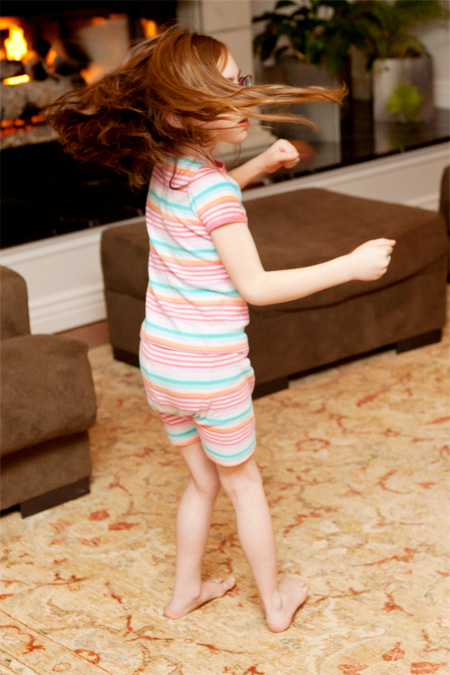 To commemorate the end of Microsoft's sponsorship while simultaneously having a little bit of fun, we've decided that we want to put together one last video (with your help) and give away a few prizes in return. Here's the idea:
Since part of the previous giveaways has been the Joy Ride™ video game (basically, racing cars or performing stunts in cars using just the movement of your body), we thought it would be fun to video tape some of our family racing each other, and then have you guys submit video of yourselves racing (or performing stunts). You don't even have to have an xBox or a Kinect or a copy of the Joy Ride™ game, you can just pretend that you're racing a car with the movement of your body. Like cavemen did.
Basically it looks like this:
Above, Leta spins her car in the air. While wearing her summer pajamas.
And here she's practicing the waltz with a pink van:
Rumor has it that if you really put your hips into it, you could approach this level of sexy:
Also, you can calm the stormy seas.
Hint: have your toddler grab your man parts to shift your car into turbo.
And always appear enthusiastic. You are flipping your car through the air across a highway, after all.
Your video doesn't need to be long (since we're going to try to use every one we receive in the final video [Jon will be sleeping inside Final Cut Pro next week]), anywhere from a few to several seconds. Upload it to Youtube, Vimeo, or Flickr (or wherever you find it most convenient to host video), post a link to it in the comments (which gives us permission to use it in a video), and next Friday we'll post the final community video.
We'll also randomly choose five different people who have submitted video, and each person will be awarded a $100 cash card. (here are the rules) (also, if you have any questions or concerns, you can meet us over in the group created specifically for this video)
My request? Get creative. I don't know what that means for you, maybe it means having your toddler grab your man parts. We just want you guys to have a blast seeing yourselves in the film.
Now go crash into some concrete barricades!