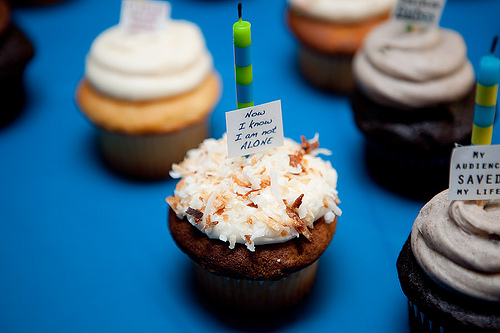 The other day I was in spin class getting my butt kicked when the riff from the Stevie Nicks song "Edge of Seventeen" started playing on the instructor's playlist. And I was like, AWWWWW YEAH, MY BODY'S TOO BOOTYLICIOUS FOR YA BABE! Except, it wasn't Destiny's Child. It was the actual Stevie Nicks song, and right then I was like, I hope no one from Williamsburg or Park Slope is eavesdropping on my mind right now! HOW EMBARRASSING.
The title of this post was the tagline for the first masthead I ever designed for this website (It didn't make sense then. Still doesn't.)(I didn't start designing mastheads until September 2001. Before then I was a bit busy sowing my oats.)
Sunday marks the tenth birthday of dooce.com. Writing that sentence simultaneously blows my mind and makes me want to yell incoherently at some stupid kid to pull up his pants. Ten years. It's older than my first child. Older than the dog I adopted from a shelter in Pasadena, California a few months after 9/11. It's older than my marriage. I'm thinking it should go blonde to hide all its gray hair.
I'm heading out of town today, and since I am going to be gone through the weekend Tyrant decided to play a little trick on me yesterday. Luckily it did not involve setting my hair on fire. Aaaaaand great. Now that I've written that I've given him all sorts of ideas. PUT DOWN THE FLAME THROWER, DUDE.
Leta was just back from school and all of us were hanging out in the living room when Tyrant burst through the kitchen door shaking his head in disgust.
"Um… there's… did you guys feed something weird to Coco? Because she's over here cowering in the corner and there's a giant puddle in the dining room."
Dear Lord, seriously? Again? I've got a million things to get done before I have to leave and I'm going to spend the next hour on my hands and knees cleaning up dog vomit? Or maybe dog diarrhea? Is there a preferable option? YES, THERE IS. And that option is lying naked on a heated table while Zac Efron gives my shoulders a deep tissue massage.
HE'S LEGAL. Stop looking at me like that.
So I stomp over to the dining room expecting a scene straight out of Apocalypse Now only to see a dozen assorted cupcakes sitting in the middle of the table, ten birthday candles, and a small flag jutting up through the frosting on each cake, each flag printed with a message that bears great meaning to the evolution of this website.
How incredibly thoughtful of someone who once tricked me into thinking I had eaten my dead pet fish.
No, really. How unbelievable is this? The lovely people at the Sweet Tooth Fairy put this all together for us, and by us I mean all of the people living and working in this house, and you, you who have come on this wild, vomit-inducing car chase with me.
To celebrate this birthday, I would love to share these cupcakes with each and every one of you, even the readers who insulted my bathroom tiles, YOU, TOO. But since I can't I've decided to give away a $1,000 cash card to someone. (That's 10 plus a couple of zeros, see how clever that is? I came up with that all by myself. Calculus, you were worth it!)
This isn't some sponsored giveaway. This is straight from us to you.
So, what I want to know is this… dooce was a nickname I had back in my single days, the result of an idiotic, frequent typo I made when trying to tap out duuuuuuude in an instant message window. I know, it's not the greatest story ever told. In fact, I want to punch myself in the balls for you. Which is why I want to hear about yours. (Your nickname, not your balls. Unless you've got some Pulitzer Prize winning groin, and in that case I'M ALL EARS. )
What is your nickname, and why?
I'll pick a random winner from the comments which I'll close at 10 PM Mountain Time on Sunday night, February 27, 2011, and then announce the winner on Monday morning.
I can't thank you enough for the support you've given me over the last ten years, especially to those of you who helped me through those dark months in 2004 when you let me know I was not alone. I am alive because of you.
Thank you for helping me live a dream.