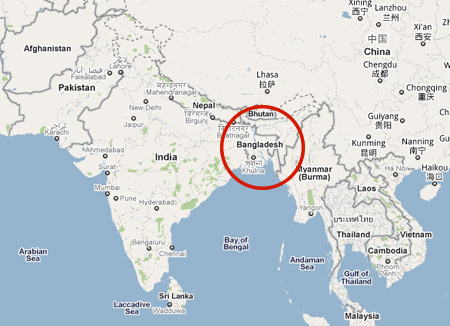 Hey! How you doin'?
So, tomorrow I'm headed out of town, and then out of the country to another continent in another hemisphere.
A couple of months ago, Christy Turlington asked if I'd like to join her as a guest to visit maternal health clinics in Bangladesh with her organization Every Mother Counts. We'll also be screening her movie No Woman, No Cry over there. And I will actively be trying to hold it together because one, Christy Turlington, and two, do you know how far away Bangladesh is?
I mean, that's at least a hundred miles, right?
The country is slightly smaller than Iowa, yet more than 150 million people live there. I know you will think I am a huge liar when I tell you that I am a sensitive little flower, but a friend of mine from India told me to be prepared for a major emotional roller coaster in terms of what I see and experience. I truly believe that this trip is going to be a life changer.
In preparation for this trip I visited the travel clinic at the University of Utah, and I tell you what. The woman who provided the consultation was super excited about diseases. I did not know one could be so passionate about typhoid or malaria or dengue fever, but the true shocker was just how thrilled she was to tell me about traveler's diarrhea. It ain't your mother's diarrhea.
(I don't want to think about my mother's diarrhea.)
To quote Travel Clinic Lady: "This is the kind where your poop just keeps shooting out of your butt. On and on and on. It doesn't stop."
I now randomly shout that description in her Utah accent during casual conversations. You should try it.
I know. I'm talking about poop in a post about charity work. What?
So I got a typhoid vaccine in my upper right arm, and whoa, that one hurt. I couldn't lift my arm for two days. I'm prepped for malaria and hepatitis A and traveler's diarrhea. I've got bug repellant, a water purifier, sunscreen and several books to read on the almost twenty-four hour flight. Only thing missing is a magical cure for jet lag.
(If you have any suggestions, please leave a comment! SOLICITED ADVICE, AHOY!)
I'll be gone for eight days, so I'm going to publish some of my favorite posts from my archives while I'm gone. Jon will be holding down the fort here in Utah, so right now I'm going to remind him that Leta needs to practice piano every day. And it's okay if they eat pizza every night.
I'm a little nervous but at the same time I'm electrified by this opportunity. This is just so awesome.
See you soon!