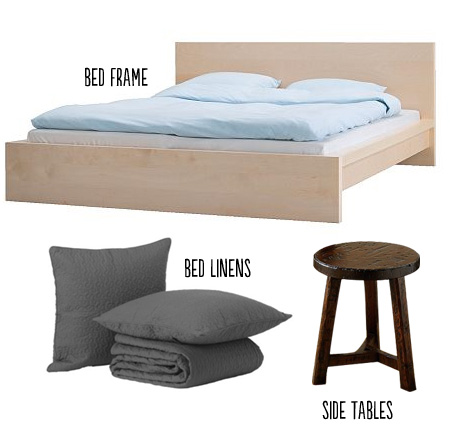 Last week my friend Anna Beth flew in from Louisiana to help me put the finishing touches on the guest room. We spent a couple of days driving around like crazy looking for some final pieces, and she may or may not have referred to it out loud as a "wild dooce chase" and I may or may not have spit into her breakfast cereal. She's laughing because she doesn't eat breakfast cereal, and I'm laughing because breakfast cereal is a code word for something else.
AHH KNOOOOWWW.
I always feel sorry for anyone who is around when Anna Beth and I are hanging out because the cacophony of Southern quacking that comes out of our faces could melt the paint off of a car parked a hundred yards away. I can't help it, her accent brings out every molecule of Southern in me and next thing you know IRON has one syllable and TOUR has four.
Like I said before, I asked Anna Beth for her help with this project because everything she touches turns into fun. I told her I wanted a room that both women and men would feel comfortable in, but that above all else it had to have a tiny bit of whimsy. Is that term overused in interior design? Probably. Is this look on my face indicative that I don't give a shit? Definitely.
So. Here is a mood board of the ideas we both agreed on:
Basically, we (meaning she) wanted to go for a balanced mixture of textures: wood, cotton, leather, and cowhide. There are two tones of wood in the room, both light and dark, and the contrast represents the masculine and feminine mood we were going for. That mood is also represented in the color scheme, one that is mostly neutral with a few dashes of bright color thrown in. What you don't see are the touches of convenience that you guys suggested (mirror, towels, subscription to Playboy, lube, etc.). Those come in the final reveal.
One tricky part of the room that Anna Beth had a brilliant idea to overcome is the wall of windows. They aren't centered. Wah, wahhhhh. Ah know. Could it be any worse than off-centered windows? You'll show up to sleep at my house and be all, THAT'S IT, ARMSTRONG. Not only did I stick you in a room where the windows are all wonky, but I didn't even put a lemon in your sweet tea. UNFOLLOW.
Solution: we ordered a whole bunch of really affordable fabric and had drapes made that line the whole wall, from ceiling to floor. It not only disguises that problem, it adds a depth and warmth that I don't think we could have achieved any other way. And you guys, IT IS INCREDIBLE. When Leta saw the room after the drapes were installed she declared, "I don't care what you say, Mom, I'm moving in here."
……..
This post is brought to you by IKEA and THIS IS THE OFFICIAL DISCLOSURE, WHAT UP, FTC!