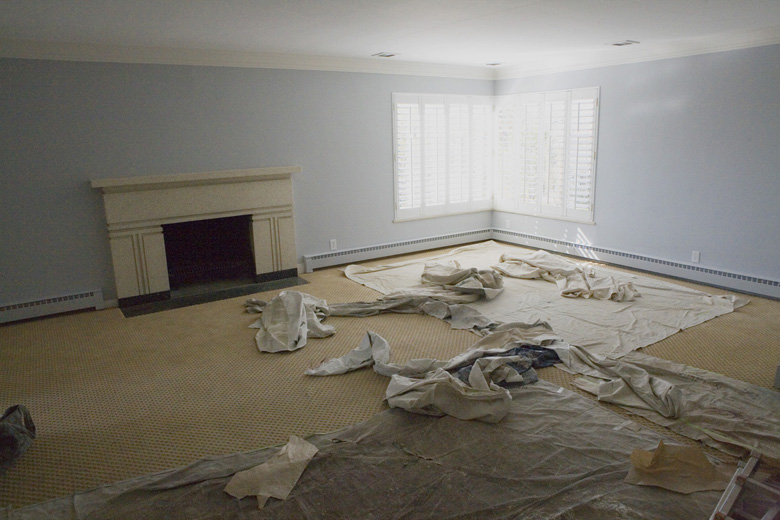 Last week when I asked you guys about your experiences buying homes and what you would look for if you were in the market to buy, I was blown away by your responses. Thank you for being so generous with your advice, and I'd recommend that thread to anyone who's out looking for a house right now. Is that you? Are you out right now walking through someone's living room lined with matted beige carpet? Are you stepping over curious stains? Did you just walk into yet another Tuscan-themed kitchen? Can you smell the litter box they tucked into the pantry? You can come over to my place afterward for a relaxing glass of wine. But first I'll show you right to the bathroom so that you can throw up.
I'll even hold back your hair.
One comment struck me as I was reading through everything because it speaks directly to how I look at spaces where I could potentially live. And it stopped me in my tracks:
Sandra T:

Every time I've ever looked at a place to live, I've made an emotional decision based on some impractical idea of potential that the place can never live up to w/out a boat-load of $$ and resources we just don't have!
This. I am this.
There was a question asked in the community recently by member susanfishy that relates to this:
Yes. Yes yes yes. To a fault. I have sunk so much money over the last ten years into improving the homes I've bought, and I never got that money back out of the house. I'm like some sort of demented real estate fairy going around dumping money into properties so that the people who live in them after me get to enjoy the expensive warranty on the brand new stainless steel refrigerator.
For the first house I bought, one built in 1926, I tore up carpet and refinished the hardwood floors underneath. I remodeled the kitchen, painted every single wall in every single room, replaced the water heater, installed air conditioning, repaired the fireplace, updated the electrical system, landscaped the entire front yard, and spent $12,000 to replace a broken sewer line. Yes. $12,000. TWELVE THOUSAND. All of my savings on an underground pipe that carries poop. You better believe that this was the first bullet point on the real estate listing: YOUR POOP WILL FLOW LIKE NO ONE'S BUSINESS.
The second house was built in 1951, and I replaced carpet with brand new hardwood floors and updated the carpet in the basement, painted every single wall in every single room, replaced the air-conditioning unit, remodeled the bathroom I shared with the girls, updated the landscaping in the front yard, remodeled the garage, and had to invest in an industrial-sized snowblower because of the house's location on a hill. Funny story: to make it more enticing to buyers in that tough market, I left a giant flat screen television in the living room. Someone broke into the property two weeks after I moved out and stole it. I really hope the meth they bought with that money gave them acne.
The last house was built in 1985, and I had to replace the entire roof, service the air conditioner, repair every square foot of fence in the backyard, have a specialist come out and install an intricate system of valves on the boilers in the basement, fix two fireplaces, install smoke alarms in every room, replace four bathroom fans, and repair the entire sprinkler system. I won't even get into the years shaved off of my life because I stumbled onto a cat the previous owner had locked in the attic.
Seriously. You're going to want to buy a house I've lived in. Everything has been fixed. NOT A SINGLE HAIR IS OUT OF PLACE. One commenter hit on this in that thread:
Kimberly:

We moved to a whole new state and within a month, we were in escrow. We wanted something smallish, with a water view and/or close to the water, lots of light, and a little land a.k.a. no close neighbors. We found an 1100 sq ft house that had been completely redone so it's like a brand new house.
I have never considered buying a *new* house until I started to take inventory of all the money I've sunk into home improvements (going back through the old photos of those homes and remembering all that work makes me more than a little bit weary). There are only a select few neighborhoods that I would consider moving to in Salt Lake City, and most of the homes in these neighborhoods are very old and need extensive updating. But the advantages of a new build are almost too hard to ignore. Yes, there's the environmental impact to take into consideration, but I wouldn't have to worry about the roof or the water heater or the landscaping or the garage door or the sprinkler system or some animal jumping out at me from a locked closet.
For those of you who have bought brand new homes or built them, what has been your experience? I'm really curious now that I realize I have pretty much assembled a new home out of everything I have fixed or replaced. Are there improvements you've regretted making? Should we all just give up and set up a cardboard box?
……
This post was sponsored by BHI. Explore the benefits of a newly built home.